An Israeli Audience with Adrienne
A British theatre production investigating homosexuality, cross-dressing and gender has been invited to Israel to encourage artistic dialogue.
Performance practitioner Adrian Howells will participate in the Women's International Festival with his drag show, An Audience with Adrienne, in Holon, near Tel Aviv, from 6-8 March.
Adrian, who is currently an AHRC Creative Fellow in the Theatre Studies Department at the University of Glasgow, uses his transvestite alter-ego Adrienne, to explore identity, disguise, homophobia and depression. By telling stories and recounting conversations, Adrienne reveals the prejudice and intolerance that frequently surrounds issues of sexuality and gender.
Adrian said: "This trip is linked to a performance workshop I will be conducting at Israel's Stage-Center, which aims to encourage artistic dialogue between Israeli Jews, Israeli Arabs and Palestinians and to establish a cultural bridge between Israel and Europe, so it is a real honour to have been asked to take part in such an important cross-cultural event.
While I am obviously excited about the project I am also aware that some areas of Israel do not readily accept homosexuality so I am not quite sure of how they will respond to a transvestite discussing sexuality while serving tea and cake"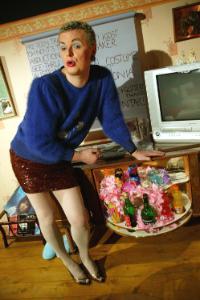 Spotted at the British Council's International Showcase at the Edinburgh Fringe Festival last year, Adrian will also be working with an associate of Michal Negrin, an internationally renowned designer.
Adrian added: "Theo Clinkard, the designer of the show is not able to come out with me, so I have invited Ella Finer, who is a an MPhil student here in the Theatre Studies Department, to oversee the kitsch and bad taste style of Adrienne's living room, as I'm not sure that Michal will totally appreciate some of the more unsophisticated aspects of Adrienne's décor."
A performance artist for 20 years, Adrian will also be conducting a master class for professional actors in Tel Aviv, as part of a programme of specialist workshops by international practitioners at Stage-Center, Israel, and will also conduct a workshop for The Jaffa Group, which is for non-professional performers.
Having toured as Adrienne across Britain, and collaborated with directors and artists such as Stewart Laing, Leigh Bowery and Nigel Charnock, Adrian has also been a frequent guest teacher and director on the Contemporary Performance Practice course at the Royal Scottish Academy of Music and Drama over the past six years, and has directed and devised shows for the Avant-Garde Theatre course at Lancaster University. He also conducts his workshop 'Beyond the Comfort Zone' for universities and drama schools throughout Great Britain.
He is currently the recipient of a full-time AHRC Creative Fellowship in the Department of Theatre, Film and TV Studies at the University of Glasgow.
---
Notes to editors
For more information, or for images, please contact Kate Richardson in the University of Glasgow Media Relations Office on 0141 330 3683 or email K.Richardson@admin.gla.ac.uk
The featured image shows Adrian Howells during a performance of An Audience with Adrienne.
First published: 4 March 2008