Glasgow academics recognised for outstanding work
Three Glasgow academics have received international recognition for the quality of their research work.
Professor Rod Page, Environmental & Evolutionary Biology, has been named as the author of Europe's most cited paper in evolutionary biology.
A new analysis of the importance of different European countries and researchers in the field of evolutionary biology has shown that Scotland comes second only to Sweden in the impact of its research. Impact is measured in terms of the number of times that a scientific paper is quoted in subsequent research papers. The analysis, published in Lab Times, showed that papers produced by Scottish evolutionary biologists over the period 1996-2006 were cited an average of 19.9 times (Sweden scored 20.0, while England was in 6th place at 17.3).
The single most often quoted piece of scientific work was written by Rod Page, whose article describing a new method for analysing and portraying phylogenetic relationships of species on PC computers was cited by an astonishing 4,512 other articles.
The full details of the analysis are given at:
http://www.lab-times.org/labtimes/issues/lt2008/lt03/lt_2008_03_34_36.pdf
Marian V Jones, Professor of International Business and Entrepreneurship in the University of Glasgow Business School, is to receive the American Marketing Association Global Marketing SIG's 2008 Excellence in Global Marketing Research Award for her 1999 Journal of International Marketing article, 'The Internationalization of Small High-Tech Firms.'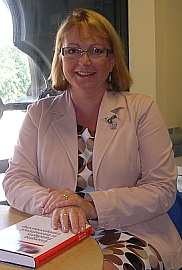 This distinguished award recognises the author of an outstanding research article, published within the last 10 years, which has significantly influenced the direction of global marketing.
The Award will be presented at the GM SIG Member Reception on Saturday 9 August 2008 at the Sheraton San Diego Hotel and Marina, as part of the American Marketing Association 2008 Educators' Conference.
Professor Frank Franzak, Virginia Commonwealth University, said: "During the selection process, Marian V Jones's work was noted for its ground-breaking role in developing research streams in global activity by SMEs [small and medium enterprises], an important and popular topic today. The Global Marketing SIG Board congratulates Marian on her accomplishment."
Hannah Little, a PhD student in the University's Humanities Advanced Technology And Information Institute (HATII), has won one of the most prestigious international archive prizes for an article she published in the journal Archivaria.
The Lamb Prize is awarded by the Association of Canadian Archivists in memory of Dr. William Kaye Lamb, Dominion Archivist of Canada (1948-1969) and founding National Librarian of Canada (1953-1967). This prize is awarded annually to honour the author of the Archivaria article that, by its exceptional combination of research, reflection, and writing, most advances archival thinking in Canada. It is the senior award of the journal, for the best article overall. Hannah Little has been been awarded the W. Kaye Lamb Prize for 2008 for her article "Archive Fever as Genealogical Fever: Coming Home to Scottish Archives," Archivaria 64 (Fall 2008).
The citation on the certificate reads: "In this insightful and thought-provoking article, Ms Little draws on research in archives, tourism, philosophy and genealogy and looks head on at the place, perceptions, and value of family history and genealogy, the role that archives play in supporting the search for authenticity and 'truth,' and the relationship between archives and personal identity."

---
First published: 11 July 2008