Student team wins awards at SensUs competition
The University of Glasgow SensUs team (VanGow) was awarded the Creativity award and the 2nd place in 'Analytical Performance' in a the global SensUs competition in Eindhoven, Netherlands, on the week-end of the 7-8 September 2018.
The team was awarded the Creativity award and took 2nd place in "Analytical Performance" in a the global SensUs competition.
The team of seven students from across the University - including disciplines such as biochemistry, biomedical engineering, microtechnology as well as business - worked throughout 2018 to participate in the SensUs competition (www.sensus.org).
The team was supervised by Dr Julien Reboud and Dr Hadi Heidari, and mentored by Professor Jon Cooper. They were awarded sponsorship from TheIETHealth and Multi Dimensional Technology (MDT), amongst others. The competition assembles 13 teams from around the globe, tasked to design, fabricate and validate a new biosensor able to measure the concentration of antibiotic concentrations in the blood.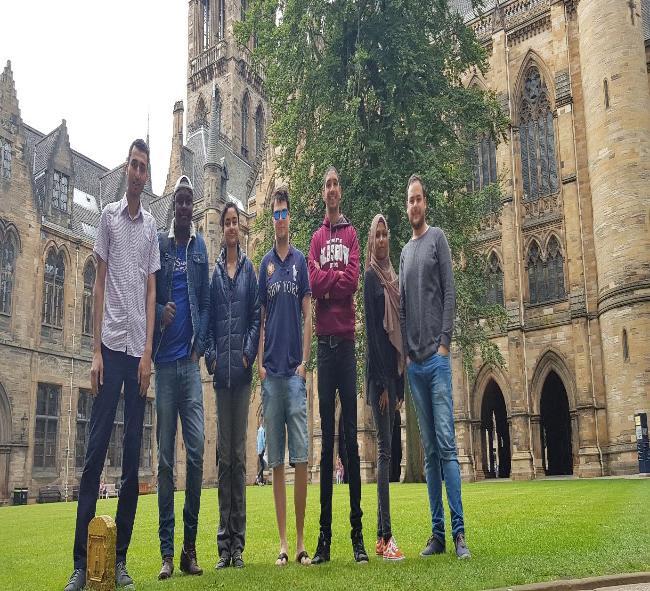 The VanGow team - so-called because they focused on the antibiotic Vancomycin) comprised of (left to right) Amin Rigi (Sensors and imaging systems), Oluwasegun Aro (biotechnology and management), Debjita Mukherjee (biotechnology), Marc Vives Enrich (biomedical science), Anouar Chamakhi (biotechnology & management), Nuha Irshad (biomedical engineering), and Abdul Wadood Tadbier (electronic and electrical engineering).
Vancomycin is often a "last resort" antibiotic against bacterial infection, killing bacteria by destroying their membranes. However, it is also difficult to dose properly: a low dose can be inefficient and lead to complications as well as having the potential for appearance of resistance, while at high doses it generates crippling side effects (more information can be found here). The measurements currently available cannot be performed at the bedside, next to the patient, which leads to delays in the results which can have dire consequences for the patients. All the teams this year were asked to develop biosensors that could measure the concentrations within five minutes next to the patients.
They developed a new system based on magnetic sensing, which combines very sensitive magnetic sensing, magnetic sample processing, and uniquely uses cling film!
---
First published: 11 September 2018