Free courses in Geographical Information Systems
A free five-day course on Geographical Information Systems (GIS) is available to students or staff registered at a UK Higher Education or research institution.
Some of the questions the course will address are:
What are the advantages derived from the use of geographic information in social and environmental applications?
Which sectors of society benefit from the use of geographical information systems (GIS)
Which sectors are potential employers?
What is the current state and future trends of GIS applications?
Joint Project
The program is developed under the European Union funded GEONATURA project in partnership with the Universidade Nova de Lisboa, Portugal; TU Delft, Netherlands; and the University of Florence, Italy.
At the end of the course, participants should be able to acquire data, model, analyse and develop a GIS application in the context of socio-environmental issues.
Online and Practical
This course take place from 17th – 21st September 2018 from 16:00 - 18:00 and is free of charge.
Lecture components will be delivered online and the practical components will be delivered in person during the afternoons, at the School of Geographical and Earth Sciences.
Netherlands Scholarship
It is aimed at those with little or no background knowledge in GIS. Places are limited to 20 applicants and 10 of these will receive a scholarship to attend the second phase of the course (also free of charge) at TU Delft, Netherlands from 15th – 19th October 2018. Staff from the four partner universities (Universidade Nova de Lisboa, TU Delft, University of Florence, and University of Glasgow) will deliver this stage of the course.
The scholarship with provide financial support to costs associated with return flights Glasgow – Amsterdam and accommodation. The second phase of the course will build upon the theory and practice introduced during the course in September and will include ten students from the countries of each of the partner institutions (Netherlands, Scotland, Italy and Portugal).
More details
If the event is sold out, please contact richard.williams@glasgow.ac.uk to be placed on a waiting list in case spaces become available.
To book a tickets visit: Geographic Information Systems: from data to decision making
For further details on the Geonatura project visit: Geonatura
Application Deadline - 7 September 2018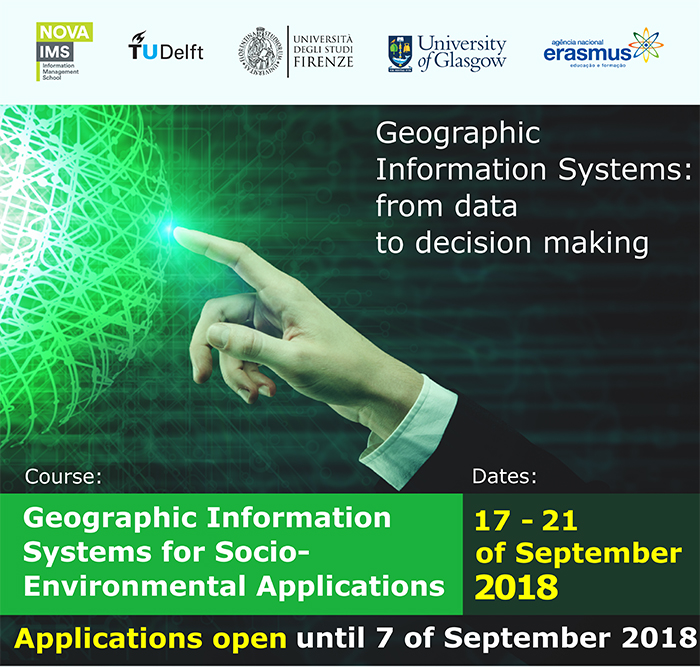 ‌
---
First published: 13 August 2018