University Challenge team progress to the quarter-finals
Issued: Tue, 18 Dec 2018 10:20:00 GMT
In a nail-biting finish, the University of Glasgow team beat Goldsmiths by 10 points in to make their way through to the quarter-finals of University Challenge.
This is the first time in 40 years that a UofG team has gone so far in the competition.
Glasgow started strongly, dominating the first half of the contest, but Goldsmiths made a strong comeback. The final score was: Glasgow 135 – Goldsmiths 125.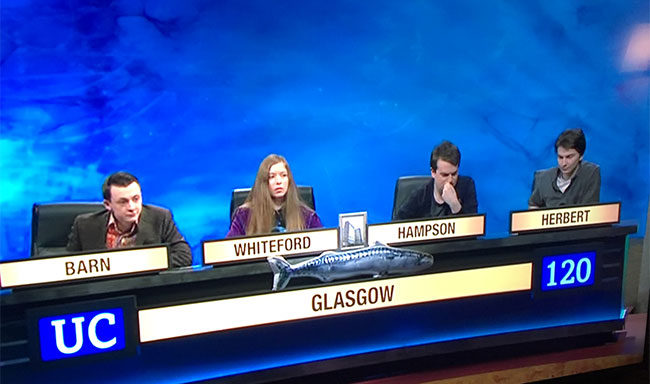 The Glasgow team also had one of the best mascots, featuring the Boyd Orr and the fish from the University's official crest.
The team is made up of:
Lewis Barn from Airdrie - Diploma in Legal Professional Practice
Freya Whiteford from Bonnybridge - Second year Physics and Astrophysics
James Hampson from Helsby, Cheshire - Medicine
Cameron Herbert from Burley in Wharfedale, Yorkshire - Sociology with quantitative methods
Polly Russell (reserve) from Nottingham - Statistics
---