Hightlights from #SocialUofG
Issued: Tue, 25 Sep 2018 09:58:00 BST
The University hosted its first Social Media conference last week - #SocialUofG, writes Emma Gilmartin, Head of Social Media.
Despite #StormAli and Freshers' flu threatening proceedings, 100 UofG colleagues came together for a whole day dedicated to all things social media.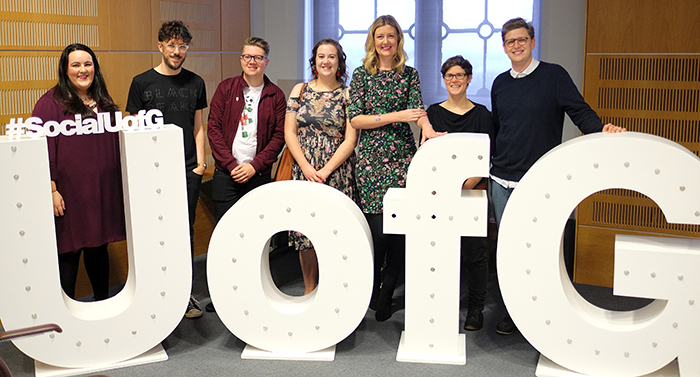 The programme line-up included a host of UofG speakers from College, School, & Service level, as well as external presenters from the Natives Group, Brand Scotland and the Universities of Sheffield, York St John and Oxford Brookes.
#SocialUofG aimed to celebrate brilliant social media work across the University, give colleagues the chance to meet and exchange ideas and knowledge, and be inspired by great work beyond the University.
UofG Principal Professor Sir Anton Muscatelli opened the conference and talked about the various ways social media has, and will continue to, support the many overarching strategic aims and vision of the University, including showcasing world-class research and teaching, building community, staff and student recruitment, raising our international profile and communicating to our various stakeholders.
The Principal also stressed how important it would be in telling the story of our campus expansion and our role as a civic university.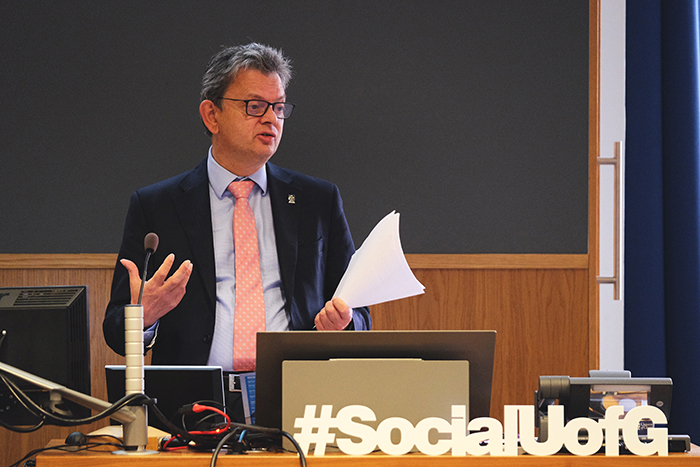 Next up was a brilliant keynote from Dave Musson, Lead Social Media Strategist for the Natives Group and Editor-in-Chief for The Native (and former Social Media lead at Warwick University) who put the Higher Education sector under the microscope - highlighting some great work from the Universities of Loughborough, Reading and Manchester as well as suggesting ways UofG could strengthen current output.
Following Dave, the topic turned to 'the social media juggle'. A panel demonstrated how they successfully run their respective accounts alongside their other work commitments. This included how to run accounts with multiple admins/multiple objectives, how scheduling content can save time and how running accounts can enhance your job.
Moving on to an 'Unconference' which allowed the audience to set the agenda and sessions included crisis communications, podcasting, what content students want and using photos effectively.
Unconference time! #SocialUofG pic.twitter.com/8lJ7Uvqta7

— Daniel Marrable (@TerribleM86) September 19, 2018
Then there were two parallel sessions - Video On The Go and an academic panel featuring Prof James Chalmers, Dr Becca Harrison, Prof Rory O'Connor and Prof Lisa Debruine.
The panel shared very different ways Twitter could be used to achieve their individual teaching and research goals. This included very frank and open discussion about the pros and cons of using this platform to promote their work.
This is a very important point and one we will be looking at going forward. (I will be working on a policy around this). Was glad @BeccaEHarrison & others on our panel talked so openly about the negatives as well as positives. #SocialUofG #hesm https://t.co/P8n4ykZRZz

— Emma Gilmartin (@embrooksy8) September 19, 2018
In the video workshop, delegates found out top tips for creating quick video on their phones and then had just 30 minutes to create a concept, shoot a video and post on social media – with some funny results!
#ResilientSocialProfessionals #socialUofG #TeamUofG #WeatherReporter pic.twitter.com/suRPvcqYLI

— ZED Tea (@ZEDTupling) September 19, 2018
The final session of the day was a high-energy and fast paced Pecha Kucha (speakers have 20 slides, 20 seconds per slide to present their work) showcasing five inspiring social media campaigns.
Still feeling inspired and uplifted by this afternoon's #SocialUofG Pecha Kucha session... especially #aishasletter from @_atwist and #helloBrookes from @dinojrock. Incredible campaigns that definitely had the WHAM factor! pic.twitter.com/3j3XOO7APX

— Kirsty Kilgour (@KirstyKilgour) September 19, 2018
Thank you to all our delegates for joining us and engaging so fully in the day and everyone who helped make the conference happen.
Hopefully, it'll be the first of similar events to help support, celebrate and inspire colleagues.
---