European Union Commissioner to speak at University
Issued: Tue, 11 Sep 2018 13:07:00 BST
Policy Scotland, in conjunction with the School of Social and Political Science and the Glasgow Global Security network, will welcome Sir Julian King, European Union Commissioner for the Security Union, to the University next week to give a lecture on 'Security Challenges Facing Europe'.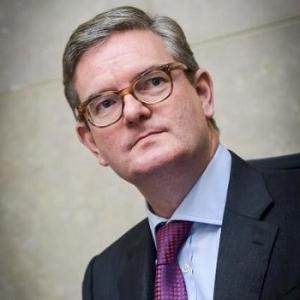 Sir Julian King was nominated by David Cameron to the position of British European Commissioner in July 2016. He took office in September 2016 with the responsibility for a new Security Union portfolio intended to support the implementation and delivery of the European Agenda on Security.
Joining the UK Foreign and Commonwealth Office in 1985, Sir Julian King since has served as Ambassador to Ireland (2009-2011) and France (2016), the Director General of the Northern Ireland Office (2011-2014), UK Permanent representative to the EU Political and Security Committee (2004-2007) and as Counsellor and Head of Chancery at the UK Mission to the United Nations (2003-2004). He has worked extensively within the security policy field throughout his career, dealing with issues as varied as Turkey, European defence, EU Common Foreign and Security Policy, NATO, EU enlargement, the Iraq War and Northern Ireland. King was knighted in June 2014.
His lecture 'Security Challenges Facing Europe' will last around 30 minutes with a question and answer session to follow.
It will take place in the Kelvin Gallery. Doors will open from 5pm and in order to ensure a prompt 5.15pm start we ask attendees to be seated by 5:10pm.
Places are free, but limited so please register to security your place. By registering on Eventbrite you can also join our mailing list, should you want to be notified about future lectures.
Date and Time: Monday 17th September 2018 17:00-18:30
Location: The Kelvin Gallery, University of Glasgow, 1 University Avenue, Glasgow, G12 8NN
---