UofG installs 'reverse vending machine'
Published: 4 July 2018
UofG is fighting plastic pollution with a 'reverse vending machine' that recycles bottles.
Taking the fight against plastic pollution a step further, the University of Glasgow has installed a 'reverse vending' machine for the return of used plastic drinks bottles.
The machine – located in the Fraser Building – makes a donation to charity for every container recycled.
The system has operated for decades in many Scandinavian countries where recycling rates are about double our own.
Earlier this year, the Scottish Government made a commitment to develop a Deposit Return Scheme (DRS) for single- use drinks containers that will be rolled out across Scotland, and Zero Waste Scotland is currently devising the scheme.
The principle of deposit-return is to create an additional incentive where consumers pay a surcharge on single-use drinks containers, which is refunded when the bottle is returned.
Initially, the UofG Reverse Vending® machine will accept plastic bottles only, with a donation in return for each container going to the Beatson Pebble Appeal, which raises funds for the University's cancer research.
Once the Scottish Government rolls out the DRS across the country, users of the University machine will be able to recycle drinks cans as well and be given cash tokens worth 10p they can then use in shops.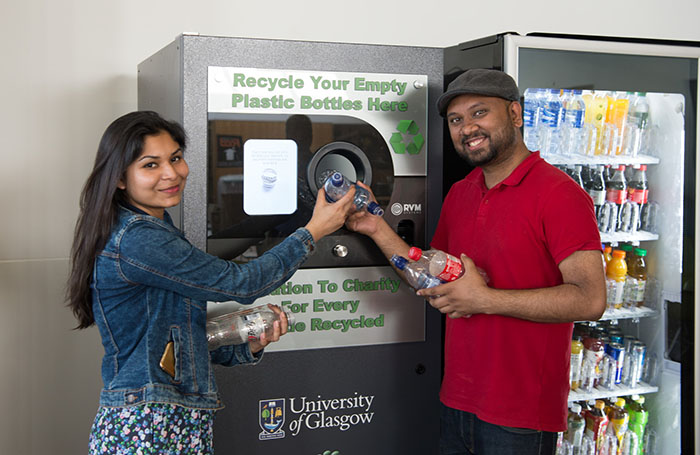 John MacDonald, Director of vending machine suppliers, Excel Vending, said: "The reverse vending machine has a 360-degree recognition system so it will pick up the barcode, the material of the bottle and its size and dimensions.
"It's easy to use: you just insert the bottle, which is crushed, compacted and dropped into a bag at the bottom. There is enough storage for 800 cans and 400 plastic bottles, which can then be collected.
"The machine allows greater control of the quality of the recyclable product, which prevents it becoming contaminated and destined for landfill."
Scott Girvan, Executive Chef , Retail Manager of the University's Hospitality Services, Estates and Commercial Services, said: "This is part of our drive to increase sustainability and reduce waste across the University. The resulting clean and properly sorted recycling will be a valuable resource, so the machine will effectively pay for itself."
David Duncan, Chief Operating Officer and University Secretary at University of Glasgow, said: "I'm sure that students and staff will make a resounding success of this venture."
Kate Powell, President of the Students' Representative Council (SRC), said: "We are pleased to hear about this development and excited about its implementation. We hope the University continues to take steps to make our campus more sustainable and environmentally friendly."
Reverse vending has operated in Sweden since 1984 where 90% of household waste is recycled. In Scotland that figure is 44%.
---
First published: 4 July 2018