Glasgow Science Festival shortlisted for Scottish Hospitality Awards 2018
Issued: Tue, 15 May 2018 10:48:00 BST
Glasgow Science Festival has been shortlisted for 'Best Scottish Festival' at this year's Scottish Hospitality Awards.
In 2017, Glasgow Science Festival brought fun, innovative STEM events to over 46,500 people across the city. 546 partner staff and volunteers took part and over 89% of events were free to attend, giving the public the chance to explore everything from astronomy to zoology.
Festival Director Dr Deborah McNeill said: "We are delighted to be shortlisted for Best Scottish Festival at this year's Scottish Hospitality Awards. We would like to thank all the staff, students and volunteers who helped make the 2017 festival such a success – without your hard work and enthusiasm, there would be no festival!
We look forward to the ceremony in May, and to another year of top-notch science at this year's Glasgow Science Festival from 7-17 June."
The Scottish Hospitality Awards will take place on 29 May at the Crowne Plaza. Glasgow Science Festival will run from 7-17 June this year.
Tickets are available at: Glasgow Science Festival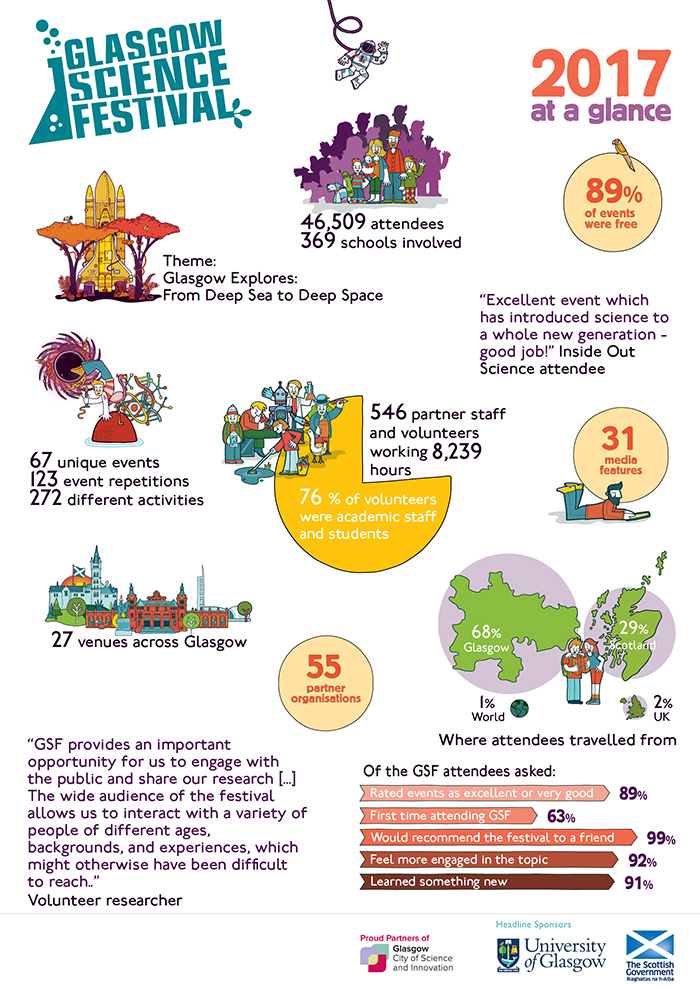 ---