Broons cameo role for the World's Oldest Comic
Well jings, crivens and help ma boab! The Broons are in Glasgow for their latest comic strip adventure to stop the theft of the University of Glasgow's copy of the world's first comic.
The Glasgow Looking Glass satirical magazine was first published in June 1825 and is currently on loan to the Kelvingrove Museum for a major comic exhibition on the work of one of the top modern day comic book artists, Frank Quitely.
In this weekend's (Sunday 17 September) Broons strip in the Sunday Post, the loveable twins play the superheroes while visiting the comic exhibition called Frank Quitely: The Art of Comics.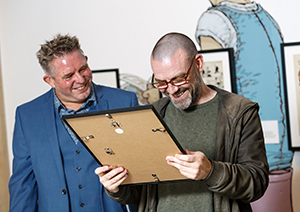 The twins help to foil an alleged theft of The Glasgow Looking Glass. And "the thief", in true comic book style, is revealed to be Frank Quitely himself!
Frank Quitely, credits cartoonist Dudley D Watkins, creator of Oor Wullie and The Broons as his inspiration. The Glasgow-born artist still lives and works in the city and has worked on titles such as DC's Superman, Batman and Marvel Comics' X-Men.
Frank Quitely, whose real name is Vincent Deighan, this year received an honorary doctorate from the University, and was last week presented with a framed copy of The Broons strip featuring him and his exhibition, said: "I've been a fan of the Broons for as long as I can remember, so to have them visit the exhibition is just unbelievable. I'm honoured."
Professor Laurence Grove, co-curator of the Frank Quitely Kelvingrove exhibition and Professor of French and Text/Image Studies at the University, said: "This has been a fun experience to see this wonderful exhibition captured on paper in The Broons."
Professor Grove joked: "I am delighted to see the University artefact is safe and sound with The Broons foiling the dastardly plot!"
In 2016, The Hunterian Museum hosted Comic Invention exhibition, organised by Professor Grove, which spanned centuries and genres to take an enigmatic look at how we tell stories with pictures.
This was the inspiration for this latest comic exhibition at the Kelvingrove which runs until October 1.
To learn more about The Glasgow Looking Glass click here: http://special.lib.gla.ac.uk/exhibns/month/june2005.html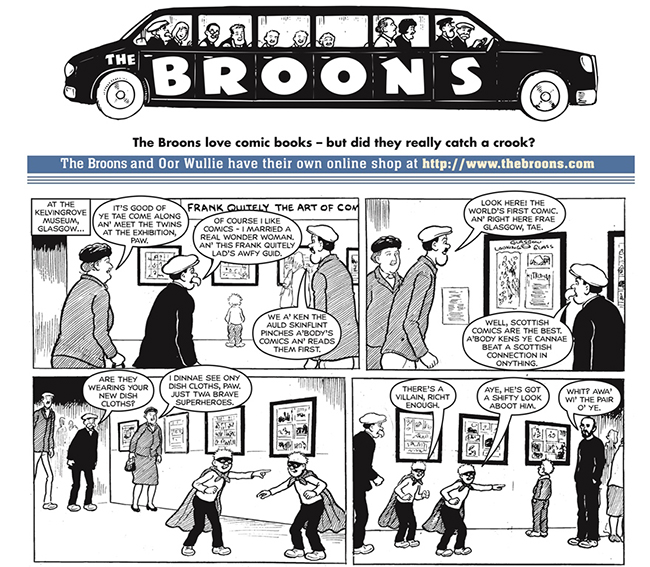 ---
First published: 19 September 2017