Dr Katarzyna Modrzynska joins WCMP
Dr Katarzyna (Kasia) Modrzynska has joined the Wellcome Centre for Molecular Parasitology (WCMP) within the Institute of Infection, Immunity and Inflammationas a new research fellow.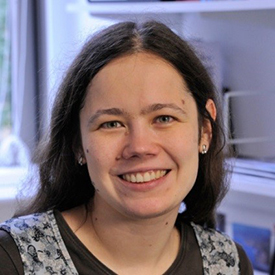 Kasia's links with the Scottish parasitology community date back to her PhD research at the University of Edinburgh (Institute of Immunology and Infection Research) where she investigated the genetics of drug resistance in Plasmodium using a rodent malaria model.
Later, fascinated by the complexity of Plasmodium' transcription regulation mechanisms, she joined Oliver Billker's lab at the Wellcome Trust Sanger Institute. As a postdoctoral fellow she led a project analysing the essentiality of the phylum-specific transcription factor family in parasite's life cycle progression. During that time she was a frequent visitor to Glasgow as she collaborated with Professor Andy Waters' team investigating the role of one of these proteins in gametocytogenesis.
Kasia joins the Institute of Infection, Immunity and Inflammation as a holder of a Sir Henry Dale Fellowship, a five-year award for young investigators co-funded by the Wellcome Trust and the Royal Society. She plans to use this award to investigate the role of transcription regulation mechanisms during the gametocyte to ookinete transition - a major bottleneck in the Plasmodium life cycle. Using a combination of parasitology, molecular biology and bioinformatics, she wants to understand how several different transcription factors interact with each other and with the rest of transcriptional machinery to orchestrate this process. Such knowledge could be used to stop the parasite in its tracks during the early phase of mosquito transmission, and enable this transition to be simulated in laboratory conditions for research purposes (something still difficult in many malaria species).
Professor Andy Waters, Director of the WCMP said: "We are delighted to welcome Kasia to the WCMP. She brings an exciting programme of work to the Centre strengthening our burgeoning malaria research. She represents exactly the calibre of young scientist who has a very bright future and will further energise the Centre going forward."
Related links
---
First published: 20 February 2017