Multiplex starts on site
Multiplex, the University's Principal Delivery Partner in the campus development programme, has started on site.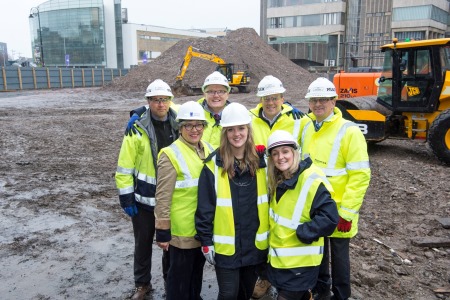 The company's arrival on the Learning and Teaching Hub site marks a significant milestone in the construction programme.
Ann Allen, Executive Director of Estates and Commercial Services, said: "With Multiplex, our Principal Delivery Partner, starting on site, construction will move apace, starting with the new Learning and Teaching Hub. We are entering a very exciting stage in our £1bn campus development programme and progress will be visible to everyone.
"Multiplex is a global contractor - however it is also very local, having offices in Govan. This is the same contractor that delivered the Queen Elizabeth University Hospital on time and to budget. As part of its work at the QEUH, it delivered multiple community benefits and is committed to doing the same for the University and the surrounding communities. I very much look forward to working with them."
John Ballantyne, Executive Director of Multiplex, added: "After working in partnership with the University of Glasgow for the past 18 months in detailed preparation and planning, Multiplex is delighted to be starting onsite with the construction of the Learning and Teaching Hub.
"This will be the first major project in the package of works that will transform the University of Glasgow campus. Multiplex and the University are committed to working with the local community to deliver employment, skills and business opportunities.
"We are looking forward to working with the stakeholders to deliver a high quality construction product alongside design and build excellence. Through the unique procurement arrangement with the University of Glasgow we will in partnership leave a positive legacy for academics, students and west end of Glasgow residents alike."
Kate Powell, President of the Students' Representative Council, added: This marks an exciting time for students. The Learning and Teaching Hub is the first building of the campus development – as a building for students it is reflective of the University's commitment to the student experience."
---
First published: 31 October 2017