Campus Development Updates - July
Please check MyGlasgow News every week for the latest updates on work across the campus. There will be a number of changes happening in the coming weeks and months, and this is the best forum to communicate this information to everyone. You can also get information on individual projects on the page, maintained by Estates and Commercial Services.
Parking and vehicle access restrictions from July 17.
University Gardens
Reminder: as reported in MyGlasgow News last week, parking and vehicle access to University Gardens will be suspended from Monday, July 17, until Tuesday, October 31, 2017.
This is for health and safety reasons, to allow the contractor, Graham Construction, to carry out the demolition of the former Maths and Stats building and enabling/preparation work for the construction of the Learning and Teaching Hub.
Pedestrian and wheelchair access, as well as alternative accessible parking for blue badge holders, will be maintained – as shown on the maps below and which you can also download as PDFs.
Internal deliveries/uplifts
Mail and catering deliveries along with refuse uplifts will continue as normal during this time.
External deliveries/uplifts
Where possible, please inform your suppliers/couriers of the road restrictions in this area. Access for large deliveries/uplifts should be arranged by contacting security:
security-main-campus@glasgow.ac.uk
The University apologises in advance for any inconvenience caused.
Any enquiries, please email: lt-hub-enquiries@glasgow.ac.uk
The Square (Professors' Square) will also be affected by parking restrictions due to necessary maintenance work and scaffolding.
The restrictions will start on Monday, July 17, and continue until mid-November, 2017.
Five spaces will be unavailable in front of No 4 and the whole area from No 5 to No 11 during that period will be closed off. Vehicle access to the South front will be maintained at present; however, traffic may be redirected due to further erection of scaffold, due early September, to the gable elevation of No 12. This will be confirmed and communicated in due course.
The University apologises for any inconvenience caused. If you have any enquiries, please contact Lynsey Paterson, UoG Project Manager: lynsey.paterson@glasgow.ac.uk.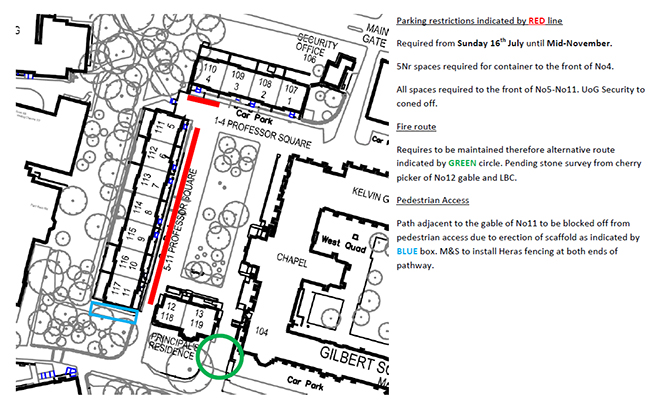 ---
First published: 11 July 2017