New arrangements for traffic on Gilmorehill campus
Issued: Fri, 12 Aug 2011 13:29:00 BST
Unfortunately, the University's Main Gate will remain closed to all traffic at least until November. However, pedestrians and cyclists are still able to use the Main gate.
Staff permit holders can continue use the Pearce Lodge or Dumbarton Road gates to enter and exit by car, but ADDITIONALLY, the Botany Gate will now be open.
The Botany Gate will now be the only entrance for visitors, contractors and deliveries, and the Pearce Lodge gates will be used to exit the campus.
Signage will be put up, though it would a great help if staff could inform all expected visitors or expected deliveries of the new arrangements.
This change has been made to ease traffic congestion caused by traffic entering only through the Pearce Lodge Gates.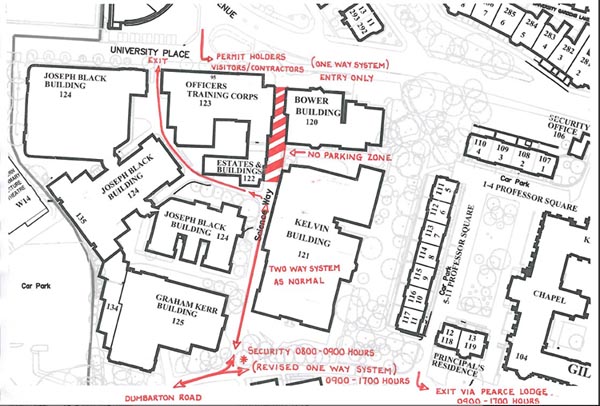 ---