Forensic Research Guide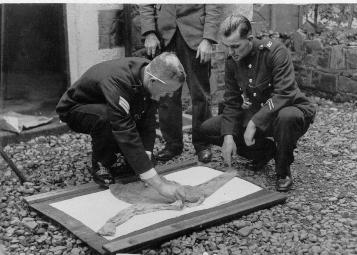 Survey of the Glasgow's historical resources relating to forensic medicine and science.
University of Glasgow sources
MED 1/1: Minutes of the Medical Faculty of the University of Glasgow, 1856-1878
SEN 10: University Calendars. Contains details of forensic medicine courses offered by the University 1826-1998
LFS 4/9/1: Register for the Class of Jurisprudence, 1904-1913
P5/1-3: Western Infirmary Pathological Reports and Pathologist's Reports
Holds c. 300 microscope slides of hairs which came from the Department of Forensic Medicine at the University of Glasgow and may have been produced by John Glaister, Junior
Further resources in Glasgow
GB 812 HB 43/3: Dr Angus McNiven, Killearn Hospital, Patient Examinations (1942-1943)
GB 812 HB 014 and HH67: Glasgow Royal Infirmary (1787-1998)
GB 812 HB 105: Professor William Parry-Jones (Forensic Psychiatrist to the Lockerbie enquiry)
GB 812 HB 088: Professor John Lenihan, British Clinical Physicist, (Creation of material, 1953-1999)
GB 812 HB 023: Victoria Infirmary, Glasgow (1881-1985)
Holds numerous forensic medicine textbooks, and minute books relating to John Glaister Senior's work for the Glasgow Royal Infirmary Medical Society and the Southern Medical Society.
RCPSG 013: Papers of Dr Henry Faulds (1843-1930)
RCPSG 001/20/1/17: Lectures on forensic medicine by Professor Harry Rainy. Notes taken by P A Simpson
RCPSG 021: Dr John Marshall Cowan (1870-1947), the collection includes scrapbook of memorabilia and testimonials for Robert Cowan.
GB 243 E, SR22/38-70: Glasgow Police records 1935-1954
GB 243 TD1450: Glasgow Corporation Public Health Department, 1936-1954
GB 243 CO4/3/10, SR22/77: Dumbartonshire Constabulary, 1884-1979
GB 243 TD734, Records of Criminal Cases in Glasgow area, 1823-1841
GB 243 B3/1, Glasgow Police Court, 1805-1875
GB 243 TD22, Dr Jamieson Papers, 1893-1975, (Oscar Slater Case)
GB 249 OB: Records of Anderson's College formerly Anderson's University formerly Anderson's Institution, Glasgow
Holds film of John Glaister Junior's wedding
Entry by appointment only
Holds Pouto Komanaw a Maori figure investigated by the Department of Forensic Medicine at the University of Glasgow to discover its origins through hair examination