The Print Unit provides printing services to all University departments, its wider partners, staff, students and external customers.
We endeavour to provide a cost effective professional service offering guidance and assistance to our customers regarding all their print requirements from initial enquiry to completion.
Opening Hours & Location
The Unit is staffed Monday to Friday for email and telephone enquiries:
Counter Service
Our counter service for drop-in customers (including student printing) is open Monday to Friday:
The Print Unit is located in the James Watt South Building.
Enter at the main entrance, turn right and walk to the stairwell at the end of the corridor. Go down the stairs to Level 2 (basement). Our reception is just through the double doors. The Print Unit is wheelchair accessible via the James Watt South Building's elevator.
Services
Our services include:
volume black and white photocopying
volume colour copying
professional digital colour printing on a full range of paper and board (card) up to A3
file preparation conforming to University of Glasgow visual identity
drop-in fast turnaround copying and binding
University stationery including letterheads, compliment slips and business cards
private work
We have a range of finishing equipment that can produce materials such as:
comb, wire and velo soft bound workbooks, reports, teaching materials
perfect bound books (paperback style) and saddle-stitched (stapled) booklets
numbered NCR forms and order books
personalised mailings, surveys
numbered tickets and invitations, menus creased for folding
Exhibition Banners
We are able to produce pull-up roller banners for exhibition and display use. These are a great way to publicise an event, or as an alternative to conventional signage. There are two main options available:
Grasshopper stand - can be used once, perfect for permanent banners
Barracuda stand - the banner's artwork can be changed up to six times after assembly, so is suitable for re-use for multiple events and updated information (please note that changing the artwork incurs a charge)
Additional items are also available to fit more specific needs, please contact us for more information.
We are also able to assist with design for your banner, from small tweaks to major setup. This would fall under our design service, and would be charged accordingly.
Printing for Students
We print a wide range of materials for students including dissertations, theses, reports, course notes, posters and more.
If you are a student who would like to print something with us, you can either email your file to print.enquiries@glasgow.ac.uk or visit our counter with your file on a USB device. Please note our counter opening times in the Opening Hours section above, and be advised that we only accept PDFs for printing. You cannot convert your files at the Print Unit, however the James Watt South Building does have a computer lab which is available for use by students.
Although we will always endeavour to have things ready as soon as possible, our standard guaranteed turnaround for student printing is one full working day from when we receive your file and have provided a quotation.
Placing orders/estimates
If requesting an estimate for print work, please email your request to us. Include your contact details. Give as much information as possible about the prospective print job. This information may include – quantity, binding/finishing method, how many printed pages, double-sided/single-sided, cover on card, whether full colour, black & white or mixed print, whether a press ready file will be supplied or work needed to prepare the file for print, deadline for delivery.
Finally, attach a sample file to let us to see the job. All of this information will allow us to supply a more accurate quotation and allow us to assess all stages of the work to ensure that we can comfortably meet the delivery time.
Submitting work electronically
If you are a member of staff with a University budget code, please complete and send the Print Unit Order Form (right-click and Save Link As) along with your file, which should be saved as a print-ready Acrobat PDF. You can send us your completed form via internal mail, or by email.
You can also submit print jobs online using our web-to-print service, located here. This is ideal for high volume printing, and is a cost-effective alternative to sending large print runs to University MFD printers.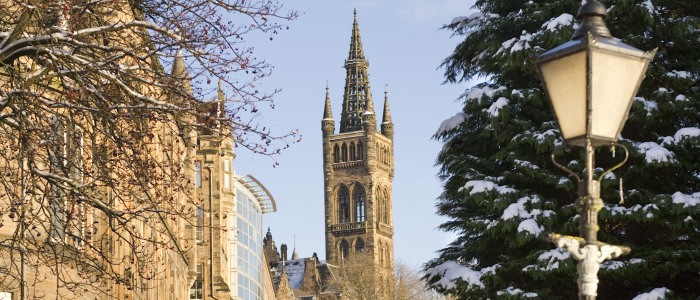 2019 Calendars
The Print Unit is currently offering University branded calendars for 2019. Both desktop and wall calendars are available; if you would like to order them, please visit our Skyline online ordering system at printroom.glasgow.ac.uk.