Sri Lanka
Sri Lanka
For decades now students from Sri Lanka have been choosing the University of Glasgow as their destination of choice in the UK. Glasgow is very proud of the fact that we have one of the largest South Asian communities in the UK. This gives our Sri Lankan students the opportunity to mix with other Sri Lankans and experience the world famous warmth and friendliness of the people of Glasgow.
Entry Requirements
Undergraduate
The University of Glasgow will consider students with International A-Levels and IB. Students who do not have either of these qualifications may be considered for entry to our foundation programmes at Glasgow International College.
Postgraduate Taught
We will consider applications to Master degrees from graduates holding first class degrees from Sri Lanka.

Meet Us
Representatives
We would be happy to welcome you to our historic main campus in the heart of Glasgow, where we host open days and campus tours for you to experience our University in person. For more information, go to: http://www.gla.ac.uk/about/visit/.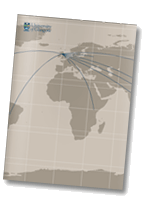 Next steps / useful information