Undergraduate
Marine & Freshwater Biology
BSc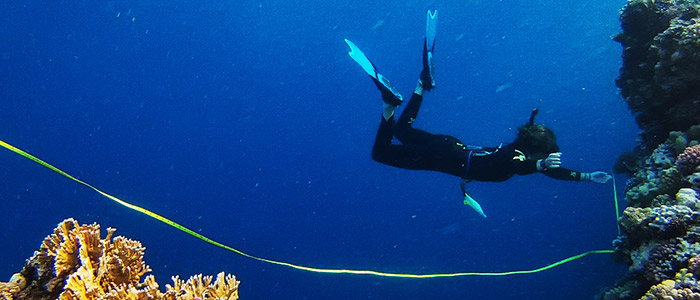 Marine and freshwater biology is the study of the world's aquatic environments.
Clearing 2017
Clearing options for Non-EU International students are available
We have an Exploration Society to help you organise and conduct scientific expeditions to all parts of the world.
Programme structure
Year 1
You will be given a general introduction to all aspects of modern biology and encouraged to acquire general scientific skills.
Year 2
In semester 1, you will develop your knowledge of fundamental aspects of biology. In semester 2, you will be introduced to specialist subject areas according to your interests (e.g. animal biology; biomolecular sciences; human biology; infection biology).
You will also study other subjects in years 1 and 2: see Flexible degrees.
Years 3, 4 and 5
If you progress to Honours (years 3 and 4) you will study a wide range of topics including animal diversity and its classification; ethical aspects of scientific
work; evolution and ecology; wildlife conservation; animal behaviour and animal welfare; environmental management (aquatic pollution); and aquatic environments. There are also visits to hatcheries, fish farms and aquaculture projects.
Another major component of your final year is an independent research project, which can be carried out in the laboratory, or in the field, at home or abroad.
You can take Marine & Freshwater Biology as an MSci, which includes an additional placement year, between the third and final years of the degree. This is normally spent doing research in industry or some other organisation such as a research institute in the UK or overseas.
The list of available final-year optional courses is subject to change each year. In addition, places in optional courses may be limited, so students are not guaranteed a place on a particular final-year option.
Programme alteration or discontinuation
The University of Glasgow endeavours to run all programmes as advertised. In exceptional circumstances, however, the University may withdraw or alter a programme. For more information, please see: Legal statements: Disclaimer.
Our international links
You may have the opportunity to undertake an overseas field course. For example, the tropical marine biology course includes an optional fieldtrip to study the coral reefs and mangroves of the Red Sea, Egypt.
Entry requirements
Academic entry requirements

for entry in 2018
A-levels
Standard academic entry requirements: AAB.
Minimum academic entry requirements: BBB.
Other mandatory requirements: We expect that students will pass the practical assessment of A-level sciences. A-levels in Biology OR Human Biology OR Chemistry at grade B or above.
Highers
Standard academic entry requirements: S5 entry requirement = AAAA or AAABB.
Minimum academic entry requirements: S5 minimum requirement = ABBB. S5 & S6 cumulative requirement = AAAAAB.
Other mandatory requirements: Minimum of two science subjects, one of which must be Biology OR Human Biology OR Chemistry at grade B or above.
We adjust these entry requirements for eligible applicants, from AABB at S5/S6, based upon completion of a pre-entry programme. For pre-entry programme eligibility and adjusted grade requirements, see Access Glasgow.
International Baccalaureate
Standard academic entry requirements: 36 points.
Minimum academic entry requirements: 34 points.
Other mandatory requirements: Three HL subjects at 6, 6, 5. Biology OR Human Biology OR Chemistry at SL6 or HL6.
European qualifications
Typical entry requirements for European qualifications: Science European Requirements [pdf]
Accepted Science subjects
Accepted Science subjects:
Biology
Chemistry
Computing Science
Engineering Science
Environmental Science
Geography
Human Biology
Lifeskills Mathematics
Mathematics
Mathematics of Mechanics
Physics
Statistics
Please note: all A-Level, International Baccalaureate, and other EU entry requirements must be achieved in first sitting.
Advanced Entry
Applicants who attain exceptional grades may be considered for Advanced Entry (commence their degree at year 2). The availability of Advanced Entrywill vary by science subject and thus reduce the flexibility that a student has in selecting optional subjects.
Applicants who are interested in Advanced Entry should apply for year 2 (Y2) on their UCAS application. In the event that the specific subject is unavailable or their application is unsuccessful they will automatically be considered for year 1 entry without having to submit a separate UCAS application.
Indicative Grades for an applicant to be considered for Advanced Entry are:
A-levels: A*AA at one sitting.
Advanced Highers: AAA at one sitting.
International Baccalaureate: 38 Points.
In all cases the mandatory requirements specified must also be met. All applicants should use the standard UCAS code but apply for Y2 entry.
Applicants may be invited for interview.
Glasgow International College
International students with academic qualifications below those required should contact our partner institution, Glasgow International College, who offer a range of foundation certificates.
English language requirements
For applicants whose first language is not English, the University sets a minimum English Language proficiency level.
International English Language Testing System (IELTS) Academic module (not General Training):
overall score 6.5
no sub-test less than 6.0
or equivalent scores in another recognised qualification (see below)
Common equivalent English language qualifications:
ibTOEFL*: 90; no sub-test less than: Reading: 20; Listening: 19; Speaking: 19; Writing: 23

CAE (Cambridge Certificate of Advanced English): 176 overall: no sub-test less than 169
CPE (Cambridge Certificate of Proficiency in English): 176 overall: no sub-test less than 169
PTE Academic (Pearson Test of English, Academic test): 60; no sub-test less than 59
IGCSE: English language: B minimum
Trinity College London Integrated Skills in English: ISEII at Distinction with Distinction in all sub-tests
* Please note that TOEFL is still acceptable for admission to this programme for both home/EU and international students.
For international students, the Home Office has confirmed that the University can choose to use TOEFL to make its own assessment of English language ability for visa applications to degree level courses. We therefore still accept TOEFL tests taken in the last two years for admission to this programme.
Pre-sessional courses
The University of Glasgow accepts evidence of the required language level from the English for Academic Study Unit Pre-sessional courses. We also consider other BALEAP accredited pre-sessional courses:
FAQs
What do I do if...
my language qualifications are below the requirements?
The University's School of Modern Languages and Cultures offers a range of Pre-Sessional Courses to bring you up to entry level. The course is accredited by BALEAP, the UK professional association for academic English teaching; see Links.
my language qualifications are not listed here?
Please contact the Recruitment and International Office: Elaine.Shortt@glasgow.ac.uk
If you require a Tier 4 student visa, your qualification must be one of the secure English language tests accepted by UK Border Agency:
Visa requirements and proof of English language level
It is a visa requirement to provide information on your level of English based on an internationally recognised and secure English language test. All test reports must be no more than 2 years old. A list of these can be found on the UK Border Agency website. If you have never taken one of these tests before, you can get an initial idea of your level by using the Common European Framework self-assessment grid which gives you a level for each skill (e.g. listening B1/writing B2 etc.) However, please note that this is not a secure English language test and it is not sufficient evidence of your level of English for visa requirements.
For further information about English language, please see School of Modern Languages and Cultures: English for Academic Study.
Career prospects
Your qualification is an entry point to a wide range of careers that demand the analytical and science-based communications skills developed during this degree programme.
Our graduates move into many careers including conservation, environmental management, fisheries and aquaculture. Many choose to continue on to postgraduate study.
Fees and funding
Tuition fees
How and when you pay tuition fees depends on where you're from: see Tuition fees for details.
Scholarships
We offer a wide range of scholarships to our undergraduates, including both home/EU and international students. The University is committed to supporting students and rewarding academic excellence. That's why we've invested more than £1m in additional scholarship funding in recent years.
Sun Yat Sen
The University of Glasgow offer a 10% discount to student of Sun Yet Sen University who have completed the first 2 years of their undergraduate degree at Sun Yet Sen University and wish to complete their degree at the University of Glasgow.
more information
RUK Access Bursary 2017 Entry
The bursary supports talented students who might not be able to take a place at University for reasons of financial hardship and  available to new entrant full-time undergraduate students of the University of Glasgow who are fully registered for Session 2017-18 as being domiciled in England, Wales and Northern Ireland and paying annual tuition fees of £9,250 per annu
more information
RUK Excellence Scholarship 2017
The RUK Excellence Scholarship of £1,000 for each year of study will be awarded to first degree entrants who have attained AAA or better in one sitting at A Level (or equivalent). 
more information
The scholarships above are specific to this programme. For more funding opportunities search the scholarships database
How to apply
UCAS deadlines
The deadlines for applications to Medicine, Vet Medicine and Dentistry is 15 October each year. The deadline for applications to all other degree programmes is 15 January each year.
The University of Glasgow does not usually accept any applications after these UCAS deadlines. It is the applicants' responsibility to ensure the accuracy of their application prior to submission, and requests from applicants to correct erroneous application content, change degree programme or change college of entry, will not be accepted after these UCAS deadlines. This policy is in place to ensure fairness and consistency to all applicants, and no exceptions will be made.
15 October: if including Dentistry, Medicine, Veterinary Medicine or applying to Oxford or Cambridge
15 January: all other UK/EU applicants (unless otherwise stated on the UCAS website)
30 June: international (non-EU) students.
Apply at www.ucas.com or through your school or college.
Contact UCAS on 0871 468 0468.
UCAS tariff points
The University does not frame its offers in terms of UCAS tariff points.
How soon will I receive a decision?
We will usually respond before the end of March.

If your qualifications meet our requirements and we believe you could benefit from study at Glasgow, you will receive an unconditional offer.
If you haven't yet gained the necessary passes for entry to your chosen subject(s), we may look at the qualifications you are taking when you apply and make you a conditional offer.
Will I be interviewed?
An interview will be part of the selection process for: Community Development, Dentistry, History of Art & Art-world Practice, Medicine, Music, Nursing, Teaching, and Veterinary Medicine & Surgery. You may also be interviewed if you're applying for entry into Year 2 in any subject.
Is deferred entry available?
For Dentistry, Nursing and Veterinary Medicine programmes we are unable to consider applications for deferred entry. In other cases deferring may be possible but it's not granted automatically.
University Transfers
Transfers from another University to the University of Glasgow will only be considered under the following circumstances:
The applicant has a genuine personal circumstance (illness, bereavement or other family situation) which requires the student to move back to their home town to be closer to family; AND
The applicant would have met the University of Glasgow entrance requirements at the time he/she went to the other institution. In exceptional circumstances, a student may be admitted if he/she was marginally below the University of Glasgow entrance requirements, and they have performed above average at the other institution.
Widening participation
We want to help talented applicants from all backgrounds to study at Glasgow. See our range of widening access pre-entry programmes at Widening Participation.
Apply at www.ucas.com or through your school or college.
Contact UCAS on 0871 468 0468.
Related programmes