Veterinary Biosciences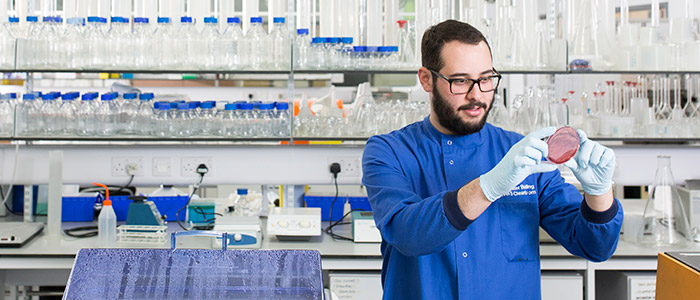 Veterinary Biosciences is a biological sciences programme dedicated to those areas of science that underpin veterinary medicine.
The programme brings together world-renowned veterinary and life scientists.
The programme is designed to provide you with the knowledge, philosophy and technical skills that you will need to undertake a fulfilling career in those aspects of animal science which underpin both the role and use of animals in society and in modern veterinary and laboratory animal practice.
Years 1 and 2
The first two years of the programme will consist of chemistry, biology, animal husbandry and comparative biomedical sciences such as anatomy and physiology, combined with biomolecular sciences and a wide choice of related subjects.
Years 3, 4 and 5
If you progress to Honours (years 3 and 4), in year 3 the focus will be on pathological sciences (for example infectious disease and molecular oncology), and will embrace the principles and effect of drug action.
The final taught year will include courses on scientific methods, statistics, population medicine, epidemiology and animal welfare, ethics and legislation, with a significant research project.
You can take Veterinary Biosciences as an MSci, which includes an additional placement year. This is normally spent doing research in industry or some other organisation such as a research institute. Placements are usually in the UK, but can also be taken overseas. They happen between third year and the final year of
the degree.
Our international links
You will have the opportunity to apply to study abroad. There are currently two options available: the Erasmus+ Programme and the International Exchange Programme. See Study abroad.
Academic entry requirements

for entry in 2016
A-levels
Standard academic entry requirements: ABB.
Other mandatory requirements: Must include Chemistry and Biology.
Highers
Standard academic entry requirements: ABBB and CC Advanced Highers
Other mandatory requirements: ABBB at one sitting, including Chemistry and Biology, with either Physics or Mathematics, together with two Advanced Highers, one of which should be Chemistry or Biology (at grades CC). It is acceptable to take Chemistry or Biology as a crash Higher in S6 provided grades ABBB are obtained in S5.
International Baccalaureate
Standard academic entry requirements: 36 points.
Minimum academic entry requirements: 34 points.
Other mandatory requirements: Must include Chemistry and Biology, one of which must be at HL5 plus Maths or Physics at SL5.
European qualifications
Typical entry requirements for European qualifications: Science European Requirements [pdf]
Accepted Science subjects:
Biology
Botany
Chemistry
Computing Studies
Environmental Science
Geography
Geology
Human Biology
Information Systems
Managing Environmental Resources
Mathematics
Physics
Science (Double Syllabus)
Statistics
Zoology
Please note: all A-Level, International Baccalaureate, and other EU entry requirements must be achieved in first sitting.
For applicants whose first language is not English, the University sets a minimum English Language proficiency level.
International English Language Testing System (IELTS) Academic module (not General Training):
overall score 6.5
no sub-test less than 6.0
or equivalent scores in another recognised qualification (see below)
Common equivalent English language qualifications:
ibTOEFL: 92; no sub-test less than 20*
CAE (Cambridge Certificate of Advanced English): 176 overall: no sub-test less than 169
CPE (Cambridge Certificate of Proficiency in English): 176 overall: no sub-test less than 169
PTE Academic (Person Test of English, Academic test): 60; no sub-test less than 59
IGCSE: English language: B minimum.
* Please note that TOEFL is still acceptable for admission to this programme for both home/EU and international students.
For international students, the Home Office has confirmed that the University can choose to use TOEFL to make its own assessment of English language ability for visa applications to degree level courses. We therefore still accept TOEFL tests taken in the last two years for admission to this programme.
Pre-sessional courses
The University of Glasgow accepts evidence of the required language level from the Language Centre Pre-sessional courses. We also consider other BALEAP accredited pre-sessional courses:
What do I do if...
my language qualifications are below the requirements?
The University's Language Centre offers a range of Pre-Sessional Courses to bring you up to entry level. The course is accredited by BALEAP, the UK professional association for academic English teaching; see Links.
my language qualifications are not listed here?
Please contact the Recruitment and International Office: Elaine.Shortt@glasgow.ac.uk
If you require a Tier 4 student visa, your qualification must be one of the secure English language tests accepted by UK Border Agency:
my academic qualifications are below the requirements?
Glasgow International College offers Foundation courses to upgrade your academic qualifications.
Visa requirements and proof of English language level
It is a visa requirement to provide information on your level of English based on an internationally recognised and secure English language test. All test reports must be no more than 2 years old. A list of these can be found on the UK Border Agency website. If you have never taken one of these tests before, you can get an initial idea of your level by using the Common European Framework self-assessment grid which gives you a level for each skill (e.g. listening B1/writing B2 etc.) However, please note that this is not a secure English language test and it is not sufficient evidence of your level of English for visa requirements.
For further information about English language, please contact the Language Centre.
The Veterinary Biosciences degree will provide an excellent preparation for a career in veterinary research or if you are considering a career in the animal care or pharmaceutical industries, where a broad understanding of the biomedical sciences would be an asset.
Other career possibilities include teaching of biological subjects at schools, colleges of further education or universities.
When applying you will need to know the UCAS code for the subject or subject-combination that you wish to apply to:
You may apply for transfer to the MSci mid-programme. Applications are NOT taken via UCAS.
Tuition fees
How and when you pay tuition fees depends on where you're from: see Tuition fees for details. If you're from outside the EU, please see International students for more information.
Scholarships
We offer a wide range of scholarships to our undergraduates, including both home/EU and international students. The University is committed to supporting students and rewarding academic excellence. That's why we've invested more than £1m in additional scholarship funding over the last year.
For a full list of scholarships including eligibility criteria and how to apply, please see:
UCAS deadlines
The deadlines for applications to Medicine, Vet Medicine and Dentistry is 15 October each year. The deadline for applications to all other degree programmes is 15 January each year.
The University of Glasgow does not usually accept any applications after these UCAS deadlines. It is the applicants' responsibility to ensure the accuracy of their application prior to submission, and requests from applicants to correct erroneous application content, change degree programme or change college of entry, will not be accepted after these UCAS deadlines. This policy is in place to ensure fairness and consistency to all applicants, and no exceptions will be made.
15 October: if including Dentistry, Medicine, Veterinary Medicine or applying to Oxford or Cambridge
15 January: all other UK/EU applicants (unless otherwise stated on the UCAS website)
30 June: international (non-EU) students.
Apply at www.ucas.com or through your school or college.
Contact UCAS on 0871 468 0468.
UCAS tariff points
The University does not frame its offers in terms of UCAS tariff points.
How soon will I receive a decision?
We will usually respond before the end of March.

If your qualifications meet our requirements and we believe you could benefit from study at Glasgow, you will receive an unconditional offer.
If you haven't yet gained the necessary passes for entry to your chosen subject(s), we may look at the qualifications you are taking when you apply and make you a conditional offer.
Will I be interviewed?
An interview will be part of the selection process for: Community Development, Dentistry, History of Art & Art-world Practice, Medicine, Music, Nursing, Teaching, and Veterinary Medicine & Surgery. You may also be interviewed if you're applying for entry into Year 2 in any subject.
Is deferred entry available?
For Dentistry, Nursing and Veterinary Medicine programmes we are unable to consider applications for deferred entry. In other cases deferring may be possible but it's not granted automatically.
University Transfers
Transfers from another University to the University of Glasgow will only be considered under the following circumstances:
The applicant has a genuine personal circumstance (illness, bereavement or other family situation) which requires the student to move back to their home town to be closer to family; AND
The applicant would have met the University of Glasgow entrance requirements at the time he/she went to the other institution. In exceptional circumstances, a student may be admitted if he/she was marginally below the University of Glasgow entrance requirements, and they have performed above average at the other institution.
Widening participation
We want to help talented applicants from all backgrounds to study at Glasgow. See our range of widening access pre-entry programmes at Widening Participation.
British Sign Language
UCAS has launched seven new videos using British Sign Language, including details on how to apply and a Parents' Guide.
Apply at www.ucas.com or through your school or college.
Contact UCAS on 0871 468 0468.
vet-sch-admissions@glasgow.ac.uk