Creative Industries and Cultural Policy
MSc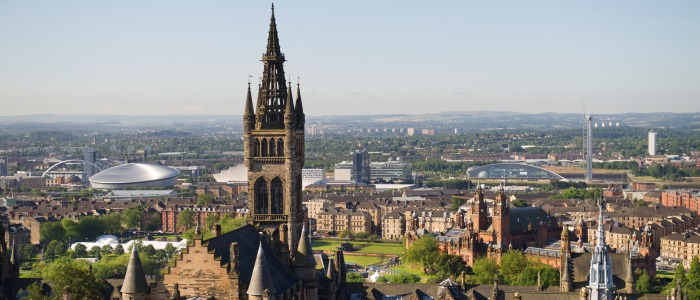 This programme provides an interdisciplinary grounding in the key economic, cultural and policy forces shaping the development of the creative industries at global, national and local levels. Theoretical and analytical depth is coupled with an emphasis on the realities of contemporary cultural production, in order to deliver both a rigorous academic experience and a foundation for a career in the sector.
Key facts
You will be taught by the world leading teams in the Centre for Cultural Policy Research and the Adam Smith Business School. Frequent invited speakers will provide current industry insights from across the sector.
Glasgow offers an ideal environment for students studying the Creative and Cultural Industries. It is a culturally vibrant city, with thriving music, theatre, and visual art scenes, and the greatest concentration of creative industries in Scotland.
This programme is suitable for those working in or seeking to enter the cultural and creative industries. It is designed to develop your critical and analytical skills and your understanding of the ways in which policy trends, emerging business models and new working practices are combining to reshape the sector.
The taught element of this programme consists of six core courses, totalling 100 credits, and a slot in semester 2 in which you can take 1 or 2 course/s of your choice (totalling 20 credits). This structure allows you to develop key sector management skills and knowledge, while also providing space to tailor the programme to suit your interests and ambitions. You can choose two 10 credit options from a range offered by the Adam Smith Business School, strengthening the management component of your degree. Alternatively you can select an approved 20 credit option from another subject area.
The teaching on the two largest core courses, Creative Industries and Cultural Policy (semester 1) and Contemporary Cultural Production (semester 2) is supported by a series of regular guest lectures, in which we invite practitioners, policy makers and key influencers from across the creative sector to share their perspectives.
Assessment is based primarily on individual written essays and assignments but also involves presentation. You will undertake academic research essays and report writing tailored to an industry brief, ensuring you develop a range of writing skills relevant to both academic and professional contexts.
In the summer period (April to August), you will complete a research dissertation (worth 60 credits) that will enable you to develop, investigate and present a substantial and original project of personal interest. The academic team within the Centre for Cultural Policy Research have extensive experience of conducting empirical studies within the creative sector, and are thus able to support a wide range of industry and policy related topics and research approaches.
Semester 1 core courses (totalling 60 credits)
Creative Industries and Cultural Policy (30 credits)
Managing Innovation and Creativity (10 credits)
Project Management (10 credits)
Research Methods 1 (10 credits)
Semester 2 courses (totalling 60 credits)
Creative Lives and Cultural Industries (30 credits)
Research Methods 2 (10 credits)
Optional course/s (worth 20 credits in total)
Semester 2 optional courses may include (subject to availability):
Business Finance (10 credits)
Digital Transformation (10 credits)
Processes of Entrepreneurship and Innovation (10 credits)
Internationalisation of SMEs (10 credits)
Intellectual Property Law (20 credits)
Festivals (20 credits)
Issues in Audience Management (20 credits)
Summer (April - August)
Dissertation (60 credits)
Some optional courses might not be available every year.
Core courses:
Creative Industries and Cultural Policy (30 credits, semester 1)
This course, delivered by the Centre for Cultural Policy Research (CCPR), will provide a comprehensive introduction to the global creative industries and the cultural policy and economic factors that shape them at national and international levels. It will equip you with knowledge of a range of theoretical and analytical approaches to the sector and encourage you to think critically about the ways in which the creative sector is constructed in policy and discourse.
Assessment consists of two written assignments: one mid semester 3500 essay, worth 40%, and one 4500 word research essay, worth 60%, at the end of the semester.
By the successful completion of the course, students will be able to:
describe and critique the operation and flows of cultural and economic policies affecting creative industries at global, national and local levels.
analyse and evaluate competing discourses about creativity, cultural value and entrepreneurship.
outline, illustrate and discuss a range of significant topics that shape cultural and creative industries, including intellectual property, cultural protection, cultural and business infrastructure and the logics and practice of state support.
Creative Lives and Cultural Industries (30 credits, semester 2)
This course, delivered by CCPR, aims to orientate you towards the realities of working within the contemporary cultural industries. It will combine current academic perspectives with the experience of relevant guest speakers, drawn from across the sector, to provide a comprehensive overview of and critical insight into the evolving practices and dynamics of cultural production, and will address the particular challenges and opportunities facing those engaged in the creative sector.
Assessment has three elements: two 3000 word written assignments, each worth 40% and a presentation, worth 20%. These are designed to develop different writing and presentation skills, appropriate to academic and industry contexts. The first assignment is a 3000 word academic essay assignment on topical and/or theoretical aspects of cultural production practice, due mid semester. The final assignment will be a 3000 word industry orientated report, with critical reflection, due at the end of semester. You will also be required to make a short, assessed presentation (10 minutes) on the topic of your report.
By the successful completion of the course, students will be able to:
identify and evaluate emerging models for doing business and creating culture within the creative sector.
explain and analyse market conditions, policy factors and labour relations affecting the development of creative and cultural enterprises.
recognise and critically discuss the opportunities, challenges and ethical issues presented by the contemporary cultural and creative sector.
Managing Innovation and Creativity (10 credits, semester 1)
This course, taught by the Adam Smith Business School (ASBS), will focus on creativity and innovation in management and their impact on increasing competitive advantage of organisations. The course will also explore the complexity of the creative process at the individual, group and organisational level, as well as discuss the competencies of a 'creative manager'.
Project Management (10 credits, semester 1)
In this course, taught by ASBS, the aim is to familiarise the student with the management methods and techniques most commonly used to plan, organise and control projects.
Research Methods 1 and 2
These two 10 credit courses, which are taught within CCPR and are prerequisites for progression to the dissertation, are designed to work together to equip you with the skills needed to undertake independent research. In semester 1, Research Methods 1 will introduce you to a range of key research methodologies, drawn from a range of disciplines relevant to the study of the cultural and creative industries, and their management and policy dimensions. In semester 2, Research Methods 2 will focus on research design and guide you through the process of developing and drafting your own research proposal, which will then become the basis for your dissertation.
Optional courses:
Business Finance
This ASBS course considers the importance of the finance function within organisations in connection with decision making, control and performance management.
Digital Transformation
This ASBS course is aimed at the analysis and examination of the modern phenomena of the knowledge economy. It examines the major changes in business for a digitally enabled enterprise and the changes and effects of new models of business.
Process of Entrepreneurship and Innovation
This ASBS course examines the processes of Entrepreneurship as they relate to an individual and to others. It explores the behavioural characteristics of entrepreneurs specifically in identifying, exploiting and managing opportunities and examines the critical role of culture in developing entrepreneurial organisations.
Internationalisation of SMEs
This ASBS course aims to examine the issues of international expansion relevant to an SME. Exploring the methods by which SMEs may grow internationally and enabling students to evaluate the criteria that assist this decision and the suitability of these options.
Festivals
Festivals of various art forms have become global phenomena and play an increasingly pivotal role in the creative industries economy. This course, which is taught by staff from across the School of Culture and Creative Arts, offers a historical, theoretical and critical context for the study of festivals. Festivals are examined from critical and historical perspectives but also through detailed consideration of specific examples, both contemporary and local and historical and 'remote' and cover a broad range of cultural forms including film, music, theatre and art.
Issues in Audience Management
This course, taught within CCPR, provides a critical introduction to the ways in which industries and public bodies have modelled, measured, marketed and engaged with media audiences. Students will be expected to consider the impact of new technologies and new patterns of audience behaviour on the increasingly complex relationships between audiences, texts and media providers.
Please note, some optional courses might not be available every year. Students who wish to take an optional course from beyond the approved list may be able to do so, subject to timetabling and approval by both the Programme Director and the Course Convenor.
This programme is based in the Centre for Cultural Policy Research which is a dedicated postgraduate media, communication and cultural policy research environment.
Find out more about the Centre.
Whether you are seeking a management role in an established organisation or plan to pursue a more entrepreneurial path, this course will equip you with a critical understanding of the landscape within which cultural and creative industries operate, and enable you to develop the analytical skills necessary for a career in this growing sector.
At the same time, the programme offers an academically engaging and rewarding experience allowing you to embark on policy advisory and consultancy roles or to pursue further postgraduate studies.
Entry requirements for postgraduate taught programmes are a 2.1 Honours degree or equivalent qualification (for example, GPA 3.0 or above) in a relevant subject unless otherwise specified.
You are required to submit a personal statement of around 500 words explaining why you want to undertake the MSc in Creative Industries and Cultural Policy at Glasgow, in addition to an academic transcript, references, and linguistic proficiency documentation.
If you do not meet the standard academic criteria but have substantial relevant professional experience, you will also be considered for entry to the programme.
For applicants whose first language is not English, the University sets a minimum English Language proficiency level.
International English Language Testing System (IELTS) Academic module (not General Training)
overall score 6.5
no sub-test less than 6.0
or equivalent scores in another recognised qualification:
Common equivalent English language qualifications
All stated English tests are acceptable for admission for both home/EU and international students for this programme:
ibTOEFL: 90; no sub-test less than:

Reading: 20
Listening: 19
Speaking: 19
Writing: 23

CAE (Cambridge Certificate of Advanced English): 176 overall; no sub-test less than 169
CPE (Cambridge Certificate of Proficiency in English): 176 overall; no sub-test less than 169
PTE Academic (Pearson Test of English, Academic test): 60; no sub-test less than 59
Trinity College London Integrated Skills in English: ISEII at Distinction with Distinction in all sub-tests
For international students, the Home Office has confirmed that the University can choose to use these tests to make its own assessment of English language ability for visa applications to degree level programmes. The University is also able to accept an IELTS test (Academic module) from any of the 1000 IELTS test centres from around the world and we do not require a specific UKVI IELTS test for degree level programmes. We therefore still accept any of the English tests listed for admission to this programme.
Pre-sessional courses
The University of Glasgow accepts evidence of the required language level from the English for Academic Study Unit Pre-sessional courses. We also consider other BALEAP accredited pre-sessional courses:
What do I do if...
my language qualifications are below the requirements?
The University's English for Academic Study Unit offers a range of Pre-Sessional Courses to bring you up to entry level. The course is accredited by BALEAP, the UK professional association for academic English teaching; see Links.
my language qualifications are not listed here?
Please contact the Recruitment and International Office: pgadmissions@glasgow.ac.uk
For further information about English language requirements, please contact the Recruitment and International Office: pgadmissions@glasgow.ac.uk
Tuition fees for 2017-18
MSc
Home and EU
Full time fee
£7700
International
Full time fee
£16000
Fees are subject to change and for guidance only
Fee for submission by a research student: £460
Fee for re-assessment of a dissertation (PGT programme): £300
Submission for a higher degree by published work: £1,000
Submission of thesis after deadline lapsed: £200
Submission by staff in receipt of staff scholarship: £680
Research students registered as non-supervised Thesis Pending students (50% refund will be granted if the student completes thesis within the first six months of the period): £260
Registration/exam only fee: £110
General Council fee: £50
A 10% discount is available to University of Glasgow alumni applying to the MSc. This includes graduates and those who have completed a Junior Year Abroad, Exchange programme or International Summer School at the University of Glasgow. The discount is applied at registration for students who are not in receipt of another discount or scholarship funded by the University. No additional application is required.
Funding opportunities
We ask that you apply online for a postgraduate taught degree. Our system allows you to fill out the standard application form online and submit this to the University within 42 days of starting your application.
You need to read the guide to applying online before starting your application. It will ensure you are ready to proceed, as well as answer many common questions about the process.
Do I have to apply online for a postgraduate taught degree?
Yes. To apply for a postgraduate taught degree you must apply online. We are unable to accept your application by any other means than online.
Do I need to complete and submit the application in a single session?
No. You have 42 days to submit your application once you begin the process. You may save and return to your application as many times as you wish to update information, complete sections or upload additional documents such as your final transcript or your language test.
What documents do I need to provide to make an application?
As well as completing your online application fully, it is essential that you submit the following documents:
A copy (or copies) of your official degree certificate(s) (if you have already completed your degree)
A copy (or copies) of your official academic transcript(s), showing full details of subjects studied and grades/marks obtained
Official English translations of the certificate(s) and transcript(s)
Two supporting reference letters on headed paper
Evidence of your English Language ability (if your first language is not English)
Any additional documents required for this programme (see Entry requirements for this programme)
A copy of the photo page of your passport (Non-EU students only)
If you do not have all of these documents at the time of submitting your application then it is still possible to make an application and provide any further documents at a later date, as long as you include a full current transcript (and an English translation if required) with your application. See the 'Your References, Transcripts and English Qualification' sections of our Frequently Asked Questions for more information.
Do my supporting documents need to be submitted online?
Yes, where possible, please upload the supporting documents with your application.
How do I provide my references?
You must either upload the required references to your online application or ask your referees to send the references to the University as we do not contact referees directly. There is two main ways that you can provide references: you can either upload references on headed paper when you are making an application using the Online Application (or through Applicant Self-Service after you have submitted your application) or you can ask your referee to email the reference directly to pgadmissions@glasgow.ac.uk. See the 'Your References, Transcripts and English Qualifications' section of the Frequently Asked Questions for more information.
What if I am unable to submit all of my supporting documents online?
If you cannot upload an electronic copy of a document and need to send it in by post, please attach a cover sheet to it that includes your name, the programme you are applying for, and your application reference number.
You may send them to:
Postgraduate Admissions
Marketing, Recruitment & International Office
71 Southpark Avenue
Glasgow
G12 8QQ
Fax: +44 141 330 4045
Can I email my supporting documents?
No. We cannot accept email submissions of your supporting documents.
What entry requirements should I have met before applying? Where can I find them?
You should check that you have met (or are likely to have met prior to the start of the programme) the individual entry requirements for the degree programme you are applying for. This information can be found on the 'entry requirements' tab on each individual programme page, such as the one you are viewing now.
What English Language requirements should I have met before applying? Where can I find them?
If you are an international student, you should also check that you have met the English Language requirements specific to the programme you are applying for. These can also be found on the 'entry requirements' tab for each specific programme.
Further Information
Please see the Frequently Asked Questions for more information on applying to a postgraduate taught programme.
Guidance notes for using the online application
These notes are intended to help you complete the online application form accurately, they are also available within the help section of the online application form. If you experience any difficulties accessing the online application then you should visit the Application Troubleshooting/FAQs page.
Name and Date of birth: must appear exactly as they do on your passport. Please take time to check the spelling and lay-out.
Contact Details: Correspondence address. All contact relevant to your application will be sent to this address including the offer letter(s). If your address changes, please contact us as soon as possible.
Choice of course: Please select carefully the course you want to study. As your application will be sent to the admissions committee for each course you select it is important to consider at this stage why you are interested in the course and that it is reflected in your application.
Proposed date of entry: Please state your preferred start date including the month and the year. Taught masters degrees tend to begin in September. Research degrees may start in any month.
Education and Qualifications: Please complete this section as fully as possible indicating any relevant Higher Education qualifications starting with the most recent. Complete the name of the Institution (s) as it appears on the degree certificate or transcript.
English Language Proficiency: Please state the date of any English language test taken (or to be taken) and the award date (or expected award date if known).
Employment and Experience: Please complete this section as fully as possible with all employments relevant to your course. Additional details may be attached in your personal statement/proposal where appropriate.
References: Please provide the names and contact details of two academic references. Where applicable one of these references may be from your current employer. References should be completed on letter headed paper and uploaded on to your application.
Application deadlines
International applications (non-EU) deadline
There is high demand for places on this programme. The University recognises that applicants from all geographical regions cannot complete and submit their applications at the same time and, to ensure fairness for international applicants, a two deadline process has been established:
Application phase 1 deadline

: 15 December 2016

Application phase 2 deadline

: 31 March 2017
All international applications submitted before 15 December 2016 will be reviewed and processed normally with no priority given to any geographic region.
Between 16 December 2016 and 31 March 2017, priority will be given to applications which come from geographic areas which have been unable to submit applications before that point.
Please note that international applications received after 31 March 2017 may be considered for some programmes following a review of available places.
UK and EU Application Deadline
Classes start September 2017 and you may be expected to attend induction sessions the week before.
Apply now