Film & Television Studies
MLitt

Apply now
Related links
Other programmes in the subject of Film and Television Studies:
The MLitt in Film & Television Studies, taught in Scotland's media capital, offers the opportunity for the critical study of film and television. This well-established programme aims to provide an advanced understanding of the approaches and methodologies in Film & Television Studies and to equip you with core research skills for advanced study in this field.
Key facts
You will be studying in Glasgow, one of the leading media cities in the UK, and be based at our Gilmorehill Centre, with its own cinema as well as extensive collection of video, DVD and digital resources.
The Gilmorehill Centre is home to the international journal Screen and hosts the annual Screen conference every summer, attracting leading names in film and television studies from across the world. You will have the opportunity to participate in the conference as well as to engage with guest speakers from the academy and media industries throughout the year.
The Masters is designed for those with some background in film, television, media or communication studies (or related fields) who are contemplating, or developing, a career in media research or criticism. It is particularly relevant as preparation for further postgraduate research in film and television.
This programme will encourage advanced level study of specific aspects of film and television, via the exploration of research strategies appropriate to the two mediums. The curriculum is designed to establish the full focus of Film and Television Studies as a discipline and to suggest some of the ways in which its boundaries are being re-drawn by new screen cultures and technologies.
The programme consists of three components (please see core and optional courses information for more details):
Component 1: Core Course (60 credits)
Semester 1: History of Critical Writing (30 credits)
Semester 2: Research Methods and Preparation (30 credits)
Component 2: Three additional courses (60 credits)
Advanced Topics in Film Studies (20 credits) - compulsory
Advanced Topics in Television Studies (20 credits) - compulsory
(The above two courses will run in semester 1 and 2 in alternate years)
A third option course (20 credits, semester 1 or 2)
Component 3: Dissertation (60 credits)
You will research and write your dissertation over the summer (May to Sept). It will be 15,000 words in length and on a topic chosen in consultation with your tutors and the programme convenor.
The MLitt in Film & Television Studies at the University of Glasgow is a well-established programme taught in Scotland's media capital. We have an excellent reputation for both teaching and research making this the ideal location for postgraduate study.
In the REF 2014, we performed impressively with 80% of our research evaluated as world leading or internationally excellent.
The programme is taught in the Gilmorehill Centre which offers its own cinema – where you will gather every week for the screenings which are a core part of the curriculum – as well as a Resources Room where you can access our Media Archive which has more than 6,000 holdings, complementing the Library's extensive collection of Film & Television books and periodicals. The building is the centre of a lively postgraduate culture in the related areas of Film & Television Studies and Theatre Studies. You will therefore be part of a larger community of around 50 postgraduate students whose diverse interests range from film festivals, to national and transnational cinemas, film stars, and media audiences.

We have a number of research students funded under the Arts and Humanities Research Council's Collaborative Doctoral Awards scheme who are working alongside organisations including BBC Scotland, the Edinburgh International Film Festival and the Glasgow Film Theatre. Postgraduates organise many events through the year, including screenings, reading groups, social events and the annual postgraduate student symposium.

The Gilmorehill Centre is also home to the international journal Screen and the annual Screen conference is held here every summer, attracting leading names in Film & Television Studies from across the world. Students have the opportunity to participate in the conference as well as to engage with guest speakers from the academy and media industries throughout the year in our research seminar programme.
Component 1: Core Course
Our core course offers you the opportunity to engage with the breadth of Film & Television Studies as a discipline whilst developing core research skills. You will benefit from our wide range of expertise and approaches to our discipline, as the core course is taught by all the staff working within Film & Television Studies. It consists of two parts:
History of Critical Writing (Semester One)
This course will introduce you to film and television as disciplines by examining the key texts, debates and interventions that have helped shape understandings over time.
Research Methods and Preparation (Semester Two)
This course will introduce you to a range of methodological approaches for further in-depth study and research. It will place a focus on your dissertation preparation.
The core course will allow you to:
Develop your research and presentational skills in a variety of contexts and formats
Understand the theoretical approaches which have been influential in the academic study of film and television
Study in detail specific critical essays that exemplify 'best practice' of research in the field
Start to identify your dissertation topic and prepare your dissertation proposal
Assessment
There are four forms of assessment staged throughout the academic year, including a short essay of 2,000 words, a critical essay of 3,500 words, a group presentation and a dissertation proposal.
Component 2: Three additional courses
Advanced Topics in Film Studies
In this course you will interrogate advanced topics in Film Studies, drawn from a variety of geographical areas, historical periods, analytical approaches and theoretical frameworks. Your study will contrast contemporary paradigms, practices and methods at the cutting-edge of the field with more foundational critical explorations of the film medium.
You will study advanced approaches to selected key movements in the development of film theory (e.g. semiotics, authorship, genre, psychoanalysis, reception/audience studies, etc.) and their significance in the constitution of Film Studies and you will analyse the interrelatedness of theoretical, historical and critical approaches to Film Studies.
Advanced Topics in Television Studies
In this course you will explore advanced topics in Television Studies, drawn from a variety of geographical areas, historical periods, analytical approaches and theoretical frameworks. Your study will contrast contemporary paradigms, practices and methods at the cutting-edge of the field with more foundational critical explorations of the televisual medium.
You will also cultivate the critical skills needed to analyse and critique televisual texts (e.g. close reading, critical analysis, and modes of spectatorship and relations of viewing).
Assessment
Assessment of both the Advanced Topics courses will take the form of a written piece of work of around 2,000 words due mid-semester, as well as a longer academic essay of 3,000 at the end of the semester. You can choose a written assignment or essay question from several given options, or design your own topic in consultation with the course presenters.
Optional Courses
The third course is an option you can choose from a range of bespoke courses, drawing on the research specialisms of staff within the subject area and school. You will choose one option from the school-wide postgraduate options available in any specific year, which presently include:
Festivals
Making Time
Experimental Media
Issues in Audience Management
You will also have the option to select another postgraduate course presented within the School suitable to your research interests, in consultation with the Programme Convenor.
Component 3: Dissertation
You will research and write a 15,000 word dissertation on an aspect of film and/or television of your choosing, under the supervision of a dedicated member of staff. The dissertation is your opportunity to explore your own specialist interest in Film & Television Studies and to demonstrate the research and writing skills you have developed during the course. With the advice of your supervisor you will develop a topic, undertake research, and write the dissertation which you will submit in September.
Recent dissertation topics included:
Actual Sexual Emotion and the Authentic Sex Scene
Representations of Muslim Women in Contemporary French Films
'Who Run the World?' Women in Politics and the Reinforcement and Deconstruction of Stereotypes
Why, up until this point, does Scotland not have a film studio?
Coming from California and studying film, I was often asked "Why did you study film in Glasgow?" To be honest, I don't know. I feel what truly matters is why did I stay? The minute cold weather or any other adversity hit, I wanted to run back to the safety of "home". But I didn't. Why? The people I met and the wonderful resources at my disposal made me stay. The support I received, academically and personally, from the wonderful staff and professors in the Film and Television department made a difficult journey worthwhile. It wasn't easy, but in retrospect, I am able to say that my time undertaking the MLitt in Film and Television at the University Of Glasgow was perhaps the wisest investment I will ever make.
- Aaron Garcia, 2015 MLitt student
My disquiet about having an undergraduate background different from Film Studies proved to be a positive opportunity instead, in a programme that is accommodating, yet challenging, for students with or without that specific background alike. The professors' vast and varied knowledge and research experience along with the department's academic excellence propitiates an ideal environment for such an interdisciplinary development of the field. In my experience, the MLitt not only helped me focus and boost my unique background for the year but it also expanded it for exciting future possibilities in the industry and academia.
- Felipe Gonzalez Silva, 2015 MLitt student
Our facilities include a 140 seat cinema, a studio theatre and a large flexible-stage theatre seating over 200 spectators.
Andrew Stewart Cinema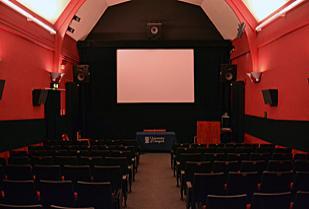 The Cinema is used for lectures and screenings. The following media can be projected:
35mm film
16mm film
Blu-ray
DVD
VHS
Mini DV
Computer data

Video Editing
‌We have 2 non-linear digital video edit suites installed in the building in recognition of the fact that TFTS have been developing a need for high-quality, digital editing facilities to be accessible on-demand by students, both undergraduate and postgraduate, working on Video Production Projects or on Multimedia Production and moving-image digitisation assignments of various kinds.
Suite number 1 consists of
Matrox RT.X100 with Adobe Production Studio Standard special bundle (includes Premiere Pro 2, Adobe Photoshop CS2, Adobe After Effects Standard 7)
3.20 Ghz 800FSB Intel Pentium® 4 "640" LGA 775 CPU HT 2MB Cache with Intel® EM64T
300GB Maxtor SATA hard drive
120GB Seagate EIDE 7200RPM UDMA hard drive
2 x 512MB DDR2 533 RAM
Gainward 256MB nvidia 6600 PCI Express graphic card
2 x 17" TFT Samtron black and silver SM74v monitor
Pioneer 110 Beige DVD Writer Dual layer 4 x +/-, Single layer DVD +/- 16 speed
Suite number 2 is an older Matrox RT2000 system with dual monitors running Adobe Premiere 6.0

Resources Room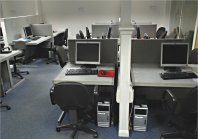 The Resources Room (RR) is an indispensable part of our teaching, learning and research environment. It provides a suitable environment, encouraging student users to take increased responsibility for their own learning while supporting them in the development of approaches to independent study and the acquisition of 'transferable' skills. It also provides a flexible infrastructure within which methods of teaching and assessment related to information technology can be introduced.
The RR consists of 19 fully networked PCs, 12 TV/VHS workstations with DVD and digital satellite viewing also available, and an extensive, fully computerised video library (VHS/DVD) of over 6000 items including feature films, television programmes, cinema shorts, recorded theatrical performances, extracts and documentaries relating to a wide range of cinema, broadcasting and theatre activity.
Tell us about your choice of studying at the University of Glasgow? Why did you choose Film and Television Studies? What degrees did you do at the University? Were you considering other Universities at the time?

I came to Glasgow in 2001 to do an MPhil Screen Studies. I had studied Drama and Screen Studies at Manchester University and was keen to start a PhD. I'm glad I was advised to complete a masters first as there was quite a jump from my undergraduate course to masters-level study. I wanted to come back to Scotland and as Glasgow was the best place to study film and TV it wasn't a difficult choice.

What was your experience studying at Glasgow? What are the major strengths of Film and Television Studies, in your opinion?

I had a great experience at Glasgow. It is a very sociable city and university. I loved meeting international students, particularly when I was doing my PhD. Coffees and beard-stroking (metaphorically speaking, of course) were a regular fixture in the now sadly relocated postgraduate club. I was given room to pursue my own interests, even when those took me down a slightly wayward intellectual path. That's what you need as a postgraduate, I feel – space to make mistakes, learn from them and move on constructively. The staff in the department, and the postgraduate community, were energetic and their interests were varied. This combination provided a good broad base for trying out new ideas and challenging opinions.

Could you mention some of the main highlights and challenges you experienced during your studies?

The Screen conference was always a highpoint in the year. It was fantastic to have international screen studies scholars come to Glasgow and to have the opportunity to network on home ground. Through attending conferences like Screen I joined a UK network of postgraduates who were all interested in the history of the BFI in one way or another. This was a great help in motivating me to get chapters written and to present research. I travelled to Denmark to continue research into film production which I'd started as an undergraduate. This experience later led to me working with the Danish Film Institute for a short time.
The hardest part of the PhD process was creating a coherent thesis from what had effectively been written as a series of case studies. I had an excellent and tenacious supervisor who reined me in so that it all made sense in the end!


Tell us about your career journey after your degrees. What was your first job? How did you get it?

I had been tempted out of academia through the course of my PhD and I initially wanted to work as a script developer. I helped a bit on short film schemes and continued to teach at universities to maintain my contacts there. I was approached to write a conference report on a training scheme for European cinema exhibitors which took place during the Venice Film Festival. When I was there I met the head of the Danish Film Institute. He had started a think tank on European film policy and was looking for people to get involved. I worked for them as a web and publications editor for a while and then I got a job at Glasgow Film Theatre as Education Manager. I stayed there for seven years and never did become a script developer. I caught the exhibition bug.

Where are you working now and how is your degree relevant to your current position? Is your degree valued in your workplace?

I'm now working at the National Library of Scotland as Learning and Outreach officer for the Moving Image Archive. Curators at the Library tend to have specialist education and there are a number of curators, like myself, who hold PhDs. Having said that, a PhD is not a prerequisite for working in this environment. Where it has helped is that I understand the needs scholars have when researching our collections, particularly those who have a film studies background. I have also maintained my academic contacts which has helped when forming research partnerships with universities.

Do you have any advice for postgraduate students in Film and Television Studies in embarking on the career ladder and finding their first job after they finish their studies?

It can be difficult for people coming fresh out of a degree to convince employers to meet them, often due to a lack of experience. If you are able to build up work experience while you are studying it will put you in a stronger position as a graduate. You might have your sights set on something in particular when you finish your degree, and it is important to set goals, but don't allow that to close you off to other opportunities.
The programme provides an excellent foundation for an academic career in this field and we provide support and guidance on PhD applications and funding opportunities if you are considering this path.
As an MLitt student, you will have plenty of opportunity to meet and work with our PhD students – for example, through the annual postgraduate conference – and find out about the range of research projects in which they are involved: from AHRC Collaborative Doctoral Projects with industry partners (BBC Scotland, the Glasgow Film Festival), to personally-conceived projects on filmmakers, genres, periods, or themes within film and television studies.
While the MLitt is a good training for PhD study, graduates go on to a range of careers in the media and creative industries including film education, festival management and programming, and arts administration as well as to research roles in television, academia, or the public sector.
Positions held by recent graduates include Celebrity Management Consultant, Director and University Teacher.
Entry requirements for postgraduate taught programmes are a 2.1 Honours degree or equivalent qualification (for example, GPA 3.0 or above) in a relevant subject unless otherwise specified.
International students with academic qualifications below those required should contact our partner institution, Glasgow International College, who offer a range of pre-Masters courses.
For applicants whose first language is not English, the University sets a minimum English Language proficiency level.
International English Language Testing System (IELTS) Academic module (not General Training):
overall score 7.0
no sub-test less than 7.0
or equivalent scores in another recognised qualification:
Common equivalent English language qualifications
All stated English tests are acceptable for admission for both home/EU and international students for this programme:
ibTOEFL: 100; no sub-test less than:

Reading: 24
Listening: 24
Speaking: 23
Writing: 27

CAE (Cambridge Certificate of Advanced English): 185; no sub-test less than 185
CPE (Cambridge Certificate of Proficiency in English): 185; no sub-test less than 185
PTE Academic (Pearson Test of English, Academic test): 70; no sub-test less than 70
Trinity College London Integrated Skills in English: ISEIII at Pass with Pass in all sub-tests
For international students, the Home Office has confirmed that the University can choose to use these tests to make its own assessment of English language ability for visa applications to degree level programmes. The University is also able to accept an IELTS test (Academic module) from any of the 1000 IELTS test centres from around the world and we do not require a specific UKVI IELTS test for degree level programmes. We therefore still accept any of the English tests listed for admission to this programme.
Pre-sessional courses
The University of Glasgow accepts evidence of the required language level from the English for Academic Study Unit Pre-sessional courses. We also consider other BALEAP accredited pre-sessional courses:
What do I do if...
my language qualifications are below the requirements?
The University's English for Academic Study Unit offers a range of Pre-Sessional Courses to bring you up to entry level. The course is accredited by BALEAP, the UK professional association for academic English teaching; see Links.
my language qualifications are not listed here?
Please contact the Recruitment and International Office: pgadmissions@glasgow.ac.uk
For further information about English language requirements, please contact the Recruitment and International Office: pgadmissions@glasgow.ac.uk
Tuition fees for 2017-18
MLitt
Home and EU
Full time fee
£7250
Part time 20 credits
£806
International
Full time fee
£16000
Fees are subject to change and for guidance only
Fee for submission by a research student: £460
Fee for re-assessment of a dissertation (PGT programme): £300
Submission for a higher degree by published work: £1,000
Submission of thesis after deadline lapsed: £200
Submission by staff in receipt of staff scholarship: £680
Research students registered as non-supervised Thesis Pending students (50% refund will be granted if the student completes thesis within the first six months of the period): £260
Registration/exam only fee: £110
General Council fee: £50
A 10% discount is available to University of Glasgow alumni applying to the MLitt. This includes graduates and those who have completed a Junior Year Abroad, Exchange programme or International Summer School at the University of Glasgow. The discount is applied at registration for students who are not in receipt of another discount or scholarship funded by the University. No additional application is required.
Funding opportunities
We ask that you apply online for a postgraduate taught degree. Our system allows you to fill out the standard application form online and submit this to the University within 42 days of starting your application.
You need to read the guide to applying online before starting your application. It will ensure you are ready to proceed, as well as answer many common questions about the process.
Do I have to apply online for a postgraduate taught degree?
Yes. To apply for a postgraduate taught degree you must apply online. We are unable to accept your application by any other means than online.
Do I need to complete and submit the application in a single session?
No. You have 42 days to submit your application once you begin the process. You may save and return to your application as many times as you wish to update information, complete sections or upload additional documents such as your final transcript or your language test.
What documents do I need to provide to make an application?
As well as completing your online application fully, it is essential that you submit the following documents:
A copy (or copies) of your official degree certificate(s) (if you have already completed your degree)
A copy (or copies) of your official academic transcript(s), showing full details of subjects studied and grades/marks obtained
Official English translations of the certificate(s) and transcript(s)
Two supporting reference letters on headed paper
Evidence of your English Language ability (if your first language is not English)
Any additional documents required for this programme (see Entry requirements for this programme)
A copy of the photo page of your passport (Non-EU students only)
If you do not have all of these documents at the time of submitting your application then it is still possible to make an application and provide any further documents at a later date, as long as you include a full current transcript (and an English translation if required) with your application. See the 'Your References, Transcripts and English Qualification' sections of our Frequently Asked Questions for more information.
Do my supporting documents need to be submitted online?
Yes, where possible, please upload the supporting documents with your application.
How do I provide my references?
You must either upload the required references to your online application or ask your referees to send the references to the University as we do not contact referees directly. There is two main ways that you can provide references: you can either upload references on headed paper when you are making an application using the Online Application (or through Applicant Self-Service after you have submitted your application) or you can ask your referee to email the reference directly to pgadmissions@glasgow.ac.uk. See the 'Your References, Transcripts and English Qualifications' section of the Frequently Asked Questions for more information.
What if I am unable to submit all of my supporting documents online?
If you cannot upload an electronic copy of a document and need to send it in by post, please attach a cover sheet to it that includes your name, the programme you are applying for, and your application reference number.
You may send them to:
Postgraduate Admissions
Marketing, Recruitment & International Office
71 Southpark Avenue
Glasgow
G12 8QQ
Fax: +44 141 330 4045
Can I email my supporting documents?
No. We cannot accept email submissions of your supporting documents.
What entry requirements should I have met before applying? Where can I find them?
You should check that you have met (or are likely to have met prior to the start of the programme) the individual entry requirements for the degree programme you are applying for. This information can be found on the 'entry requirements' tab on each individual programme page, such as the one you are viewing now.
What English Language requirements should I have met before applying? Where can I find them?
If you are an international student, you should also check that you have met the English Language requirements specific to the programme you are applying for. These can also be found on the 'entry requirements' tab for each specific programme.
Further Information
Please see the Frequently Asked Questions for more information on applying to a postgraduate taught programme.
Guidance notes for using the online application
These notes are intended to help you complete the online application form accurately, they are also available within the help section of the online application form. If you experience any difficulties accessing the online application then you should visit the Application Troubleshooting/FAQs page.
Name and Date of birth: must appear exactly as they do on your passport. Please take time to check the spelling and lay-out.
Contact Details: Correspondence address. All contact relevant to your application will be sent to this address including the offer letter(s). If your address changes, please contact us as soon as possible.
Choice of course: Please select carefully the course you want to study. As your application will be sent to the admissions committee for each course you select it is important to consider at this stage why you are interested in the course and that it is reflected in your application.
Proposed date of entry: Please state your preferred start date including the month and the year. Taught masters degrees tend to begin in September. Research degrees may start in any month.
Education and Qualifications: Please complete this section as fully as possible indicating any relevant Higher Education qualifications starting with the most recent. Complete the name of the Institution (s) as it appears on the degree certificate or transcript.
English Language Proficiency: Please state the date of any English language test taken (or to be taken) and the award date (or expected award date if known).
Employment and Experience: Please complete this section as fully as possible with all employments relevant to your course. Additional details may be attached in your personal statement/proposal where appropriate.
References: Please provide the names and contact details of two academic references. Where applicable one of these references may be from your current employer. References should be completed on letter headed paper and uploaded on to your application.
Standard application deadlines
International applications (non-EU): 21 July 2017
UK and EU applications: 25 August 2017
Classes start September 2017 and you may be expected to attend induction sessions the week before.
Apply now