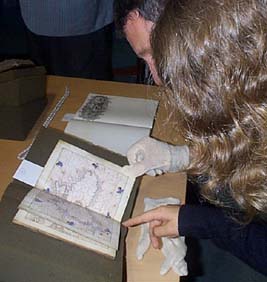 Course Material
image shows HATII digitisation summer school examining Special Collections material
Much of the primary material held in Special Collections supports the teaching and research of Glasgow University. Digital resource pages of such material are being created wherever possible in conjunction with teaching staff: these act as useful starting points for users wishing to understand the extent and nature of material available in the Department, and, in the cases where digitisation of entire items is possible, provide surrogates which can vastly increase access to the originals without further exposure to damage.
If you would like to see a page describing Special Collections resources related to your course, please contact Julie Gardham (ext. 3791).
Academic staff are also welcome to use material from Special Collections for group teaching, and a fully equipped seminar room is available within the Department, situated on Level 12 next to the reading room. Teaching should usually be given in the seminar room which should be booked well in advance. Contact the Reading Room (ext. 6767) to make a booking.
---
Archaeology
Celtic Studies
Classics
Economic & Social History
English Language
English Literature
French
History
See

Research Resources in the University of Glasgow for Adam Smith and the Enlightenment
History of Art
School of Law
Music
Scottish Centre for War Studies
Slavonic Studies
Theatre, Film & Television Studies
Victorian Studies (cross departmental)

Course material index page last updated 15 October 2009