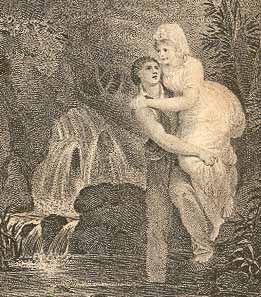 plate opposite p.28 from Bf70-e.25:
Paul et Virginie, London 1799
Special Collections has rich holdings of eighteenth and nineteenth century material relevant to the study of romanticism. Of particular interest, for example, are the Blake holdings and the large collection of triple-decker novels. While most of this material is easily found by searching the main library catalogue and manuscripts catalogue, these pages aim to bring together resources which are particularly significant and which are otherwise scattered throughout the various collections. In some cases, parts of texts have been digitised in their entirety to enhance remote access to the original material. It should be stressed, however, that while these pages should provide a useful starting point for finding material, what appears here is only a very small proportion of the vast resources available; students are therefore encouraged to search further and visit the department to examine other books for themselves.