1914: Mary Richardson damages Wallace Collection painting with an axe
Personal correspondence can provide contemporary opinions of suffrage from people without direct involvement in campaigns.
The MacColl collection includes a 1913 letter to its namesake, DS MacColl, Keeper of the Wallace Collection, warning that Scotland Yard believe a "suffragist outrage" may occur in the gallery. The warning does not seem to have been adequately heeded, as in 1914 Mary Richardson slashed the Rokeby Venus by Velazquez, supposedly in protest to the re-arrest of Emmeline Pankhurst in Glasgow. As a result, many art galleries were closed to the public, much to the annoyance of Emily Lawless, who was unable to see the Wallace Collection "because of those horrible suffragettes".
Meanwhile, in Edinburgh, Christina Lawson writes to her nephew about a march of suffragettes from Edinburgh to London; although she believes that they deserve the vote, she does not think that if universal suffrage was gained it would be exercised, as - in her experience - many women able to vote in municipal and school elections choose not to do so.
For details on finding other MS Gen items see the general manuscripts collection record.
Letter from Christina Lawson to her nephew, Stephen, written in 1912
Ms Gen 525/5
Letter from the Hon. Emily Lawless to Prof. Albert Venn Dicey, in agreement with his anti-suffrage writing
Ms Gen 508/47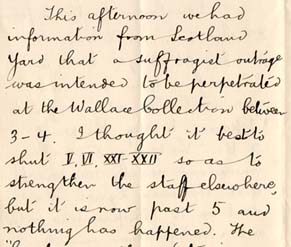 Letter from Samuel James Camp to DS MacColl, keeper of the Wallace Collection, stating that Scotland Yard have warned of an attack on the collection
MS MacColl C27
Letter from Annabel Jackson to DS MacColl requesting visitor passes to the Wallace Collection after its closure to the public following Mary Richardson damaging the Rokeby Venus
MS MacColl J1