Textile Conservation
MPhil
Apply now
Textile Conservation at Glasgow
Related links
Other programmes in the subject of History of Art:
Textile Conservation is a multidisciplinary subject which combines academic knowledge with cultural awareness, aesthetic sensitivity and technical skill. This MPhil is both an academic programme and professional training; it will give you a framework of theoretical knowledge and a range of practical experience which will enable you to contribute to the understanding and preservation of culturally significant textile artefacts.
Key facts
If you are looking to enter a career in textile conservation practice in a museum or other institution, or to pursue doctoral-level research in this field, this programme is designed for you.
You will take part in a project-based work placement, where you can explore a possible future career while meeting professional practitioners and developing your skills and experience.
You will be based in our specialist conservation laboratories. The facilities include workrooms, a wet lab, dye lab, chemistry lab and well-equipped analytical lab.
You will benefit from our close links with Glasgow Museums, as well as the University's own Hunterian Museum. Glasgow's civic and university collections are some of the richest and most diverse in Europe and are of international standing. You will have the opportunity to draw on the museums' rich and varied textile collections.

This is the only programme of its kind in the UK, and one of only a few specialist textile conservation programmes in the world.
You will take core courses over two semesters in each year, with a work placement in the summer between the first and second years. You will write up your dissertation over the second summer and submit it at the end of August.
The core courses will develop an understanding of
the practical skills used in textile conservation
related practical skills including dyeing and photography
the science underpinning textile deterioration and conservation treatments
preventive conservation techniques
the technological, cultural, historic and aesthetic contexts of textile artefacts
the place of conservation in the wider cultural sector.
Core courses
Year 1
Research methods in practice
Principles and practice: core skills and ethics
Understanding textiles: technology
Principles and practice: developing skills
Preventive conservation
Material cultures
Placement
Year 2
Principles and practice: advanced skills
Conservation in practice
Deconstructing the artefact
Principles and practice: conservation projects
Professional development
Research management
Dissertation
Textile conservation is a multi-disciplinary field combining scientific analysis and a knowledge of textile history and techniques with the practical skills necessary to carry out conservation treatments. It offers a fascinating combination of analytical problem-solving and hands-on work as well as the chance to extend and develop knowledge of our rich textile heritage. Through a close study of the textiles they work on, textile conservators can find out more about objects and their stories and contribute to their preservation and interpretation.
‌
The programme combines the development of practical skills with a foundation in theory, including chemistry, and an awareness of the cultural significance of textiles and other objects. It aims to foster the key skills of judgement and decision-making, enabling graduates to select and carry out appropriate conservation treatments for a range of textile objects. The programme is a development of the MA Textile Conservation offered by the Textile Conservation Centre, University of Southampton, from 1999-2009.
MPhil Textile Conservation is part of the Centre for Textile Conservation and Technical Art History, and shares accommodation with students on the MLitt Technical Art History: Making and Meaning. The teaching on some courses is shared with students on other programmes in the College of Arts, particularly the Dress and Textile Histories programme.
Students benefit from the programme's close links with Glasgow Museums, as well as the University's own Hunterian Museum, and they are able to draw on the museums' rich and varied textile collections. The development of practical conservation skills is a core part of the programme and students work on objects from both the Centre's own Reference Collection and museums in Scotland and further afield. The integral work placement provides another opportunity to develop practical and professional skills. Students have undertaken their placements at the Burrell Collection, National Museums Scotland, the Victoria & Albert Museum, the British Museum, The National Trust, The Metropolitan Museum in New York, the Philadelphia Museum of Art, the Abegg-Stiftung in Switzerland and many other institutions in the UK and overseas.
Taking part in the Emerging Conservators Training Scheme at Portcullis House, Palace of Westminster. Courtesy of the Parliamentary Art Collection www.parliament.uk/art.
The two-year programme provides a comprehensive, career-entry professional education to meet the needs of the heritage sector. It teaches students to understand and apply the Professional Standards in Conservation which are at the core of the Institute of Conservation's professional accreditation process.
It includes:
object treatment through professional projects for museums and other clients and a work placement in a museum or other institution
related practical skills including dyeing and photography
the science underpinning textile deterioration and conservation treatments
an understanding of preventive conservation techniques
the technological, cultural, historic and aesthetic contexts of textile artefacts
the place of conservation in the wider cultural sector
an extended research project leading to a dissertation
Facilities
The programme is housed in specialist conservation laboratories in the University's Robertson Building – it shares space with the MLitt in Technical Art History: Making and Meaning programme. The facilities include student workrooms, a wet lab, dye lab, photo studio, chemistry lab and a well-equipped analytical lab which includes Fourier Transform Infrared Spectroscopy, ultra High Performance Liquid Chromatography, tensile testing equipment and light and heat ageing equipment..
‌
Download
Textile Conservation Postcard PDF
Textile Conservation Blog

Keep up to date with our activities on the blog

Links
The programme is team-taught by University staff and external specialists.
Frances Lennard Senior Lecturer in Textile Conservation; Convenor, MPhil in Textile Conservation
Until 2009, Frances was Senior Lecturer and Programme Leader of the MA Textile Conservation at the Textile Conservation Centre (TCC), University of Southampton. At Southampton she completed a major collaborative project on tapestry degradation, funded by the AHRC. she is the co-editor of two volumes for Elsevier: Textile Conservation: Advances in Practice with Patricia Ewer, and Tapestry Conservation: Principles and Practice with Maria Hayward.
Frances has recently been awarded significant research funding by the Arts and Humanities Research Council to lead a project on Pacific barkcloth in collaboration with Royal Botanic Gardens, Kew and the National Museum of Natural History, part of the Smithsonian Institution, in Washington DC. She is also beginning a new project funded by the Leverhulme Trust, to continue her research into tapestry conservation, working with Dr Philip Harrison in the School of Engineering.
Anita Quye Lecturer in Conservation Science
Anita was previously Principal Conservation Scientist in the Department of Conservation and Analytical Science at the National Museums Scotland. Anita has a wealth of experience working as a conservation scientist within museums and working collaboratively on research projects with institutions worldwide. Her main area of research to date has been in historic textiles and modern materials analysis and she is a specialist in historic dyes.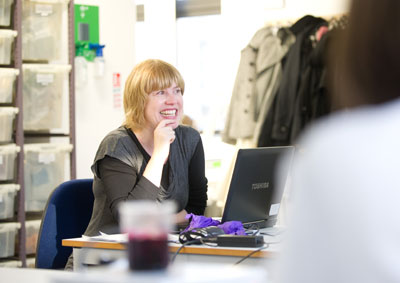 Sarah Foskett Textile Conservation Tutor
Most recently, Sarah worked for Glasgow Museums as a textile conservator working on the Burrell Collection Tapestry Project. Before that she was a textile conservator at the National Museums Scotland from 1995 to 2008. Sarah trained at the TCC at Hampton Court Palace and is an accredited member of the Institute of Conservation and a committee member of the June Baker Trust.
‌
Karen Thompson, University Teacher in Textile Conservation
Karen, an accredited member of the Institute of Conservation, has worked in a wide range of textile conservation studios and museums in both the UK and abroad. She worked at the Textile Conservation Centre, University of Southampton between 1999 and 2009 and was involved in both teaching on the MA Programme in Textile Conservation and in commercial practice. Her research includes the use of transmitted light photography to document hidden layers within textiles and she is interested in painted textiles.
‌
Core Courses
Principles & Practice: Core Skills & Ethics (HISTART5052)
Year 1: Semester 1
This course introduces students to the key concepts of interventive and preventive conservation and to the appropriate implementation of interventive techniques. It introduces the core techniques of conservation documentation and photography, surface cleaning, humidification and stitched support, in addition to the underlying principles of textile science, including the science of fibres and dyes.

Convenor: Sarah Foskett
Research Methods in Practice (HISTART5105)
Semester 1

This course will consist of teaching and learning sessions run by different staff and some guest speakers on a wide range of topics, both practical and theoretical. Bringing all taught postgraduate students in the subject together, it is intended to enable students effectively to engage with broad questions of research methods and their application in History of Art. It is designed and structured to meet the need for a critical, theoretical and methodological underpinning to postgraduate study and to equip students with vital practical research skills.
Convenor: Dr Sabine Wieber
Understanding Textiles: Technology (HISTART5070)
Year 1: Semester 1

The course aims to give students an understanding of the processes involved in forming yarns and fabrics from fibres, including spinning, weaving and non-woven techniques, and of the main historic decorative and construction techniques. As a result students should be able to identify techniques found in historic and modern textiles, understand how they influence the deterioration of textiles and be able to document and record the techniques used.
Convenor: Frances Lennard
Principles and Practice: Developing Skills (HISTART5053)
Year 1: Semester 2
This course introduces the theory and practice of further key textile conservation skills: photography, wet cleaning and dyeing. It continues the development of skills introduced in Semester 1 through the treatment of objects from museum collections.
Convenor: Sarah Foskett
Preventive Conservation (HISTART5049)
Year 1: Semester 2
This course provides information and practical experience of the agents and processes of the physical, chemical and biological deterioration of textiles and the preventive conservation strategies devised for these artefacts. This knowledge will help students to identify how and why textiles deteriorate, and to contribute to decisions regarding the selection, implementation and evaluation of appropriate preventive measures.
Convenor: Anita Quye
Material Cultures (HISTART5052)
Year 1: Semester 2

This course, shared with the MLitt Dress and Textile Histories students, provides an introduction to the cultural heritage sector and enables students to gain an understanding of how they may contribute to the sector as professionals after graduation. It explores both the material and symbolic properties of objects in order to analyse why artefacts matter, and why they are collected, exhibited and conserved; concepts from material culture frameworks, such as object biographies, are introduced as 'working tools' for interdisciplinary research by those involved in preserving and interpreting objects
Convenor: Frances Lennard
Placement (HISTART5048)
Year 1: Semester 2
Students undertake a work placement of at least six or eight weeks following the spring vacation of the first year, hosted by a textile conservation department in a museum or other heritage organisation, in the UK or overseas. The placement provides an extended period of practical work and the opportunity to gain experience of the way textile conservation departments operate to fulfil their remit within different institutions.
Convenor: Karen Thompson
Principles and Practice: Advanced Skills (HISTART5050)
Year 2: Semester 1
This course builds on key conservation skills and concepts introduced in the first year, reinforcing the key concepts of cleaning and support by introducing the theory and practice of advanced textile conservation skills such as the use of adhesive supports, solvency and bleaching. The developing skill set is reinforced by the practical application of conservation treatments to historic textiles, put in context by the concurrent sessions in the two units Conservation in Practice and Deconstructing the Artefact.
Convenor: Karen Thompson
‌

Deconstructing the Artefact: Materials Investigation (HISTART5097P)
Year 2: Semester 1
The course aims to give students an understanding of the manufacture, characteristics, ageing and degradation of materials used in the production of fine arts, textiles and associated objects, such as wood, paint and leather, so that students gain an awareness of the problems concerning preservation of these materials and how their present appearance should be interpreted.
Students will also be introduced to the instrumental analytical techniques used in the identification and interpretation of textiles and other historic artefacts through guest lectures by specialists from conservation and materials science, and visits to conservation studios and scientific labs.
Convenor: Anita Quye
Conservation in Practice (HISTART5010)
Year 2: Semester 1

This course complements the theory and practice of Principles and Practice: Advanced Skills, putting the practical skills into context and including case studies of conservation treatments, demonstrating how interventive skills are selected and used for a range of clients including different types of museums. It introduces the specialist skills used on a range of textiles, including costume, tapestries and upholstery.
Convenor: Sarah Foskett
Principles & Practice: Conservation Projects (HISTART5051P)
Year 2: Semester 2
As the final interventive course on the programme, Principles and Practice: Conservation Projects gives students the opportunity to consolidate their knowledge and understanding of the approaches and techniques used in textile conservation and to refine their practical skills by working on two textile artefacts. Students consolidate their skills in devising, carrying out and evaluating more complex conservation treatments; the management of the projects is a key element of the course and includes independent research to learn about the objects they are working on and to inform the conservation treatment.
Convenor: Karen Thompson

Professional Development (HISTART5054)
Year 2: Semester 2
This course gives students a broader view of textile conservation, with an emphasis on collections, rather than the single objects encountered during interventive treatments. It introduces the wider collections management and project management skills textile conservators need in the workplace.
Convenor: Frances Lennard
Research Management (HISTART5055P)
Year 2: Semester 2
This course gives students practical and theoretical experience of managing a research project in a specific area of textile conservation practice, and provides a foundation for the dissertation course. It introduces key topics such as project management and experimental design, and presentation of research data, with sessions for private study to allow experimental work and associated research.
Convenor: Anita Quye
Dissertation (HISTART5018P)
Year 2: Semester 2
The dissertation, or other substantial piece of work, encourages independent work through deeper study of a particular conservation issue or related problem and encourages the application of acquired research skills.
It is expected that MPhil dissertations should make a contribution to some aspect of the subject. The dissertation is 20,000 words in length and will be on a topic chosen in consultation with the tutors and the programme convenor.
To see a list of previous dissertation topics click here.
The programme is at career-entry level and graduates are qualified to go on to a post-training internship or directly into the workplace as a textile conservator in a museum or other institution around the world, as well as to undertake further study at PhD level.
The great majority of graduates of this programme and if its predecessor, the Textile Conservation Centre's MA Textile Conservation programme, now work in museums and other institutions. Graduates of the two programmes have an outstanding record of employment on graduation and of remaining in the sector. They now work in nearly 30 countries and are in senior positions worldwide.
MPhil graduates have been awarded Mellon Fellowships at Denver Art Museum and the National Museum of the American Indian, Smithsonian Institution, in the USA, while others now work for National Museums Scotland, Historic Royal Palaces and the National Maritime Museum in the UK and Heritage Conservation Center, Singapore, among others.
However, it is worth noting that many graduates go on to short-term contract posts initially. It is easier to find a textile conservation post if you are able to be flexible in terms of location.
Further information:
An Honours degree, at 2.1 or above, or international equivalent.
GCSE /Higher/international equivalent Chemistry qualification. A pass in the International Academic Projects distance-learning course Chemistry for Conservators is an acceptable alternative. See http://www.academicprojects.co.uk/ .
Good manual skills – demonstrated by examples, preferably of stitching – examples are brought to interview.

Previous conservation or museum experience is not an essential requirement, although it is necessary to demonstrate an interest in this work. It is recommended that candidates visit local conservation laboratories to gain a good insight into the type of work that goes on. Contact details can be provided.
A personal statement and sample of academic writing are also required.
For applicants whose first language is not English, the University sets a minimum English Language proficiency level.
International English Language Testing System (IELTS) Academic module (not General Training):
overall score 7.0
2 subtests not lower than 7.0 and no other sub-test lower than 6.5
or equivalent scores in another recognised qualification:
Common equivalent English language qualifications
All stated English tests are acceptable for admission for both home/EU and international students for this programme:
ibTOEFL: 95; no sub-test less than:


Reading: 23
Listening: 23
Speaking: 22
Writing: 24

CAE (Cambridge Certificate of Advanced English): 185 overall; no sub-test less than 176
CPE (Cambridge Certificate of Proficiency in English): 185 overall; no sub-test less than 176
PTE Academic (Pearson Test of English, Academic test): 68; no sub-test less than 62

For international students, the Home Office has confirmed that the University can choose to use these tests to make its own assessment of English language ability for visa applications to degree level programmes. The University is also able to accept an IELTS test (Academic module) from any of the 1000 IELTS test centres from around the world and we do not require a specific UKVI IELTS test for degree level programmes. We therefore still accept any of the English tests listed for admission to this programme.
Pre-sessional courses
The University of Glasgow accepts evidence of the required language level from the English for Academic Study Unit Pre-sessional courses. We also consider other BALEAP accredited pre-sessional courses:
What do I do if...
my language qualifications are below the requirements?
The University's English for Academic Study Unit offers a range of Pre-Sessional Courses to bring you up to entry level. The course is accredited by BALEAP, the UK professional association for academic English teaching; see Links.
my language qualifications are not listed here?
Please contact the Recruitment and International Office: pgadmissions@glasgow.ac.uk
For further information about English language requirements, please contact the Recruitment and International Office: pgadmissions@glasgow.ac.uk
Tuition fees for 2017-18
MPhil
Home and EU
Full time fee
£15500
Part time 20 credits
£1467
International
Full time fee
£17250
This programme is a two year programme. Students will be charged the same fee in each of the two years.
Fees are subject to change and for guidance only
Fee for submission by a research student: £460
Fee for re-assessment of a dissertation (PGT programme): £300
Submission for a higher degree by published work: £1,000
Submission of thesis after deadline lapsed: £200
Submission by staff in receipt of staff scholarship: £680
Research students registered as non-supervised Thesis Pending students (50% refund will be granted if the student completes thesis within the first six months of the period): £260
Registration/exam only fee: £110
General Council fee: £50
A 10% discount is available to University of Glasgow alumni applying to the MPhil. This includes graduates and those who have completed a Junior Year Abroad, Exchange programme or International Summer School at the University of Glasgow. The discount is applied at registration for students who are not in receipt of another discount or scholarship funded by the University. No additional application is required.
Funding opportunities
The selection process for the MPhil Textile Conservation programme begins some time before the start of the academic year, to allow students time to raise funds for their study. The closing date for applications is in November, for entry the following year.
The fees for this programme are high because of the intensive and high quality teaching and range of facilities and equipment that are provided. We realise that fees at this level may appear daunting but we give considerable support to successful applicants to help them in their fundraising efforts. If you are concerned, we recommend that you apply and that we discuss fees and fundraising as part of the interview process.
All successful applicants to the programme are encouraged to research funding opportunities and to apply for funding – advice is available from the College of Arts Graduate School. In addition there is some bursary funding available through the Textile Conservation Centre Foundation – all successful applicants will be eligible to apply to the TCF for funding. There are some other sources such as smaller trusts and grant-giving bodies in the UK, as well as some overseas sources.
Potential applicants could begin to investigate local sources of funding but you should not make contact with funding bodies before you have been offered and accepted a place on the programme. For more information please see: School of Culture and Creative Arts Funding.
We ask that you apply online for a postgraduate taught degree. Our system allows you to fill out the standard application form online and submit this to the University within 42 days of starting your application.
You need to read the guide to applying online before starting your application. It will ensure you are ready to proceed, as well as answer many common questions about the process.
Do I have to apply online for a postgraduate taught degree?
Yes. To apply for a postgraduate taught degree you must apply online. We are unable to accept your application by any other means than online.
Do I need to complete and submit the application in a single session?
No. You have 42 days to submit your application once you begin the process. You may save and return to your application as many times as you wish to update information, complete sections or upload additional documents such as your final transcript or your language test.
What documents do I need to provide to make an application?
As well as completing your online application fully, it is essential that you submit the following documents:
A copy (or copies) of your official degree certificate(s) (if you have already completed your degree)
A copy (or copies) of your official academic transcript(s), showing full details of subjects studied and grades/marks obtained
Official English translations of the certificate(s) and transcript(s)
Two supporting reference letters on headed paper
Evidence of your English Language ability (if your first language is not English)
Any additional documents required for this programme (see Entry requirements for this programme)
A copy of the photo page of your passport (Non-EU students only)
If you do not have all of these documents at the time of submitting your application then it is still possible to make an application and provide any further documents at a later date, as long as you include a full current transcript (and an English translation if required) with your application. See the 'Your References, Transcripts and English Qualification' sections of our Frequently Asked Questions for more information.
Do my supporting documents need to be submitted online?
Yes, where possible, please upload the supporting documents with your application.
How do I provide my references?
You must either upload the required references to your online application or ask your referees to send the references to the University as we do not contact referees directly. There is two main ways that you can provide references: you can either upload references on headed paper when you are making an application using the Online Application (or through Applicant Self-Service after you have submitted your application) or you can ask your referee to email the reference directly to pgadmissions@glasgow.ac.uk. See the 'Your References, Transcripts and English Qualifications' section of the Frequently Asked Questions for more information.
What if I am unable to submit all of my supporting documents online?
If you cannot upload an electronic copy of a document and need to send it in by post, please attach a cover sheet to it that includes your name, the programme you are applying for, and your application reference number.
You may send them to:
Postgraduate Admissions
Marketing, Recruitment & International Office
71 Southpark Avenue
Glasgow
G12 8QQ
Fax: +44 141 330 4045
Can I email my supporting documents?
No. We cannot accept email submissions of your supporting documents.
What entry requirements should I have met before applying? Where can I find them?
You should check that you have met (or are likely to have met prior to the start of the programme) the individual entry requirements for the degree programme you are applying for. This information can be found on the 'entry requirements' tab on each individual programme page, such as the one you are viewing now.
What English Language requirements should I have met before applying? Where can I find them?
If you are an international student, you should also check that you have met the English Language requirements specific to the programme you are applying for. These can also be found on the 'entry requirements' tab for each specific programme.
Further Information
Please see the Frequently Asked Questions for more information on applying to a postgraduate taught programme.
Guidance notes for using the online application
These notes are intended to help you complete the online application form accurately, they are also available within the help section of the online application form. If you experience any difficulties accessing the online application then you should visit the Application Troubleshooting/FAQs page.
Name and Date of birth: must appear exactly as they do on your passport. Please take time to check the spelling and lay-out.
Contact Details: Correspondence address. All contact relevant to your application will be sent to this address including the offer letter(s). If your address changes, please contact us as soon as possible.
Choice of course: Please select carefully the course you want to study. As your application will be sent to the admissions committee for each course you select it is important to consider at this stage why you are interested in the course and that it is reflected in your application.
Proposed date of entry: Please state your preferred start date including the month and the year. Taught masters degrees tend to begin in September. Research degrees may start in any month.
Education and Qualifications: Please complete this section as fully as possible indicating any relevant Higher Education qualifications starting with the most recent. Complete the name of the Institution (s) as it appears on the degree certificate or transcript.
English Language Proficiency: Please state the date of any English language test taken (or to be taken) and the award date (or expected award date if known).
Employment and Experience: Please complete this section as fully as possible with all employments relevant to your course. Additional details may be attached in your personal statement/proposal where appropriate.
References: Please provide the names and contact details of two academic references. Where applicable one of these references may be from your current employer. References should be completed on letter headed paper and uploaded on to your application.
Application deadline for entry in 2018
For entry in September 2018, the application deadline is 20 November 2017. Interviews will be held in January 2018.
Apply now