Russian, Central & East European Studies
MSc
Student testimonial by Geoffrey Mitchell
Related links
Other programmes in the subject of Central and East European Studies: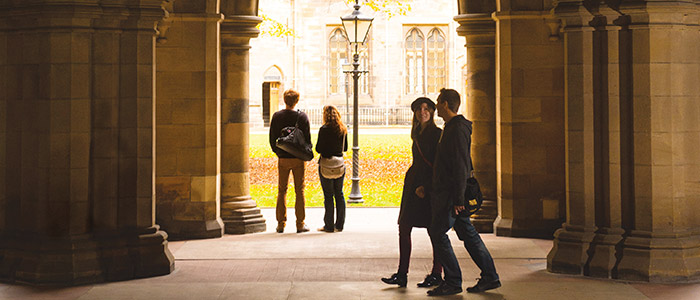 Visit our beautiful campus and find out more about your future at Glasgow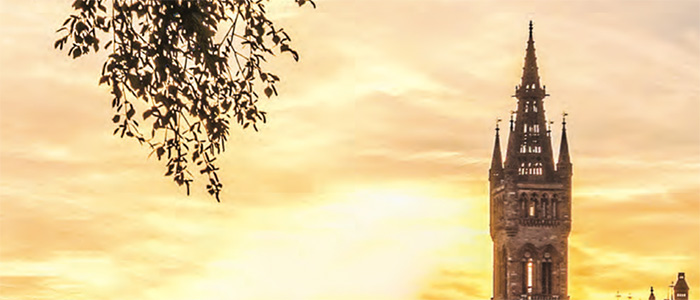 Postgraduate prospectus 2015
This programme is an advanced study of historical and contemporary developments in the economy, politics, culture and society of Russia and the countries of Central and Eastern Europe.
Key facts
This programme is for those planning careers in major public, commercial and voluntary institutional settings who wish to acquire a specialised knowledge of Central and Eastern Europe and proficiency in one of the region's languages.
Language and other study trips to the region are available. You will be offered the opportunity to spend a month in Russia. Some financial support is available to help you fund these trips.
The University Library holds one of the best Russian, Central and East European collections in the world.
You will examine the history of communism and why it collapsed. You will learn about the impact of international organisations (eg the European Union, NATO) and of major world powers on the region as well as retaining an appreciation of the region's internal diversity in a variety of spheres (cultural, economic, ethnic, political and social).
You will take two core courses, two optional courses and submit a 12,000-15,000 word dissertation. You can also participate in our extensive range of conferences, workshops, business days, seminars and networking activities involving representatives of the business, policy-making and third sector communities.
Core courses
Language - Czech, Estonian (tbc), Hungarian, Polish, Russian
Issues in Russian, East European and Eurasian Studies
Research methods for studying Russia, Eastern Europe and Eurasia.
Optional courses
Developments in Czech society since 1989
Gender and identity in Soviet and Post-Soviet Russia
Media and democratisation in Central and Eastern Europe and the former Soviet Union
Post-Soviet Russia: renegotiating global and local identities
Rethinking Central Asian security
Russian foreign policy
Statehood and nationality in Central and Eastern Europe
A maximum of one outside option from an approved subject.
A maximum of one outside option from an approved subject.
Note: Some languages and courses might not be available every year. If you are a native speaker or have a degree in one of the region's languages, you will take an additional course instead.
You can take part in the Collaborative Masters dissertation: this allows you to gain work experience while providing much needed research support to public and third sector organisations.
‌History
Central and East European Studies (CEES) is recognised as one of the world's leading centres for research and research training in this field and is part of the newly established School of Social and Political Sciences within the College of Social Sciences at the University of Glasgow.
A leading UK research and teaching centre
CEES was delighted with its performance in the 2008 Research Assessment Exercise which confirmed its leading position amongst departments engaged in Central and East European Studies in the UK. Submitting twice the number of staff as in 2001, including new entrants to the profession, 85% of its work was rated "international", "internationally excellent" or "world leading"; in its unit of assessment CEES was ranked first in Scotland and fifth equal in the UK.
Central and East European Studies, in conjunction with the Slavonic Studies Section of the School of Modern Languages and Cultures and scholars in the Colleges of Arts and Social Sciences, founded the School of Slavonic and East European Studies which also includes academics in Strathclyde, West of Scotland and Glasgow Caledonian Universities.
CEES is acknowledged by the Economic & Social Research Council and the Arts & Humanities Research ‌Council as a centre of excellence. In 2006, CEES led a successful bid to create a Centre of Excellence in Russian, Central and East European Studies (CRCEES).
"Our programmes of postgraduate training are part of the Language Based Area Studies (LBAS) training pathway within the Scotland-wide ESRC Doctoral Training Centre, the Scottish Graduate School of Social Sciences. the pathway allows for training on a 2+3 (MRes + intensive language training to advanced level + PhD). Annual ESRC-funded studentships are available for these training pathways".
The 2011 Periodic Subject Review of Central and East European Studies highly commended the design of the postgraduate curriculum, in terms of its content, coherence, flexibility and intellectual rigour.
The breadth and depth of language provision on our postgraduate programme is unique in the UK.
We have a strong focus on internationalisation and employability through a range of postgraduate internships with institutional partners in the UK and overseas.
The University Library holds one of the best Russian, Central and East European collections in the world.
For over half a century members of CEES have been involved in editing and producing Europe-Asia Studies (formerly Soviet Studies). Europe-Asia Studies has maintained its reputation as the principal academic journal in the world devoted to the political, economic and social affairs of the former Soviet bloc countries and their history during the Soviet period. At the same time the focus of the journal has diversified to reflect the way in which the transformation of the former Soviet countries' political and economic systems is affecting their relationship with the rest of Europe, and the growing links between what was Soviet Central Asia and other countries in both Europe and Asia.
‌Events
CEES regularly hosts both academic and cultural events. In recent years we have promoted a number of conferences on the Baltic States, EU, Hungary and Russia and have attracted distinguished guest speakers from the region. In the past few years alone we have hosted the Ambassadors of Hungary, Poland, Lithuania and Estonia, the Estonian and Latvian Ministers of Nationality and Ethnic Affairs, the Prime Minister of Estonia, the former Prime Minister of Poland and various members of the Scottish, UK and European parliaments.
We have run several film series featuring Russian and East European cinema with prominent film directors attending and talking about their work. We have also held concerts featuring internationally renowned musicians.
Our students are invited to all of these events.
Career prospects
Many of our graduates have gone on to establish careers as lecturers and researchers at universities in the UK, Norway, Greece, Italy and Poland or have become secondary school teachers. Our graduates have been very successful in establishing careers with organizations such as:
BBC World Service
British Army
British Civil Service
British Council
Centre for Defence Information (Moscow)
Coalition to Stop the Use of Child Soldiers
European Policies Research Centre, University of Strathclyde (Glasgow)
European Bank for Reconstruction and Development (London)
Jamestown Foundation (Washington D.C)
KPMG (a leading provider of professional services including audit, tax, financial and risk advisory)
Ministry of Defence, UK
Open Society Foundation (Bratislava)
Open Society Institute (Budapest)
Operation Mobilisation, Czech Republic
Trust for Civil Society in Central & Eastern Europe (Warsaw)
Barbora Rackova, Slovakia (2011-12)
'I moved to Glasgow because my husband had to take up a job here but I was attracted to studying at the University of Glasgow because of the excellent academic reputation and impressive history. I had always wanted to progress professionally and academically, and to enrich my previous master studies in my own country, by studying in the UK.
There is a wide range of experts who teach on this programme, which enables you to study in a truly international environment. Moreover they give objective and detailed feedback on coursework and class presentations.
What I enjoyed the most was learning how to study and do research independently, being exposed to the different perspectives of my peers as well as participating in the School's numerous and varied range of academic and social activities.
What struck me about the city of Glasgow is the friendliness of the people. People are straightforward like the weather. The Glaswegian atmosphere and the vibrant nature of the city, the choice of live cultural events, the eclecticism of the city's architectural styles, people, and academics all make Glasgow brilliant.
It is a good idea to research the University and to get in touch with the relevant School and academics beforehand. I would definitely recommend the University of Glasgow for your Masters studies. Its staff is very supportive and will provide you with excellent feedback on your work, helping you to learn and improve in your studies constantly.'
Jamie Allan, UK (2011-12)
Why did you choose this programme?
'I had a strong interest in this subject area and already had a knowledge of the teaching style here as I had been exposed to it as an undergraduate and really liked it. I was also aware that this School is particularly highly regarded for its strengths in Russian, Central and East European Studies. Both of these factors played a big part in my decision to stay on at the University of Glasgow to continue my studies instead of going to another university.
What were the best things about your programme of study?
Meeting a wide range of students with very different backgrounds and nationalities; I really feel that I've learnt a lot from interacting with such a diverse group of students.
Being taken me out of my comfort zone, for example some courses require you to do presentations, which I had never particularly enjoyed before but now I'm now much more confident and feel I have acquired important skills.
The teaching on the programme: I am very interested in the subject of Stalinism and had studied it previously at another university, but I really like the approach taken by my professor at Glasgow and feel that I have gained new insights and really benefited from it.
What have you enjoyed most about your time at the School?
The wide range of activities offered: the School has a diverse range of seminars, for example, which introduce you to different visiting academics.
The Library is excellent, offering an extensive collection of books, journal and electronic resources in this my field of study.
The CEES Student Society regularly puts on events and this is a great way to get to know other students. I know the international students on the programme really appreciate this.
What have you enjoyed most about your time in Glasgow?
The very big social scene, for example, there are a lot of live music events in Glasgow
Glasgow is a very good city to live in if you are interested in sports
Close proximity to the more scenic areas of Scotland
How have your studies with us benefited you?
I gained a Masters degree from what is considered to be a very good university and feel that I have learnt a lot more from studying on a multidisciplinary programme than one which only introduces you to one perspective. I also feel I have gained a lot from studying with students from different backgrounds and with different perspectives especially those who grew up in the Soviet Union.
What would you recommend to a person thinking of studying with us?
I would recommend this programme even if you have only a slight interest in the subject area, or if your interest is quite narrow. I would recommend that you take a subject area you haven't previously considered. I took a class on Post-Soviet Studies even though I had always only been interested in the Soviet period and I found that I emerged with a very strong interest in contemporary Russia.'
Many organisations in the public and third sectors, as well as SMEs and businesses are in need of good quality research, and master's students are often eager to gain 'real life' work experience and to conduct research which has immediate relevance to the world beyond academia. The collaborative masters dissertations initiative, developed and piloted through CEES in 2010-11 (Central and East European Studies in the School of Social and Political Science), aims to make opportunities for collaborative research available to MSc students and GRAMNet knowledge exchange partners.
Outline projects are developed in collaboration between academic staff and partner organisations and refined to fit with both the partners' research needs and appropriate demands and expectations of a Masters dissertation. Project outlines are made available to students early in the Spring term and those wishing to undertake a collaborative project may apply for this opportunity.
Those students who are successfully matched with projects receive all necessary academic guidance and support from academic supervisors. They also have a direct contact person within the partner organisation, who helps to facilitate and co-supervise the research.
Following successful submission of the dissertation, students receive a stipend of £1,000 to work directly with the partner organisation for one month in order to translate their research findings into outputs appropriate to the partner organisations needs (e.g. reports, web-based materials, presentations etc.).
For further information and how to apply visit: GRAMNet
for entry in 2015
Entry requirements for postgraduate taught programmes are a 2.1 Honours degree or equivalent qualification (for example, GPA 3.0 or above) in a relevant subject.
Applicants from other subject backgrounds, however, will be considered.
International students with academic qualifications below those required should contact our partner institution, Glasgow International College, who offer a range of pre-Masters courses.
For applicants whose first language is not English, the University sets a minimum English Language proficiency level.
International English Language Testing System (IELTS) Academic module (not General Training)
overall score 6.5
no sub-test less than 6.0
or equivalent scores in another recognised qualification (see below)
Common equivalent English language qualifications
All stated English tests are acceptable for admission for both home/EU and international students for this programme:
ibTOEFL: 92; no sub-test less than 20
CAE (Cambridge Certificate of Advanced English): 176 overall; no sub-test less than 169
CPE (Cambridge Certificate of Proficiency in English): 176 overall; no sub-test less than 169
PTE Academic (Person Test of English, Academic test): 60; no sub-test less than 59
For international students, the Home Office has confirmed that the University can choose to use these tests to make its own assessment of English language ability for visa applications to degree level programmes. The University is also able to accept an IELTS test (Academic module) from any of the 1000 IELTS test centres from around the world and we do not require a specific UKVI IELTS test for degree level programmes. We therefore still accept any of the English tests listed for admission to this programme.
Pre-sessional courses
The University of Glasgow accepts evidence of the required language level from the Language Centre Pre-sessional courses. We also consider other BALEAP accredited pre-sessional courses:
What do I do if...
my language qualifications are below the requirements?
The University's Language Centre offers a range of Pre-Sessional Courses to bring you up to entry level. The course is accredited by BALEAP, the UK professional association for academic English teaching; see Links.
my language qualifications are not listed here?
Please contact the Recruitment and International Office: pgadmissions@glasgow.ac.uk
For further information about English language requirements, please contact the Recruitment and International Office: pgadmissions@glasgow.ac.uk
Tuition fees for 2016-17
MSc
Home and EU
Full time fee
£6950
Part time 20 credits
£772
International
Full time fee
£15250
PgDip
Home and EU
Full time fee
£4633
International
Full time fee
£10167
Fees are subject to change and for guidance only
Funding opportunities
We place a strong emphasis on employability. You will be supported to secure internships and work placements at relevant organisations.
We ask that you apply online for a postgraduate taught degree. Our system allows you to fill out the standard application form online and submit this to the University within 42 days of starting your application.
You need to read the guide to applying online before starting your application. It will ensure you are ready to proceed, as well as answer many common questions about the process.
Do I have to apply online for a postgraduate taught degree?
Yes. To apply for a postgraduate taught degree you must apply online. We are unable to accept your application by any other means than online.
Do I need to complete and submit the application in a single session?
No. You have 42 days to submit your application once you begin the process. You may save and return to your application as many times as you wish to update information, complete sections or upload additional documents such as your final transcript or your language test.
What documents do I need to provide to make an application?
As well as completing your online application fully, it is essential that you submit the following documents:
A copy (or copies) of your official degree certificate(s) (if you have already completed your degree)
A copy (or copies) of your official academic transcript(s), showing full details of subjects studied and grades/marks obtained
Official English translations of the certificate(s) and transcript(s)
Two supporting reference letters on headed paper
Evidence of your English Language ability (if your first language is not English)
Any additional documents required for this programme (see Entry requirements for this programme)
A copy of the photo page of your passport (Non-EU students only)
If you do not have all of these documents at the time of submitting your application then it is still possible to make an application and provide any further documents at a later date, as long as you include a full current transcript (and an English translation if required) with your application. See the 'Your References, Transcripts and English Qualification' sections of our Frequently Asked Questions for more information.
Do my supporting documents need to be submitted online?
Yes, where possible, please upload the supporting documents with your application.
How do I provide my references?
You must either upload the required references to your online application or ask your referees to send the references to the University as we do not contact referees directly. There is two main ways that you can provide references: you can either upload references on headed paper when you are making an application using the Online Application (or through Applicant Self-Service after you have submitted your application) or you can ask your referee to email the reference directly to pgadmissions@glasgow.ac.uk. See the 'Your References, Transcripts and English Qualifications' section of the Frequently Asked Questions for more information.
What if I am unable to submit all of my supporting documents online?
If you cannot upload an electronic copy of a document and need to send it in by post, please attach a cover sheet to it that includes your name, the programme you are applying for, and your application reference number.
You may send them to:
Recruitment & International Office
71 Southpark Avenue
Glasgow
G12 8QQ
Fax: +44 141 330 4045
Can I email my supporting documents?
No. We cannot accept email submissions of your supporting documents.
What entry requirements should I have met before applying? Where can I find them?
You should check that you have met (or are likely to have met prior to the start of the programme) the individual entry requirements for the degree programme you are applying for. This information can be found on the 'entry requirements' tab on each individual programme page, such as the one you are viewing now.
What English Language requirements should I have met before applying? Where can I find them?
If you are an international student, you should also check that you have met the English Language requirements specific to the programme you are applying for. These can also be found on the 'entry requirements' tab for each specific programme.
Further Information
Please see the Frequently Asked Questions for more information on applying to a postgraduate taught programme.
Guidance notes for using the online application
These notes are intended to help you complete the online application form accurately, they are also available within the help section of the online application form. If you experience any difficulties accessing the online application then you should visit the Application Troubleshooting/FAQs page.
Name and Date of birth: must appear exactly as they do on your passport. Please take time to check the spelling and lay-out.
Contact Details: Correspondence address. All contact relevant to your application will be sent to this address including the offer letter(s). If your address changes, please contact us as soon as possible.
Choice of course: Please select carefully the course you want to study. As your application will be sent to the admissions committee for each course you select it is important to consider at this stage why you are interested in the course and that it is reflected in your application.
Proposed date of entry: Please state your preferred start date including the month and the year. Taught masters degrees tend to begin in September. Research degrees may start in any month.
Education and Qualifications: Please complete this section as fully as possible indicating any relevant Higher Education qualifications starting with the most recent. Complete the name of the Institution (s) as it appears on the degree certificate or transcript.
English Language Proficiency: Please state the date of any English language test taken (or to be taken) and the award date (or expected award date if known).
Employment and Experience: Please complete this section as fully as possible with all employments relevant to your course. Additional details may be attached in your personal statement/proposal where appropriate.
References: Please provide the names and contact details of two academic references. Where applicable one of these references may be from your current employer. References should be completed on letter headed paper and uploaded on to your application.
Standard application deadlines
International applications (non-EU): 22 July 2016
UK and EU applications: 26 August 2016
Classes start September 2016 and you may be expected to attend induction sessions the week before.