English Literature: Modernities - Literature, Culture, Theory
MLitt
Apply now
Why study Modernities at Glasgow?
Related links
Other programmes in the subject of English Literature:
Guided by a team of internationally recognised experts, you will investigate the key texts and concepts which shape our understanding of literature and culture across a period of radical change from 1900 to the present. You will relate the literary texts you study to developments in other cultural practices, such as film, theatre and the visual arts.
Key facts
The MLitt in Modernities at Glasgow has an international reputation for delivering outstanding research-led teaching, with a particular focus on interdisciplinary and theoretically informed approaches to this literary period.
You will have access to world class libraries and museums, as well as the extraordinary diversity of cultural, literary and artistic events that make Glasgow such an enriching place for postgraduate study.
The Modernities MLitt includes tailored workshops with the University's archives and Special Collections as well as a bespoke field trip to the archives of the National Library of Scotland and the Scottish National Gallery of Modern Art.
Full-time students
Semester 1 - September to December
School of Critical Studies Research Training Course
Modernities 1: 1880-1945
Option 1
Semester 2 - January to March
Modernities 2: 1945 to the present
Option 2
Option 3
Summer - April to September
Dissertation in a topic falling within the Modernities period (1880 to the present day)
Part-time students
First year
School of Critical Studies Research Training Course
Both compulsory Modernities courses
Option 1
Second year
Option 2
Option 3
Dissertation
Delivery
All taught courses are 20 credits and are delivered in weekly 2 hour seminars or similar.
Seminars are taught to the extent that the student members meet regularly with a tutor and proceed through a planned sequence of reading and discussion. The working style however is exploratory rather than didactic; students are expected to engage fully with primary sources, to develop, express and take responsibility for their own opinions and to work towards independent argument and expression in their resulting coursework and dissertation.
Content
The two compulsory Modernities courses are complementary.
Modernities 1: 1880-1945
In the first you will examine some of the foundational modernist movements and manifestos, and investigate some of the ways in which Modernism and modernity were theorised in the period 1880-1945.
Modernities 2: 1945 to the present
In the second core course you will examine the 'fallout' of these movements over the last half century or so. Primary reading consists of seminal texts from the modernist and post-modernist periods, as well as of theoretical formulations of early twentieth-century modernity and its continuities. Secondary reading serves as an introduction to recent critical approaches drawing on fields such as narratology, psychoanalysis, feminism, post-colonialism, and cultural theory.
Option courses
Option courses will usually be taken from among the 20 credit courses listed under the general pathway. Not all options will be available in any given year, depending on staff availability. A number of option courses have been devised with the needs of the Modernities programme particularly in mind; these are:
With the convenor's permission, you may also take option courses from elsewhere in the College of Arts and beyond, e.g. Comparative Literature, History of Art, Music, History, and many more.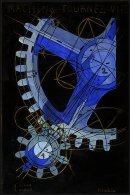 This programme provides the opportunity for advanced study of literary modernism and the avant-garde, and postmodern and contemporary developments in culture and theory. It aims to investigate the key texts and concepts which shape our understanding of literature and culture across a period of radical change and pursues this goal in two ways: through an examination of the aesthetic and cultural assumptions of different modern movements; and through an examination of issues in modern writing, particularly those relating to modernity (such as mass culture, revolution, war and empire) and post-modernity (such as simulation, spectacle, performativity and trauma). Throughout, texts studied are related to developments in other cultural practices, such as film, theatre and the visual arts.
Primary reading for the course ranges across seminal and neglected texts from the modernist, postmodernist, late twentieth-century periods and the present day. As well as literary texts, these will include theoretical formulations of early twentieth-century modernity and its continuities. Secondary reading serves as an introduction to a variety of critical approaches drawing on theories of culture, the avant-garde, memory, history, performance, gender, sexuality, technology, and fields such as postcolonialism, Critical Theory and cultural studies.
Coursework assessment varies course by course but generally consists of a short mid-term written exercise, usually around 1000 words, or a presentation, which contributes to a small part of the mark, followed by a longer final essay at the end of the semester, usually around 4,000 words.
The dissertation, of 12,000 to 15,000 words, normally arises out of the work of the previous two terms, but the choice is very much open to your own initiative. Each student is allocated a supervisor who will help you to develop the proposal and plan the most appropriate reading and methodology.
Modernities carries a strong ethos of community, which is of great value both intellectually and personally. The course strikes a balance between individual research and collaborative endeavour; it creates a space to think not only about the texts studied, but about the academic context in which we work and the kind of environment we want that to be. We benefited from interdisciplinary talks by visiting speakers, art gallery and archive visits, reading and film groups, and we were warmly welcomed by an existing community of ex-Modernities students now undertaking PhDs in the department. As a Modernities student, you are part of a wider network spanning ten years (in 2014), comprised not only of scholars but also of artists, writers, teachers, activists, and more. Most of the group from my year have gone on to further study; five of us were awarded scholarships for PhD research at various institutions (three continuing at Glasgow, including myself). This is a testament to the quality of the course and its inspirational teachers. Modernities doesn't so much open doors as Blast them from their hinges! – and for this experience and the people who made it happen I will always be grateful. (Amy Bromley, 2012-13)
I read more fascinating words about the world in my year on the MLitt Modernities masters course than I ever had to date, and I am forever grateful for it. It's not just the study that I enjoyed. For every late night in the Library, I had plenty of nights out with the class, discussing literature, films, music and more with a relish that, now, I miss. That passion was what I will always remember. I am now the UK editor of THUMP, the electronic music and culture channel for VICE. Going from reading some pretty dangerous and sexy literature in Glasgow to running a vertical of one of the biggest media companies in the world was no small feat, but the confidence that my time at Glasgow instilled in me - in my ability to put my own ideas out into the world, and to believe in what I write - has served me well in the first year of my new role. Postgraduate study has a thorough and profound effect on how you live and work; a Masters may well seem like an undertaking, but it's one entirely worthwhile for your mind and for your friendships. Good luck. (Lauren Martin, 2011-12)
I look back at the MLitt in Modernities as an exciting year of encountering an amazing diversity of cultural and literary responses to modernity. There is a clear passion for modernist studies in the English Department, and the enthusiasm of the tutors and their combined wealth of expertise make this Masters course a challenging and rewarding experience. Doing the course inspired me to stay on to do a PhD, and I continue to feel very lucky to be surrounded by such a rich concentration of resources. (Nina Enemark, 2007-8)
I am pleased to say that my expectations of the course were surpassed. The learning curve was steep and I left the course with a greatly enhanced confidence in my writing abilities. I gained the most from essays where I learnt to analyse literature and attain high standards of academic presentation. The emphasis on original thinking and argumentation was a challenge throughout the course but was also extremely useful in preparing me for doctoral study. Staff on the course always encouraged my ambitions and their criticism was perceptive and helped me improve the quality of my work. I continue to have good relationships with my tutors three years after leaving the course, an indication of how genuinely friendly they are. I remain grateful to my professors who helped me complete the degree. Finally, the high regard in which the course and the university are held has opened doors for me in my post-university life. (Ashok Patnaik, 2007-8)
The Modernities MLitt provides a wide-ranging yet rigorous course of study. Modernism and modernity is a particularly dynamic area of research in the English Literature department, and the lecturers bring passion as well as expertise to the classes. Furthermore, there is a vibrant postgraduate scene - as, for instance, in the Theory @ Random reading group - which provides creative and critical stimulus, and a network of friendly, like-minded people outside of classes. Many Modernities graduates (myself included) stay on to do doctoral research at Glasgow - proof of the quality of work and strength of the community here. (Henry King, 2009-10)
My first priority when I undertook the MLitt in Modernities was to pursue my interest in modern literature and achieve a significant depth of knowledge in that area. My second priority was to develop the professional academic skills required in order to undertake PhD study. Upon beginning the course, the enormity of both these tasks was made evident to me ­ but what made it possible was a variety of factors: the quality of the course programme in terms of design and options, the intellectual vigour and commitment of all members of academic staff, the warmth and generosity of individual tutors, and the networks of support and professional development offered by the department, college and university as a whole. I have, since my year on the MLitt, completed a PhD thesis focussed around three modernist authors: a success not only shaped by my time on the Modernities programme but fundamentally determined by it. I, therefore, look back on my MLitt study as a crucial stage in my academic development. More importantly, I remember it affectionately as an inspiring time in my life. (Rex Ferguson, 2005-6)
After my undergraduate degree in English and Art History, I knew that I was a modernist. I chose the M.Litt in Modernities because its thematic and temporal organisation allowed me to pursue my interests in literature, visual art and critical theory simultaneously. I enjoyed the dynamic approach to the core courses in which students and tutors contributed equally—a welcome change from the seminars I had taken in Canada. The tutors were always eager to make critical connections between the materials studied and what was going on in contemporary culture. Whether it was political events, artistic scandals, or media discourse, these types of connections insist on the continued relevance of studying modernism and modernity to global culture more broadly. Upon returning to Canada after the M.Litt, I worked as a freelance editor for two years and won a number of contracts because I had the M.Litt from Glasgow and had worked with eSharp and the Kelvingrove Review. More importantly, perhaps, when it came to applying for doctoral funding, I was successful with both government funding bodies and university scholarships, and I have no doubt that this was as much because of the prestige of the program as from the relationships I developed with tutors during the course. I am certain that had I not taken the Modernist Sexualities and Oulipo special option courses—which allowed me to continue my research in French culture from Surrealism to the present—I would not now be pursuing my doctoral degree in contemporary French literature at Oxford. (Kate Morris, 2006-7)
Modernities has been producing successful graduates for over ten years and provides excellent preparation for PhD studies and an academic career, as well as developing key skills valued by employers in journalism, the heritage and creative industries, and other related educational and vocational careers.
Entry requirements for postgraduate taught programmes are a 2.1 Honours degree or equivalent qualification (for example, GPA 3.0 or above) in a relevant subject unless otherwise specified.
We also require:
a sample of written work, about 3,000 words in length. This can be a previous piece of work from an undergraduate degree. The work should be written in English and the content does not have to cover a topic related to this specific programme.
a short statement of around 500 words outlining your interest in this programme.
at least one academic reference.
For applicants whose first language is not English, the University sets a minimum English Language proficiency level.
International English Language Testing System (IELTS) Academic module (not General Training):
overall score 7.0
no sub-test less than 7.0
or equivalent scores in another recognised qualification:
Common equivalent English language qualifications
All stated English tests are acceptable for admission for both home/EU and international students for this programme:
ibTOEFL: 100; no sub-test less than:

Reading: 24
Listening: 24
Speaking: 23
Writing: 27

CAE (Cambridge Certificate of Advanced English): 185; no sub-test less than 185
CPE (Cambridge Certificate of Proficiency in English): 185; no sub-test less than 185
PTE Academic (Pearson Test of English, Academic test): 70; no sub-test less than 70
Trinity College London Integrated Skills in English: ISEIII at Pass with Pass in all sub-tests
For international students, the Home Office has confirmed that the University can choose to use these tests to make its own assessment of English language ability for visa applications to degree level programmes. The University is also able to accept an IELTS test (Academic module) from any of the 1000 IELTS test centres from around the world and we do not require a specific UKVI IELTS test for degree level programmes. We therefore still accept any of the English tests listed for admission to this programme.
Pre-sessional courses
The University of Glasgow accepts evidence of the required language level from the English for Academic Study Unit Pre-sessional courses. We also consider other BALEAP accredited pre-sessional courses:
What do I do if...
my language qualifications are below the requirements?
The University's English for Academic Study Unit offers a range of Pre-Sessional Courses to bring you up to entry level. The course is accredited by BALEAP, the UK professional association for academic English teaching; see Links.
my language qualifications are not listed here?
Please contact the Recruitment and International Office: pgadmissions@glasgow.ac.uk
For further information about English language requirements, please contact the Recruitment and International Office: pgadmissions@glasgow.ac.uk
Tuition fees for 2017-18
MLitt
Home and EU
Full time fee
£7250
Part time 20 credits
£806
International
Full time fee
£16000
Fees are subject to change and for guidance only
Fee for submission by a research student: £460
Fee for re-assessment of a dissertation (PGT programme): £300
Submission for a higher degree by published work: £1,000
Submission of thesis after deadline lapsed: £200
Submission by staff in receipt of staff scholarship: £680
Research students registered as non-supervised Thesis Pending students (50% refund will be granted if the student completes thesis within the first six months of the period): £260
Registration/exam only fee: £110
General Council fee: £50
A 10% discount is available to University of Glasgow alumni applying to the MLitt. This includes graduates and those who have completed a Junior Year Abroad, Exchange programme or International Summer School at the University of Glasgow. The discount is applied at registration for students who are not in receipt of another discount or scholarship funded by the University. No additional application is required.
Funding opportunities
We ask that you apply online for a postgraduate taught degree. Our system allows you to fill out the standard application form online and submit this to the University within 42 days of starting your application.
You need to read the guide to applying online before starting your application. It will ensure you are ready to proceed, as well as answer many common questions about the process.
Do I have to apply online for a postgraduate taught degree?
Yes. To apply for a postgraduate taught degree you must apply online. We are unable to accept your application by any other means than online.
Do I need to complete and submit the application in a single session?
No. You have 42 days to submit your application once you begin the process. You may save and return to your application as many times as you wish to update information, complete sections or upload additional documents such as your final transcript or your language test.
What documents do I need to provide to make an application?
As well as completing your online application fully, it is essential that you submit the following documents:
A copy (or copies) of your official degree certificate(s) (if you have already completed your degree)
A copy (or copies) of your official academic transcript(s), showing full details of subjects studied and grades/marks obtained
Official English translations of the certificate(s) and transcript(s)
Two supporting reference letters on headed paper
Evidence of your English Language ability (if your first language is not English)
Any additional documents required for this programme (see Entry requirements for this programme)
A copy of the photo page of your passport (Non-EU students only)
If you do not have all of these documents at the time of submitting your application then it is still possible to make an application and provide any further documents at a later date, as long as you include a full current transcript (and an English translation if required) with your application. See the 'Your References, Transcripts and English Qualification' sections of our Frequently Asked Questions for more information.
Do my supporting documents need to be submitted online?
Yes, where possible, please upload the supporting documents with your application.
How do I provide my references?
You must either upload the required references to your online application or ask your referees to send the references to the University as we do not contact referees directly. There is two main ways that you can provide references: you can either upload references on headed paper when you are making an application using the Online Application (or through Applicant Self-Service after you have submitted your application) or you can ask your referee to email the reference directly to pgadmissions@glasgow.ac.uk. See the 'Your References, Transcripts and English Qualifications' section of the Frequently Asked Questions for more information.
What if I am unable to submit all of my supporting documents online?
If you cannot upload an electronic copy of a document and need to send it in by post, please attach a cover sheet to it that includes your name, the programme you are applying for, and your application reference number.
You may send them to:
Postgraduate Admissions
Marketing, Recruitment & International Office
71 Southpark Avenue
Glasgow
G12 8QQ
Fax: +44 141 330 4045
Can I email my supporting documents?
No. We cannot accept email submissions of your supporting documents.
What entry requirements should I have met before applying? Where can I find them?
You should check that you have met (or are likely to have met prior to the start of the programme) the individual entry requirements for the degree programme you are applying for. This information can be found on the 'entry requirements' tab on each individual programme page, such as the one you are viewing now.
What English Language requirements should I have met before applying? Where can I find them?
If you are an international student, you should also check that you have met the English Language requirements specific to the programme you are applying for. These can also be found on the 'entry requirements' tab for each specific programme.
Further Information
Please see the Frequently Asked Questions for more information on applying to a postgraduate taught programme.
Guidance notes for using the online application
These notes are intended to help you complete the online application form accurately, they are also available within the help section of the online application form. If you experience any difficulties accessing the online application then you should visit the Application Troubleshooting/FAQs page.
Name and Date of birth: must appear exactly as they do on your passport. Please take time to check the spelling and lay-out.
Contact Details: Correspondence address. All contact relevant to your application will be sent to this address including the offer letter(s). If your address changes, please contact us as soon as possible.
Choice of course: Please select carefully the course you want to study. As your application will be sent to the admissions committee for each course you select it is important to consider at this stage why you are interested in the course and that it is reflected in your application.
Proposed date of entry: Please state your preferred start date including the month and the year. Taught masters degrees tend to begin in September. Research degrees may start in any month.
Education and Qualifications: Please complete this section as fully as possible indicating any relevant Higher Education qualifications starting with the most recent. Complete the name of the Institution (s) as it appears on the degree certificate or transcript.
English Language Proficiency: Please state the date of any English language test taken (or to be taken) and the award date (or expected award date if known).
Employment and Experience: Please complete this section as fully as possible with all employments relevant to your course. Additional details may be attached in your personal statement/proposal where appropriate.
References: Please provide the names and contact details of two academic references. Where applicable one of these references may be from your current employer. References should be completed on letter headed paper and uploaded on to your application.
Standard application deadlines
International applications (non-EU): 21 July 2017
UK and EU applications: 25 August 2017
Classes start September 2017 and you may be expected to attend induction sessions the week before.
Apply now