Clinical Neuropsychology
MSc (Med Sci)
Apply now
Clinical Neuropsychology
Related links
Downloads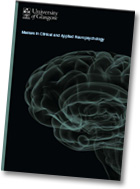 This Masters programme in Clinical Neuropsychology is designed for those who are eligible for registration in the UK's Health Professions Council as a clinical psychologist.
Key facts
MSc (Med Sci): 12 months full-time; 24 months part-time
PgDip 9 months full-time; 18 months part-time
Contact: Anne.Lambie@glasgow.ac.uk
The Clinical Neuropsychology programme has been developed in partnership with NHS Education for Scotland and offers specialist knowledge for clinical psychologists and other healthcare professionals working in Scotland and the rest of the UK.
Why study Neuropsychology at the University of Glasgow? The programme is accredited by the British Psychological Society Division of Neuropsychology and provides the underpinning knowledge component of the Qualification in Clinical Neuropsychology (QiCN).
The University has a strong tradition of research in clinical neuroscience and clinical neuropsychology.
The majority of students on this programme are clinical psychologists working in the NHS and most complete their programme working part-time over two years, although a small number complete all the teaching blocks in one year.
All our lectures are given by subject specialists, including clinical academics at the University as well as many other specialists from around the UK and occasionally internationally.
You will take a total of eight courses, arranged into blocks of teaching. Each teaching block lasts two weeks and covers two courses.
Courses
Context and perspectives in clinical neuropsychology
Professional issues and research methods
Neuroscience
Epilepsy, seizure and sleep disorders
Acquired brain injury and disorders of memory, attention and executive functioning
Degenerative conditions
Stroke and disorders of perception, language, praxis and calculation
Paediatric neurology and neuropsychology.
Plus a research project for MSc students.
The MSc (Med Sci) Clinical/Applied Neuropsychology programmes provide the underpinning knowledge necessary for clinical psychologists whose practice involves neuropsychological assessment or interventions, including those who are working towards joining the British Psychological Society Specialist Register in Clinical Neuropsychology. The programme focuses on theory, assessment and rehabilitation of neuropsychological disorders in a wide range of neurological conditions. The aim is to provide knowledge that is directly relevant to practice in neuropsychology. This is something that is clearly reflected in many of the comments made by our students at the end of the programme:
Comments from students completing the programme in 2015
'The knowledge and understanding I have acquired from the course have transformed me as a clinical psychologist and the impact on my work and practice is profound'.
'Don't think too much – take the course as soon as possible!'
'Essential if you want to pursue a career within neuropsychology'
"It is an absolutely necessary programme for any clinical psychologist working in a neuropsychologically relevant area'
'An excellent course that is at the frontiers of research and practice in clinical neuropsychology'
'Interesting, practical as well as intellectual, relevant and helpful to clinical practice'.
'Broad based, thorough, interactive, reflexive, detailed and engaging'
'Well-organised course in a great city with key speakers'
'A comprehensive programme for clinical psychologists with an interest in neuropsychology where theory-practice links are discussed. The programme content can be easily applied to clinical practice'
'The lecturers have outstanding knowledge and skill, many working in research at the forefront of the profession'.
'Understanding models of cognition and current evidence regarding intervention (restitution/compensation) are aspects which I have already embedded into clinical practice'
'The collective body of knowledge has built my understanding of the relationship between brain and behaviour.'
'Comprehensive coverage of clinical neuropsychology in all forms led by experts'
'What are the strengths of the programme? The collective enthusiasm, Jon, teachers and colleagues on the course, closely followed by the intellectual depth and integrity of all those involved'
'Thanks for a deeply interesting and challenging experience. I think this course will have a profound impact on my work'
'Comprehensive, thorough, stimulating, relevant!'
'Lived up to my hopes and expectations. Very stimulating and informative'
'This programme combines theory with clinical practice in practical and accessible ways that enhances understanding of the contribution of neuropsychological process to behaviour, cognition and emotions. I work within a general health setting and the course helped me develop confidence in assessing and developing interventions for people with long term conditions'
'I have thoroughly enjoyed this course and it has benefitted me in ways that I couldn't have imagined. So, Thank You!'
Comments from students completing the programme in 2014
'…this course (PgDip/MSc) is without doubt the best single academic course I have ever done. I would (and have done) recommend this course to any of my clinical psychology colleagues either as a standalone CPD module or the whole PgDip/MSc package. Thank you.'
'Overall I would rate the course as excellent. It influenced my clinical practice on multiple levels (see earlier). I am a more confident clinician because of the knowledge I acquired. I enjoyed the lectures delivered by specialists in the field and always go back to clinical practice work with renewed enthusiasm and curiosity and neuropsychology. Many thanks to Jon and the whole team!'
'Excellent quality of teaching throughout – have enjoyed range of topics covered and variety of topics. All very relevant to my clinical practice and allowed me to reflect on past work and how I could improve my practice as a clinician. Course well structured, clear objectives and all content highly relevant to my clinical practice as a clinical psychologist hoping to specialise in clinical neuropsychology. Nicely built upon my existing knowledge base and experiences to date. Work load of course and assessment processes manageable. I would highly recommend to colleagues. '
'Overall I feel I have greatly benefited from attending the course. The course is hugely relevant and can be readily applied to my NHS role. In addition to strengthening my theory-practice links I feel I have a much greater appreciation of the evidence base and how to apply the evidence based, theory driven 'interventions' applying this knowledge to my clinical practice. It has also been hugely helpful to meet others working across a range of clinical contexts, to share ideas and discuss the application of neuropsychological theory to different clinical groups. I feel the course has provided me with an excellent theoretical grounding and given me confidence towards going on to complete the QICN and becoming a clinical neuropsychologist.'
'Overall the standard of teaching and course content/structure has been really excellent! Jon personally does a fantastic job both in terms of his organisation of material and teaching of such a broad range of topics, and his enthusiasm for the subjects is both inspiring and astounding. Most of all I feel the knowledge I have gained from attending the course will benefit the clients and families I work with for many years to come! I would highly recommend the course to others wanting to expand and develop their applied neuropsychological knowledge and competencies.'
'Overall, the course has been excellent – really enjoyable, learnt a huge amount of contemporary evidence base for practice. Thank you.'
'Overall the programme has been such high quality, thought provoking and inspiring it will radically change my practice in terms of increasing my confidence using rehab techniques with patients. Thank you!'
'(I) have found the course and its content so useful – it has really helped me to think critically about my own practice in neuro-rehabilitation. I have found it very clinically applicable.'
'The course as a whole has been hugely beneficial to my clinical practice. The standard of teaching has been second to none. Very enjoyable. Thank you.'
'Thanks very much for a hugely stimulating and motivating course.'
'…this Pg/Dip-MSc is fantastic and whatever I do in the future just won't match up. There are loads of things I have learnt throughout all of the modules which I will use in my current job in terms of clinical knowledge, strategies and techniques and also for future research endeavours. Thank You.'
'Have really enjoyed and gained a lot from attending the whole course. I have picked up a lot from peers saying what they do which has been exptremely helpful. Well worth doing the course.'
'The course as a whole was excellent. Very useful for working in the NHS - particularly through increasing knowledge regarding dementia and gaining further understanding of what might be occurring. Thank you very much'
This programme is open to applicants with a qualification in Clinical Psychology which confers eligibility for registration with the UK Health Professions Council as a Clinical Psychologist. It is also open to applicants who have trained outside the UK and are eligible for registration with the Health and Care Professions Council as a Clinical Psychologist. Places are limited and you are advised to apply as early as possible.
Applicants who trained in clinical psychology outside the UK who are not eligible for registration with the Health and Care Professions Council would normally apply for the MSc Applied Neuropsychology programme.
You are required to provide two references, a Doctorate Certificate and an HPC Registration Number.
For applicants whose first language is not English, the University sets a minimum English Language proficiency level.
International English Language Testing System (IELTS) Academic module (not General Training)
overall score 6.5
no sub-test less than 6.0
or equivalent scores in another recognised qualification:
Common equivalent English language qualifications
All stated English tests are acceptable for admission for both home/EU and international students for this programme:
ibTOEFL: 90; no sub-test less than:

Reading: 20
Listening: 19
Speaking: 19
Writing: 23

CAE (Cambridge Certificate of Advanced English): 176 overall; no sub-test less than 169
CPE (Cambridge Certificate of Proficiency in English): 176 overall; no sub-test less than 169
PTE Academic (Pearson Test of English, Academic test): 60; no sub-test less than 59
Trinity College London Integrated Skills in English: ISEII at Distinction with Distinction in all sub-tests
For international students, the Home Office has confirmed that the University can choose to use these tests to make its own assessment of English language ability for visa applications to degree level programmes. The University is also able to accept an IELTS test (Academic module) from any of the 1000 IELTS test centres from around the world and we do not require a specific UKVI IELTS test for degree level programmes. We therefore still accept any of the English tests listed for admission to this programme.
Pre-sessional courses
The University of Glasgow accepts evidence of the required language level from the English for Academic Study Unit Pre-sessional courses. We also consider other BALEAP accredited pre-sessional courses:
What do I do if...
my language qualifications are below the requirements?
The University's English for Academic Study Unit offers a range of Pre-Sessional Courses to bring you up to entry level. The course is accredited by BALEAP, the UK professional association for academic English teaching; see Links.
my language qualifications are not listed here?
Please contact the Recruitment and International Office: pgadmissions@glasgow.ac.uk
For further information about English language requirements, please contact the Recruitment and International Office: pgadmissions@glasgow.ac.uk
Tuition fees for 2017-18
MSc (Med Sci)
Home and EU
Full time fee
£7250
International
Full time fee
£19500
Home and EU part-time fees - £3,625 per year
PgDip
Home and EU
Full time fee
£4833
International
Full time fee
£13000
Home and EU part-time fees are charged proportionally by blocks of credits enrolled
Fees are subject to change and for guidance only
Fee for submission by a research student: £460
Fee for re-assessment of a dissertation (PGT programme): £300
Submission for a higher degree by published work: £1,000
Submission of thesis after deadline lapsed: £200
Submission by staff in receipt of staff scholarship: £680
Research students registered as non-supervised Thesis Pending students (50% refund will be granted if the student completes thesis within the first six months of the period): £260
Registration/exam only fee: £110
General Council fee: £50
A 10% discount is available to University of Glasgow alumni applying to the MSc (Med Sci). This includes graduates and those who have completed a Junior Year Abroad, Exchange programme or International Summer School at the University of Glasgow. The discount is applied at registration for students who are not in receipt of another discount or scholarship funded by the University. No additional application is required.
Funding opportunities
We ask that you apply online for a postgraduate taught degree. Our system allows you to fill out the standard application form online and submit this to the University within 42 days of starting your application.
You need to read the guide to applying online before starting your application. It will ensure you are ready to proceed, as well as answer many common questions about the process.
Do I have to apply online for a postgraduate taught degree?
Yes. To apply for a postgraduate taught degree you must apply online. We are unable to accept your application by any other means than online.
Do I need to complete and submit the application in a single session?
No. You have 42 days to submit your application once you begin the process. You may save and return to your application as many times as you wish to update information, complete sections or upload additional documents such as your final transcript or your language test.
What documents do I need to provide to make an application?
As well as completing your online application fully, it is essential that you submit the following documents:
A copy (or copies) of your official degree certificate(s) (if you have already completed your degree)
A copy (or copies) of your official academic transcript(s), showing full details of subjects studied and grades/marks obtained
Official English translations of the certificate(s) and transcript(s)
Two supporting reference letters on headed paper
Evidence of your English Language ability (if your first language is not English)
Any additional documents required for this programme (see Entry requirements for this programme)
A copy of the photo page of your passport (Non-EU students only)
If you do not have all of these documents at the time of submitting your application then it is still possible to make an application and provide any further documents at a later date, as long as you include a full current transcript (and an English translation if required) with your application. See the 'Your References, Transcripts and English Qualification' sections of our Frequently Asked Questions for more information.
Do my supporting documents need to be submitted online?
Yes, where possible, please upload the supporting documents with your application.
How do I provide my references?
You must either upload the required references to your online application or ask your referees to send the references to the University as we do not contact referees directly. There is two main ways that you can provide references: you can either upload references on headed paper when you are making an application using the Online Application (or through Applicant Self-Service after you have submitted your application) or you can ask your referee to email the reference directly to pgadmissions@glasgow.ac.uk. See the 'Your References, Transcripts and English Qualifications' section of the Frequently Asked Questions for more information.
What if I am unable to submit all of my supporting documents online?
If you cannot upload an electronic copy of a document and need to send it in by post, please attach a cover sheet to it that includes your name, the programme you are applying for, and your application reference number.
You may send them to:
Postgraduate Admissions
Marketing, Recruitment & International Office
71 Southpark Avenue
Glasgow
G12 8QQ
Fax: +44 141 330 4045
Can I email my supporting documents?
No. We cannot accept email submissions of your supporting documents.
What entry requirements should I have met before applying? Where can I find them?
You should check that you have met (or are likely to have met prior to the start of the programme) the individual entry requirements for the degree programme you are applying for. This information can be found on the 'entry requirements' tab on each individual programme page, such as the one you are viewing now.
What English Language requirements should I have met before applying? Where can I find them?
If you are an international student, you should also check that you have met the English Language requirements specific to the programme you are applying for. These can also be found on the 'entry requirements' tab for each specific programme.
Further Information
Please see the Frequently Asked Questions for more information on applying to a postgraduate taught programme.
Guidance notes for using the online application
These notes are intended to help you complete the online application form accurately, they are also available within the help section of the online application form. If you experience any difficulties accessing the online application then you should visit the Application Troubleshooting/FAQs page.
Name and Date of birth: must appear exactly as they do on your passport. Please take time to check the spelling and lay-out.
Contact Details: Correspondence address. All contact relevant to your application will be sent to this address including the offer letter(s). If your address changes, please contact us as soon as possible.
Choice of course: Please select carefully the course you want to study. As your application will be sent to the admissions committee for each course you select it is important to consider at this stage why you are interested in the course and that it is reflected in your application.
Proposed date of entry: Please state your preferred start date including the month and the year. Taught masters degrees tend to begin in September. Research degrees may start in any month.
Education and Qualifications: Please complete this section as fully as possible indicating any relevant Higher Education qualifications starting with the most recent. Complete the name of the Institution (s) as it appears on the degree certificate or transcript.
English Language Proficiency: Please state the date of any English language test taken (or to be taken) and the award date (or expected award date if known).
Employment and Experience: Please complete this section as fully as possible with all employments relevant to your course. Additional details may be attached in your personal statement/proposal where appropriate.
References: Please provide the names and contact details of two academic references. Where applicable one of these references may be from your current employer. References should be completed on letter headed paper and uploaded on to your application.
Standard application deadlines
International applications (non-EU): 21 July 2017
UK and EU applications: 25 August 2017
Classes start September 2017 and you may be expected to attend induction sessions the week before.
Before you apply: An application pack is available from the Programme Administrator, Anne Lambie, (Anne.Lambie@glasgow.ac.uk), and we encourage you to contact us and to consult this information before beginning your online application.
Apply now