Medical Genetics and Genomics
MSc (Med Sci)
Apply now
Medical Genetics and Genomics: an introduction
Related links
Other programmes in the subject of Medicine: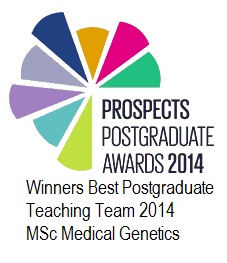 The increasing impact of genetics in healthcare and the development of newer sophisticated technologies requires contributions from research scientists, clinical laboratory scientists and clinicians to investigate the causes of, and therefore permit optimal management for, diseases for which alterations in the genome, either at the DNA sequence level or epigenetic level, play a significant role. Collaboration between staff from the University of Glasgow and the NHS West of Scotland Genetics Service enables the MSc in Medical Genetics and Genomics to provide a state-of-the-art view of the application of modern genetic and genomic technologies in medical genetics research and diagnostics, and in delivery of a high quality genetics service to patients, as well as in design of targeted therapies.
Key facts
This is a fully up-to-date Medical Genetics degree delivered by dedicated, multi-award-winning teaching and clinical staff of the University, with considerable input from hospital-based Regional Genetics Service clinicians and clinical scientists.
The full spectrum of genetic services is represented, from patient and family counselling to diagnostic testing of individuals and screening of entire populations for genetic conditions: eg the NHS prenatal and newborn screening programmes.
The MSc Medical Genetics Course is based on the south side of the River Clyde in the brand new (2015) purpose built Teaching & Learning Centre, at the Queen Elizabeth University Hospitals (we are located 4 miles from the main University Campus). The Centre also houses state of the art educational resources, including a purpose built teaching laboratory, computing facilities and a well equipped library. The West of Scotland Genetic Services are also based here at the Queen Elizabeth Campus allowing students to learn directly from NHS staff about the latest developments to this service.
The Medical Genetics MSc Teaching Staff have won the 2014 UK-wide Prospects Postgraduate Awards for the category of Best Postgraduate Teaching Team (Science, Technology & Engineering). These awards recognise and reward excellence and good practice in postgraduate education.
The close collaboration between university and hospital staff ensures that the Medical Genetics MSc provides a completely up-to-date representation of the practice of medical genetics and you will have the opportunity to observe during clinics and visit the diagnostic laboratories at the new Southern General Hospital laboratory medicine building.
The Medical Genetics degree explores the effects of mutations and variants as well as the current techniques used in NHS genetics laboratory diagnostics and recent developments in diagnostics (including microarray analysis and the use of massively parallel ["next-generation"] sequencing).
New developments in medical genetics are incorporated into the lectures and interactive teaching sessions very soon after they are presented at international meetings or published, and you will gain hands-on experience and guidance in using software and online resources for genetic diagnosis and for the evaluation of pathogenesis of DNA sequence variants.
You will develop your skills in problem solving, experimental design, evaluation and interpretation of experimental data, literature searches, scientific writing, oral presentations, poster presentations and team working.
This MSc programme will lay the academic foundations on which some students may build in pursuing research at PhD level in genetics or related areas of biomedical science or by moving into related careers in diagnostic services.
The widely used textbook "Essential Medical Genetics" is co-authored by a member of the core teaching team, Professor Edward Tobias.
For doctors: The Joint Royal Colleges of Physicians' Training Board (JRCPTB) in the UK recognises the MSc in Medical Genetics and Genomics (which was established in 1984) as counting for six months of the higher specialist training in Clinical Genetics.
The Medical Council of Hong Kong recognises the MSc in Medical Genetics and Genomics from University of Glasgow in it's list of Quotable Qualifications.
Genetic Disease: from the Laboratory to the Clinic
This course is designed in collaboration with the West of Scotland Regional Genetics Service to give students a working knowledge of the principles and practice of Medical Genetics and Genomics which will allow them to evaluate, choose and interpret appropriate genetic investigations for individuals and families with genetic disease. The link from genotype to phenotype, will be explored, with consideration of how this knowledge might contribute to new therapeutic approaches.
Case Investigations in Medical Genetics and Genomics
Students will work in groups to investigate complex clinical case scenarios: decide appropriate testing, analyse results from genetic tests, reach diagnoses where appropriate and, with reference to the literature, generate a concise and critical group report.
Clinical Genomics
Students will take this course OR Omic Technologies for Biomedical Sciences OR Frontiers in Cancer Science.
This course will provide an overview of the clinical applications of genomic approaches to human disorders, particularly in relation to clinical genetics, discussion the methods and capabilities of the new technologies. Tuition and hands-on experience in data analysis will be provided, including the interpretation of next generation sequencing reports.
Omic technologies for the Biomedical Sciences: from Genomics to Metabolomics
Students will take this course OR Clinical Genomics OR Frontiers in Cancer Science.
An introduction to workflows for the resolution and characterisation of complex mixtures of biomolecules, from DNA to small molecule metabolites. The course emphasizes the potential and challenges of omic approaches and will include data handling tasks and demonstration.
Frontiers in Cancer Science
Students will take this course OR Clinical Genomics OR Omic Technologies for Biomedical Sciences.
This course will consider success stories and challenges of cancer treatment; this will include therapy resistance, residual disease, dormancy and relapse after treatment, biomarkers and 'omics' approaches, and how recent success stories can help in the development of new treatments for other cancers.
Disease Screening in Populations
This course will cover the rationale for, and requirements of, population screening programmes to detect individuals at high risk of particular conditions, who can then be offered diagnostic investigations. Students will work in groups to investigate and report on, a screening programme of their choice from any country.
SNP Assay Design and Validation
Students will work independently to develop and validate a polymerase chain reaction (PCR)-based assay for a single nucleotide polymorphism (SNP).
Medical Genetics and Genomics Dissertation
The course will provide students with the opportunity to carry out an independent investigative project in the field of Medical Genetics and Genomics.
Teaching and Learning Methods
A variety of methods are used, including problem-based learning, case-based learning, lectures, tutorials and laboratories. These are supplemented by a wide range of course-specific electronic resources for additional learning and self-assessment. As a result, you will develop a wide range of skills relevant to careers in research, diagnostics or clinical genetics. These skills include team-working, data interpretation and experimental design. You will use the primary scientific literature as an information resource, although textbooks such as our own Essential Medical Genetics will also be useful. You will have the options of: attending genetic counselling clinics and gaining hands-on experience and guidance in using software and online resources for genetic diagnosis and for the evaluation of pathogenesis of DNA sequence variants.
There are weekly optional supplementary tutorials on topics that are selected by students.
Electronic Resources
Access to a continually updated Moodle (virtual learning environment) with extensive additional teaching and self-assessment materials.
An online web-portal with regularly updated direct links to >70 worldwide genetic databases & online algorithms (plus the latest new genetics discoveries), all easily accessible and grouped into useful categories.
Tian Rui Zhao, Canada (MSc Medical Genetics & Genomics 2016) currently undertaking PhD at University of Calgary
The MSc in Medical Genetics & Genomics was one of the best experiences ever! This program gives me the opportunity to have a taste of everything so I can find what I like. The mixture of experience including analysis of next generation sequencing and leading edge research opportunities offered by this MSc program really helped me further my career. The award winning staff team of the program are friendly, knowledgeable and dedicated. They are the best I have ever seen. I highly recommend this program to anyone who is interested.
Aoife Dunne, Ireland (MSc Medical Genetics & Genomics 2016) currently working as NHS Genetic Technologist
I found that my time in the MSc Medical Genetics and Genomics course was very rewarding and since completing the course I have started working in a molecular genetics laboratory in Nottingham, England. The MSc includes many assignments and hours of study, but all the effort you put in as a student is equally matched by the teaching staff who genuinely care about the students and their experience during the year. There is a mixture of taught, practical and group work which I found prepared me for working as part of a team in the molecular genetics laboratory. Feedback is provided on all assignments which is extremely helpful, and the staff on this course are extremely passionate about the subject which makes for a very positive learning environment. This course has enhanced my knowledge of genetics and also provided me with new and invaluable skills I did not have before many of which I will employ in my new role as a medical technical officer. In addition, it is never easy to move to a new country and all of the staff are very friendly and welcoming. They organised lunches, bowling and an away day to a Scottish castle and I would like to thank all of them for making our year in Glasgow an amazing one!
Ronia Victor, Israel (MSc Medical Genetics 2015) currently working as a Genetic Counsellor intern in Israel
This MSc equipped me with so much: first of all getting to know the basic important principles of human genetics, understanding how the techniques work so I would be better in explaining this to patients. Understanding that every person is different and has a unique story (not just medically and genetically) but where they come from, the history of their family and their disease...in short, every single tool given in the degree is essential to the genetic counsellor job; dealing with literature articles (knowing what's important and what is not), building presentations, being able to use proper language with clinical geneticists or molecular geneticists while using a simple clear language with the patient. Also being able to work in a team: "being a team player" is something that is very well delivered in the degree, because you need to be able to cope with many different kinds of personalities and mentalities so you need to be flexible and easy-going, in addition to remaining faithful and true to who you are. So in short, in this one hectic intensive year you study genetics but you also study "people", in other words how to be good in what you do while allowing others to shine as well.
Sarah Jamieson, UK (MSc Medical Genetics 2014) currently working in NHS (training as Clinical Scientist)
Since completing this Masters programme in 2014, I have begun training as part of the Scientist Training Programme (STP) in the field of Genomics. I do not believe I would have achieved this if not for this course. The course content covered scientific techniques and analysis performed daily in NHS genetics laboratories; this and the added input of registered Clinical Scientists throughout the year significantly contributed to my understanding of the diagnostic service and facilitated a smooth transition into this field of work. The staff members on the course are excellent and were always happy to provide detailed feedback on every piece of assessment, both summative and formative. This really improved my writing and overall communication skills which considerably help in my current job and university work. They also provided me with advice and support for my interview. I would highly recommend this course to anyone interested in medical genetics and a career in the NHS.
Holly Morrison, UK (MSc Medical Genetics 2014) currently studying for MBChB
I did a Masters in Medical Genetics in 2013-14 and I throughly enjoyed the experience. The Team were committed to delivering an excellent standard of teaching and trying innovative methods to keep everyone in the class interested. The class was treated like a big family and I think this was great for all of the students - home and international alike. The Team went above and beyond to make sure everyone was coping with their work during the degree and also helped us with our future career plans. I know all of my classmates would join me in thanking the Medical Genetics Teaching Team for an amazing year.
Mohamed Abdelhamid, Egypt (MSc Medical Genetics 2014) currently working as Clinical Genetics Registrar in Oxford
My year as a student doing the MSc Medical Genetics at the University of Glasgow has been so fruitful. The good reputation of the University, its ranking and because I wanted a new experience in Scotland are the main reasons why I chose to study at the University of Glasgow. I think Glasgow is an amazing city and Scotland an amazing country, I have been to many cities in the UK but Scottish people are the friendliest and life here seems to be easier. The Department of Medical Genetics is one of the best in the UK and the Clinical Director of the course is internationally known. The Professors are well organised, opened up for any questions and try to help us by all means.
The programme has provided me with great amount of knowledge in the field of Medical Genetics. I experienced the research work doing a wet lab project as a part of my dissertation thesis. The project was held in the Institute of Cancer Sciences at the University of Glasgow. It tackled epigenetic mechanisms that influence the survival of cancer stem cells particularly glioblastoma multiforme, one of the most aggressive brain tumours. The project investigated new therapeutic approaches for this deadly brain tumour. The lab atmosphere was friendly and warm with many professors and students from all over the world doing their best to help others and provide good science. This opportunity gave me the chance to experience the real research world and get updated with all the new advancements in Human Genetics.
The UK is one of the leading countries in scientific research and UK Universities are always in the top 100 in the world. My colleagues were really friendly and we got along from the start. My MSc will help me apply for a PhD if I want to work in the research field in the future.
Jacqueline Didcock, UK (MSc Medical Genetics 2014) currently working in NHS (training as Clinical Scientist)
This course provides the ideal platform for anyone looking to go in to diagnostic genetics, especially
within the NHS. The practical and theoretical knowledge and skills I gained during my time on the MSc was perfect for my role as an NHS genetic technologist, particularly when it came to report writing using nomenclature including ISCN. I built on my skills from this course in combination with my GT experience and have now secured a place on the Scientist Training Programme in Newcastle. I firmly believe that the course content, laboratory experience and incredibly nurturing and dedicated staff on this MSc helped me achieve my dream job.
Zafeiria Kottaki, Greece (MSc Medical Genetics 2013) currently working as a molecular scientist in a Glasgow biotechnology company
Excellent course in an excellent institute, really enjoyed studying here where you can escalate your knowledge and experience. The course has been a great experience and the lecturers are great that taught us here. They are always ready to assist us in our study. They give and share their knowledge and experience, fact that helped me to find my current job.
Kathleen Murphy, UK (MSc Medical Genetics 2013) currently working in NHS (training as Clinical Scientist)
Every single member of this remarkable team are completely commited to ensuring the best possible experience for all their students, from the day they walk into the department, beyond graduation with MSc Medical Genetics and throughout their careers. The time, encouragement and support given to the students from the staff whether in a PBL, tutorial, personal development meeting, via email or just over a cup of tea in the office is extraordinary. This is of particular importance to international students, as they perhaps don't have as much contact with their families as they would like when in Glasgow. I am sure that the friendships I have made with the MSc staff will last for many more years to come.
Rasha Sabouny, Canada (MSc Medical Genetics 2013) currently undertaking PhD in University of Calgary
I enjoyed every aspect of the course from day one until my viva, all thanks to a remarkably dedicated team. They've got it all covered; from welcoming new students, delivering super interesting lectures, arranging multiple de-stress outings, even introducing us to the Scottish cuisine! I was personally inspired by how our course was structured and delivered by the entire team.
Jenny Patterson, UK (MSc Medical Genetics 2012) currently Specialist Registrar in Clinical Genetics
The MSc Medical Genetics in Glasgow is a fantastic course with excellent teaching and amazingly supportive staff. The modules covered are fascinating, challenging and give you fantastic experience for the future and open up so many possibilities. The combination of lectures, small group tutorials and group projects gives you both a thorough understanding of complex topics but also the enjoyment of working with students from across the world. The teamwork on the course with fellow students and staff was the most memorable aspect for me and the detail staff give you in feedback is brilliant. I was an adult medicine hospital doctor before doing the course in 2012 and now am a Specialist Registrar in Clinical Genetics at Queen Elizabeth Hopsital Glasgow. The MSc made me a better doctor in terms of ability for research skills and problem solving and allowed me to enter into my chosen specialty with invaluable knowledge of genetic disorders, technologies and diagnostics. Note: MSc in Clinical Genetics is now also available, which is delivered by the same teaching team as the MSc in Medical Genetics & Genomics.
Catriona Ford, UK (MSc Medical Genetics 2011) currently studying for PhD, Edinburgh
I'm still benefiting from the practice in gathering information and writing I had on this course, particularly for my dissertation. I have also been able to apply what I learned as I am now doing a partly bioinformatics based project which I would never even have thought of doing if I hadn't done this MSc. I think the format of the course with lots of short reports and the PBLs (stressful thought they are!) was excellent really helped me to engage with the content. I'm so glad I did the MSc, it's such a great course.
Kirsty Russell, UK (MSc Medical Genetics 2011) currently Medical Technical Officer, Dundee
I had a great time during the MSc course where I gained a great deal of knowledge on medical genetics and working within a healthcare organsation, and I also made lifelong friends. The MSc course developed many different skills and has helped me develop knowledge related to a career in healthcare science.
Ghassan Tashkandi, Saudi Arabia (MSc Medical Genetics 2011) recently completed PhD in Edinburgh, currently training in molecular pathology
The MSc course in Glasgow University has enriched my skills in presentation, critical thinking and many other skills enormously. I went through a lot during my year of study that affected me mentally and emotionally, but without all the amazing warm support from all of the staff, I wouldn't achieve my degree. The course was awesome and the amount of knowledge (genetics, academic writing, communication, interpretation and more) I gained from the MSc was outstanding. The Medical Genetics staff are amazing people and very supportive.
Eleanna Darmani, Greece (MSc Medical Genetics 2011) currently Biologist-Geneticist , Greece
I think that the MSc made me be almost perfectly ready (knowing all the needed theory) in order to work in a genetic laboratory. Although I believed that before finding the job, from when I started working I understood that this was the true and I was really glad for all those hours I spent studying for the course!
Naif Sannan, Saudi Arabia (MSc Medical Genetics 2010) currently undertaking PhD at University of British Columbia
The MSc in Medical Genetics was an incredible learning journey. The course is based on Problem based learning which motivate students to use and improve their critical thinking skills. The amount and structure of coursework positively support my current path toward a PhD degree. Faculty and staff are very extra supportive and will provide a tailored support to each student.
Louise Diver, UK (MSc Medical Genetics 2009; PhD 2014) currently Trainee Clinical Scientist in Genetics, Glasgow
The MSc Medical Genetics was probably the best academic year of my life. The course is very well taught, with the combination of lectures, laboratory sessions and problem sessions providing me with a good basis for further study at PhD level investigating genetics of endocrine hypertension at the University of Glasgow. Furthermore, my fellow students are now extremely useful contacts in various specialties over the world and some are now very good friends. The course has very close links with the Glasgow diagnostic laboratory, which have proved invaluable in me attaining my current post as a trainee clinical scientist in genetics.
Example Dissertation Topics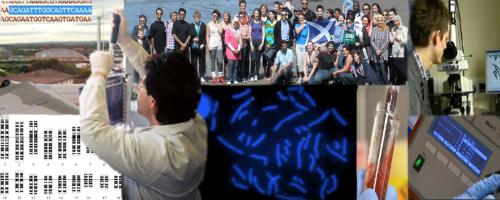 Recent dissertation projects include the following:
Whole exome sequencing in clinical assessment of resistant hypertension: This investigation, carried out in the research group of Professor Sandosh Padmanabhan analysed the whole exome data of two true resistant hypertension probands with the aim of narrowing down the possible genetic variants associated with resistant hypertension so that improved therapeutic targets might be identified in the future.
Investigation of a minor groove-binding polyamide to inhibit E2F1 in chronic myeloid leukaemia: This project was carried out in the research laboratory of Dr Heather Jørgensen treating CML cells in culture with synthetic polyamides designed to inhibit E2F1 transcriptional activity, with the aim of evaluating the therapeutic potential of polyamides either alone or in combination with existing targeted therapies.
Baraitser-Winter cerebrofrontofacial syndrome: an actinopathy with a wide phenotypic spectrum: In collaboration with NHS clinical geneticists from the West of Scotland Genetics Service the phenotypic features together with the identified pathogenic DNA variants for a series of patients were analysed in order to clarify the link between genotype and phenotype for this condition.
Transcriptional activation of erythroid transcription factor genes using CRISPR effectors: In this project, carried out in the research laboratory of Dr Adam West CRISPR effector technology was used to study the role of three transcription factor genes in the regulation of β-globin like genes, and the foetal to adult haemoglobin switch, assessed in cells in culture.
Estimating trait heritability of contraction-biased somatic instability in R6/2 Huntington disease mice inheriting large CAG•CTG repeat expansions: This investigation, carried out in the research laboratory of Professor Darren Monckton assessed heritability an unusual contraction-biased repeat instability by genotyping a subset of transgenic mice using small pool PCR (SP·PCR).
The role of Rac GTPases and their activators in pancreatic cancer and melanoma: In this investigation, carried out in the research laboratory of Dr Laura Machesky at the Cancer Research UK Glasgow Centre, a comprehensive bioinformatics assessment followed by experimental validation was performed across Dock proteins to assess the importance of Rac/Cdc42 activator Dock6 in melanoma metastasis.
An audit to determine the mutation detection rate of the current testing protocol in patients referred for hereditary haemochromatosis testing: The aim of this audit, carried out with NHS clinical scientists in the West of Scotland Genetics Service was to obtain the number of referrals and referral reasons for HFE testing, to establish pick up rates and mutation frequencies for comparison to published data. The investigation demonstrated that reporting and referral practices may need to be evaluated, with primary care physicians being made more aware of the biochemical indicators of the disease, the strategies for diagnosis, turn-around time for results and management as well as counselling and cascade screening.
Identification of genetic modifiers of Collagen Type IV associated diseases using the model organism Caenorrhabiditis elegans: This project in the research laboratory of Dr Tom van Agtmael utilised transgenic C. elegans to demonstrate the existence of modifier loci that affect the phenotypic expression of a collagen gene mutation.
The genetic investigation of couples with recurrent miscarriage: This audit, carried out with NHS clinical scientists in the was a retrospective study of the West of Scotland Genetics Service findings to determine the abnormality detection rate of QF-PCR, and the clinical utility of SNP-array as a way of assessing laboratory procedures for recurrent miscarriage.
Single nucleotide polymorphisms in genes related to type 2 diabetes and hypertension: The aim of this study, which was self-proposed by the student, was to determine whether diabetes / hypertension genotype-phenotype correlations could be made by genotyping SNPs in the genes angiotensinogen (AGT), adiponectin (ADIPOQ), vascular endothelial growth factor A (VEGFA) and potassium voltage-gated channel subfamily Q member 1 (KCNQ1) for Guatemalan patients with hypertension and also diabetes patient DNA panels, and to correlate patient haplotypes with the disease conditions.
What can we learn from data analysis of stratified medicine cohorts in lung and other cancers?: This project, carried out in collaboration with Dr David Morrison & Dr Karin Oien analysed clinicopathologic information, tumour specimens processing data and molecular testing success and failure rates from 1226 patients of the Glasgow Stratified Medicine Programme dataset to evaluate optimal protocols for future use.
Development of transcription factor knockout models using CRISPR-Cas9 technology: In this project, in the laboratory of Dr Adam West, gene editing technology was used to create cell lines with knockout mutations in various transcription factor genes in order to be able to investigate how these transcription factors contribute to erythroid enhancer function
‌
Research: About half of our graduates enter a research career and most of these graduates undertake and complete PhDs; the MSc in Medical Genetics and Genomics facilitates acquisition of skills relevant to a career in research in many different bio-molecular disciplines.
Diagnostics: Some of our graduates enter careers with clinical genetic diagnostic services, particularly in molecular genetics and cytogenetics.
Clinical genetics: Those of our graduates with a prior medical / nursing training often utilise their new skills in careers as clinical geneticists or genetic counsellors.
Other: Although the focus of teaching is on using the available technologies for the purpose of genetic diagnostics, many of these technologies are used in diverse areas of biomedical science research and in forensic DNA analysis. Some of our numerous graduates, who are now employed in many countries around the world, have entered careers in industry, scientific publishing, education and medicine.
You should have a degree in medicine or dentistry or equivalent qualification, or a degree with Honours or equivalent in a biological science.
You are required to provide two references and a full degree transcript with your application.
For applicants whose first language is not English, the University sets a minimum English Language proficiency level.
International English Language Testing System (IELTS) Academic module (not General Training)
overall score 6.5
no sub-test less than 6.0
or equivalent scores in another recognised qualification:
Common equivalent English language qualifications
All stated English tests are acceptable for admission for both home/EU and international students for this programme:
ibTOEFL: 90; no sub-test less than:

Reading: 20
Listening: 19
Speaking: 19
Writing: 23

CAE (Cambridge Certificate of Advanced English): 176 overall; no sub-test less than 169
CPE (Cambridge Certificate of Proficiency in English): 176 overall; no sub-test less than 169
PTE Academic (Pearson Test of English, Academic test): 60; no sub-test less than 59
Trinity College London Integrated Skills in English: ISEII at Distinction with Distinction in all sub-tests
For international students, the Home Office has confirmed that the University can choose to use these tests to make its own assessment of English language ability for visa applications to degree level programmes. The University is also able to accept an IELTS test (Academic module) from any of the 1000 IELTS test centres from around the world and we do not require a specific UKVI IELTS test for degree level programmes. We therefore still accept any of the English tests listed for admission to this programme.
Pre-sessional courses
The University of Glasgow accepts evidence of the required language level from the English for Academic Study Unit Pre-sessional courses. We also consider other BALEAP accredited pre-sessional courses:
For further information about English language requirements, please contact the Recruitment and International Office: pgadmissions@glasgow.ac.uk
Tuition fees for 2017-18
MSc (Med Sci)
Home and EU
Full time fee
£7250
Part time 20 credits
£806
International
Full time fee
£21000
Fees are subject to change and for guidance only
Deposits
International applicants (from beyond the EU) are requested to pay a deposit of £1000 when an offer is made.
The University requires a deposit to be paid by International (beyond the EU) applicants in receipt of an offer to this programmes and who require a Certificate of Acceptance for Studies (CAS) from the University in order that they can apply for a student visa. This is required where the programme is competitive and the deposit is required in order to demonstrate your commitment to attend the programme should you meet all the conditions of your offer.
If you are made an offer for this programme the University will write to you and request a deposit with information on how to pay your deposit and the deadline for making the deposit payment. Please note that if you are unable to pay a deposit because you are planning to fund your studies through an official financial sponsor then you should upload a copy of your scholarship application or award letter to your application by the deadline date.
The following guidelines will apply in determining whether or not a deposit will be refunded. Where the deposit is refunded, a 10% handling fee will be deducted.
Deposits WILL be refunded to applicants under the following circumstances:
Where the University is unable to offer you a place.
Where the applicant has personal circumstances such as illness, bereavement or other family situations that has prevented them coming to the UK. Medical or other proof may be requested.
Applicant can prove that they have applied for a visa to attend the University of Glasgow, but the VISA has been refused. The applicant must have shown 'real intent' to study at the University of Glasgow but has been unable to obtain their visa.
Applicant does not meet his / her conditions of offer: this may be academic or language test requirements. Satisfactory evidence must be uploaded to the student's online application to prove that they have not met the conditions of their offer (note that applicants who do not meet the language condition of their offer must show reasonable attempt to meet this, i.e. they must provide a language test which was taken after the date that the deposit was paid).
Deposits WILL NOT be refunded to applicants under the following circumstances:
Applicant decides to go to another institution.
Applicant cannot be released from work to study at the University of Glasgow.
Applicant does not send completed documentation as requested in the condition of the offer: this may be required in order to prove that the offer has not been met for academic or language test conditions - failure to respond to requests for this information will result in no refund.
Applicant has not secured funding to attend the University of Glasgow: this may be as a result of not being successful in applications for scholarships, OR simply not having sufficient funds in bank at time of visa application. This condition will apply unless it can be proven that there are clear mitigating circumstances which have significantly changed the applicant's position since the time of application.
Applicant has decided to defer – in this situation the University will retain the deposit and credit it against the applicant's account for securing their place for the following year of entry.
Refund requests must be made within 60 days of the programme start date stated on your offer letter: requests made after this date will be subject to discretion.
Fee for submission by a research student: £460
Fee for re-assessment of a dissertation (PGT programme): £300
Submission for a higher degree by published work: £1,000
Submission of thesis after deadline lapsed: £200
Submission by staff in receipt of staff scholarship: £680
Research students registered as non-supervised Thesis Pending students (50% refund will be granted if the student completes thesis within the first six months of the period): £260
Registration/exam only fee: £110
General Council fee: £50
A 10% discount is available to University of Glasgow alumni applying to the MSc (Med Sci). This includes graduates and those who have completed a Junior Year Abroad, Exchange programme or International Summer School at the University of Glasgow. The discount is applied at registration for students who are not in receipt of another discount or scholarship funded by the University. No additional application is required.
Funding opportunities
We ask that you apply online for a postgraduate taught degree. Our system allows you to fill out the standard application form online and submit this to the University within 42 days of starting your application.
You need to read the guide to applying online before starting your application. It will ensure you are ready to proceed, as well as answer many common questions about the process.
Do I have to apply online for a postgraduate taught degree?
Yes. To apply for a postgraduate taught degree you must apply online. We are unable to accept your application by any other means than online.
Do I need to complete and submit the application in a single session?
No. You have 42 days to submit your application once you begin the process. You may save and return to your application as many times as you wish to update information, complete sections or upload additional documents such as your final transcript or your language test.
What documents do I need to provide to make an application?
As well as completing your online application fully, it is essential that you submit the following documents:
A copy (or copies) of your official degree certificate(s) (if you have already completed your degree)
A copy (or copies) of your official academic transcript(s), showing full details of subjects studied and grades/marks obtained
Official English translations of the certificate(s) and transcript(s)
Two supporting reference letters on headed paper
Evidence of your English Language ability (if your first language is not English)
Any additional documents required for this programme (see Entry requirements for this programme)
A copy of the photo page of your passport (Non-EU students only)
If you do not have all of these documents at the time of submitting your application then it is still possible to make an application and provide any further documents at a later date, as long as you include a full current transcript (and an English translation if required) with your application. See the 'Your References, Transcripts and English Qualification' sections of our Frequently Asked Questions for more information.
Do my supporting documents need to be submitted online?
Yes, where possible, please upload the supporting documents with your application.
How do I provide my references?
You must either upload the required references to your online application or ask your referees to send the references to the University as we do not contact referees directly. There is two main ways that you can provide references: you can either upload references on headed paper when you are making an application using the Online Application (or through Applicant Self-Service after you have submitted your application) or you can ask your referee to email the reference directly to pgadmissions@glasgow.ac.uk. See the 'Your References, Transcripts and English Qualifications' section of the Frequently Asked Questions for more information.
What if I am unable to submit all of my supporting documents online?
If you cannot upload an electronic copy of a document and need to send it in by post, please attach a cover sheet to it that includes your name, the programme you are applying for, and your application reference number.
You may send them to:
Postgraduate Admissions
Marketing, Recruitment & International Office
71 Southpark Avenue
Glasgow
G12 8QQ
Fax: +44 141 330 4045
Can I email my supporting documents?
No. We cannot accept email submissions of your supporting documents.
What entry requirements should I have met before applying? Where can I find them?
You should check that you have met (or are likely to have met prior to the start of the programme) the individual entry requirements for the degree programme you are applying for. This information can be found on the 'entry requirements' tab on each individual programme page, such as the one you are viewing now.
What English Language requirements should I have met before applying? Where can I find them?
If you are an international student, you should also check that you have met the English Language requirements specific to the programme you are applying for. These can also be found on the 'entry requirements' tab for each specific programme.
Further Information
Please see the Frequently Asked Questions for more information on applying to a postgraduate taught programme.
Guidance notes for using the online application
These notes are intended to help you complete the online application form accurately, they are also available within the help section of the online application form. If you experience any difficulties accessing the online application then you should visit the Application Troubleshooting/FAQs page.
Name and Date of birth: must appear exactly as they do on your passport. Please take time to check the spelling and lay-out.
Contact Details: Correspondence address. All contact relevant to your application will be sent to this address including the offer letter(s). If your address changes, please contact us as soon as possible.
Choice of course: Please select carefully the course you want to study. As your application will be sent to the admissions committee for each course you select it is important to consider at this stage why you are interested in the course and that it is reflected in your application.
Proposed date of entry: Please state your preferred start date including the month and the year. Taught masters degrees tend to begin in September. Research degrees may start in any month.
Education and Qualifications: Please complete this section as fully as possible indicating any relevant Higher Education qualifications starting with the most recent. Complete the name of the Institution (s) as it appears on the degree certificate or transcript.
English Language Proficiency: Please state the date of any English language test taken (or to be taken) and the award date (or expected award date if known).
Employment and Experience: Please complete this section as fully as possible with all employments relevant to your course. Additional details may be attached in your personal statement/proposal where appropriate.
References: Please provide the names and contact details of two academic references. Where applicable one of these references may be from your current employer. References should be completed on letter headed paper and uploaded on to your application.
Standard application deadlines
International applications (non-EU): 21 July 2017
UK and EU applications: 25 August 2017
Classes start September 2017 and you may be expected to attend induction sessions the week before.
Apply now