Ecology & Environmental Biology
MRes
Related links
Other programmes in the subject of Biodiversity, Animal Health and Comparative Medicine:
Open Days, information sessions, campus tours, events near you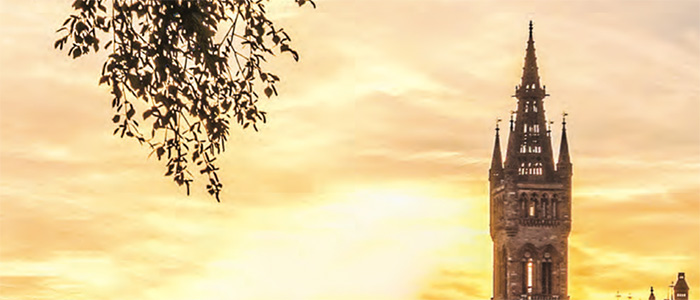 Postgraduate prospectus 2017
This Masters programme in Ecology and Environmental Biology is mainly intended to provide training for students who hope to enter a PhD programme in the areas of ecology and environmental biology, and who wish training in transferable skills and in ecological and environmental disciplines.
Key facts
This Ecology and Evnvironmental Biology degree programme draws on the research expertise of a large number of University staff and allows you the chance to obtain experience in a wide range of modern research techniques.
There is considerable expertise in this area of biology available at Glasgow, especially in ornithology, fish biology, aquatic ecosystems, and theoretical, physiological, molecular and evolutionary ecology.
The programme consists of a taught component, and two research projects in individual laboratories and/or field based.
The taught component consists of core research skills and specialist option in analytical and sampling techniques.
The main part of the degree, however, is devoted to experience of research techniques. You will carry out two 20-week research projects with individual placements chosen to reflect your interests and the skills you wish to acquire. After each project, you will write a scientific report.
Core Courses
Key Research Skills
The aims of this course are to ensure that all students receive advanced and evidence-based training in the key skills essential for any modern ecology/evolution-based research career and for the courses that they will take later in the programme. This includes principles of Scientific Writing and Effective Communication in English, Introduction to the Programming Environment R, Advanced Statistics, and Experimental Design and Power Analysis.

Research Project (x 2)
The aim of this course is to have students undertake a quantitatively orientated independent research project, in which they will use the knowledge gained in the Key Research Skills course to design a feasible experiment, undertake data collection, analyse and write a report.
Optional Courses

Programming in R (prerequisite for all modelling and epidemiology)
The aim of this course is to provide hands-on training in programming in the R environment, and teach students to use the data structures and libraries provided by the R project appropriately to solve problems.
Infectious Disease Ecology & the Dynamics of Emerging Disease
The aim of this course is to equip students with the mathematical and programming skills and theoretical background to be able to create simple epidemiological models, to interpret.

Single-species Models
This course will introduce students to the theory and practice of single-species population models. It will aim to introduce students to the different ways these models can be formulated in theory, and implemented in practice (this will be undertaken in the R programming environment). Students will be asked to review a range of previous uses of these forms of models, and be asked to develop critical views of them. Emphasis will be placed on identifying the key assumptions of these different models, and when different formulations are most appropriate.

Conservation Genetics & Phylodynamics
To provide students with the conceptual background and hands-on training required for analysing and interpreting genetic data to answer applied questions in ecology, conservation biology and epidemiology, through the use of relevant specialised computer software and critical evaluation of the scientific literature.

Freshwater Sampling Techniques
The aim of the course is to provide students with core hands-on training in the use of a wide range of sampling techniques currently available for invertebrate and vertebrate organisms in a freshwater environment.

Invertebrate Identification
The aim of this course is to provide students with in depth hands-on training to enable them to identify key vertebrate groups, using field guides, identification keys, and vocalizations, as required for assessment of biodiversity.

Molecular Analyses for DNA Barcoding and Biodiversity Measurement
To provide practical training in and the theoretical basis for basic molecular techniques used for identification and characterisation of biodiversity. Hands-on training will be integrated with the theoretical underpinning of the manipulation and analysis of DNA sequence and microsatellite genotype data, as applied to problems in the assessment of biodiversity. This will include approaches to DNA barcoding for identification and population genetics analyses of population structure and genetic history. The goal will be for students to learn these analyses at a level sufficient to perform independent analysis of their own data. The course will also highlight recent advances in sequencing technology and approaches to genotyping, along with the new challenges that this will bring for analytical approaches.

Phyloinformatics
To provide evidence-based advanced practical training in using web services to aggregate and visualise biodiversity data, using an interactive and open-access based approach.

Vertebrate Identification
The aim of the course is to provide students with core evidence-based training in techniques for identifying key vertebrate groups, including bird songs and mammalian scats.
Completing my MRes at the University of Glasgow was a wonderful experience and I recommend the program to students who wish to further their knowledge and research skills. Numerous learning opportunities were provided across a broad range of subjects and support and guidance from supervisors was invaluable. Completion of two separate research projects allowed me to explore different interests and I was able to complete a research project in temperate and tropical climates. The experience gained throughout my MRes studies contributed to my success in obtaining a PhD scholarship and publishing my results in a peer-reviewed journal.
Lindsay Mickelson (Canada): 2008
The MRes course also gave me an opportunity to organise an expedition to to study coral reefs in Nabq, South Sinai, Egypt. The training in underwater visual census techniques and the use of multi-variate statistical packages that I acquired during the study have been essential for my current job with an NGO in India, characterising the grouper fishery of the Andaman Islands. I would highly recommend this course for students who are interested in studying multiple aspects of marine and freshwater ecology and developing their research skills.
Sahir Advani (India): 2011
The MRes made the crucial difference for me in gaining the skills and contacts necessary to progress on to a funded PhD.
Paul Jerem (UK): 2012
‌
Adams, Prof Colin (Professor of Freshwater Ecology; ecological speciation; conservation biology of fishes)
Bailey, Dr David (Senior Lecturer; marine ecosystem conservation and physiology of marine fishes)
Biek, Dr Roman (Lecturer; virus phylodynamics; spatial genetics of hosts and pathogens; ecology and genetics of vector borne diseases in wildlife; conservation genetics)
Cleaveland, Prof Sarah (Professor of Comparative Epidemiology; wildlife disease ecology; one health approaches to understanding zoonotic diseases; role of human social interactions in disease transmission and control)
Elmer, Dr Kathryn (Lecturer; ecological speciation and adaptive radiations in fishes and amphibians; genomics of adaptation)
Ferguson, Dr Heather (Lecturer in Vector Biology; ecology of insect vectors involved in human and animal diseases; community and population ecology)
Hampson, Dr Katie (Wellcome Trust Advanced Research Fellow; rabies transmission dynamics and control in human and animal populations; surveillance systems for monitoring rabies spread)
Haydon, Prof Daniel (Director of Institute; stability and complexity theory; community ecology; wildlife epidemiology; animal movement)
Helm, Dr Barbara (Lecturer; chronobiology of birds; environmental influences on circadian adaptation)
Hopcraft, Dr Grant (LKAS Research Fellow; theoretical and empirical studies of animal movement and migration; ecophysiology of ungulates)
Johnson, Dr Paul (Research Fellow; population genetics; statistical genetics; pathogen genomics)
Killen, Dr Shaun (NERC Advanced Research Fellow; physiology and behavioural ecology of marine and freshwater fishes; ecological relevance of life-history tradeoffs)
Lindström, Dr Jan (Senior Lecturer; behavioural ecology; theoretical ecology; games theory)
Mable, Dr Barbara (Reader; evolutionary genetics of plants and animals; evolutionary dynamics of complex gene families; evolution of polyploidy; mating system evolution; conservation genetics)
Macleod, Dr Ross (Royal Society of Edinburgh Research Fellow; population dynamics and life history of birds in changing environments)
Matthiopoulos, Prof Jason (Professor of Spatial and Population Ecology; analysis of animal movement; marine population dynamics; mathematical modelling of population distributions, habitat choice and complex interactions)
McCafferty, Dr Dominic (Senior Lecturer; thermal biology)
Mckeegan, Dr Dorothy (Senior Lecturer; applied animal welfare)
Metcalfe, Prof Neil (Professor of Behavioural Ecology; life history strategies in birds and fishes; ecophysiology; role of oxidative stress in mediating life history strategies; recipient of an ERC Advanced Grant in 2013)
Monaghan, Prof Pat (Appointed Regius Chair of Zoology in 2012; life history strategies in birds; longevity and adaptation in birds in changing environments; received ERC advanced research grant in 2011)
Nager, Dr Ruedi (Senior Lecturer; ecology and life history strategies of birds; reproductive biology of birds)
Page, Prof Roderic (Professor of Taxonomy; host-parasite co-evolution; systematics; phyloinformatics)
Parsons, Dr Kevin (Lecturer in Marine and Freshwater Biology; evolution and development; ecological speciation in fishes; ecological genomics)
Reeve, Dr Richard (Research Fellow; mathematical modelling; novel mathematical approaches to measuring biodiversity and assessing vaccination strategies in viruses)
Robinson, Dr Jane (Reader; reproductive physiology; endocrinology)
Selman, Prof Colin (Professor of Biogerontology; chronobiology of mammals; mechanisms underlying ageing in mammals)
Honorary Bean, Dr Colin (Honorary Researcher, SNH; conservation ecology)
Downie, Prof Roger (Retired Professor; amphibian conservation and ecology)
Hancock, Mr Geoff (Insect Curator, Hunterian Museum; insect taxonomy and systematics)
Putman, Prof Rory (Visiting Honorary Professor; Independent Deer Consultancy; ecological dynamics of ungulates)
Yeomans, Dr William (Honorary Lecturer; Clyde River Foundation; river ecosystem ecology and conservation)
Examples of Projects undertaken on the MRes programme


Habitat use by Red Sea reef fish
Immunisation of fish in aquaculture against infectious disease
Impacts of oil pollution around a single-point mooring in Oman
Homing behaviour of groupers in Nabq Protected Area, Egypt
Spring growth of diatoms under the ice in Svalbard
Ecology of basking sharks in the Clyde
Mercury dynamics in Mediterranean marine foodwebs
Shark distribution and abundance in the Red Sea
Long-line bycatch mitigation in the Alaskan halibut fishery
Evolutionary Biology and Systematics Cross-species utility of microsatellite markers in parasitic nematodes
Co-evolution between sucking lice and rodents
Racial distinctiveness of the subspecies of Starling in the Azores
Aquatic macrophytes as indicators of the ecological status of Scottish lochs
Co-evolution of albatrosses and their feather lice
Mercury in feathers of seabirds from South Georgia
Modelling thermoregulation in pupping seals
Morphological plasticity in the red mangrove in Grand Cayman
Interactions between yellow-legged gulls and roseate terns in the Azores
Male phenotype, antioxidants and fertility in the zebra finch
Great skua diets in Orkney and Shetland
Stable isotopes, contaminants and antioxidants in sequentially laid eggs
Porcupine feeding preferences in eastern Canada
Tree-frog ecology in Trinidad
The programme will provide an excellent training for those who want to undertake a PhD programme and enter ecological management or conservation businesses. It should also serve as an excellent introduction to research in the UK for overseas students intending to proceed to a PhD in this country.

Some of the Institutions/Organisations our M.Res students went on to:
Bremen Institute for Tropical Marine Ecology (ZMT)
Clyde River Foundation
Dakshin Foundation, India
Victoria University, Wellington (New Zealand)
University of Glasgow
Warwick University
Some of the more exotic locations for MRes projects in recent years have included southern Brazil, Trinidad, Tobago, Kuwait, Egypt, Svalbard (Norway), Canada, the Azores (Portugal), Oman, Cayman Islands, and The Philippines.
for entry in 2017
A second class Honours degree or equivalent (eg GPA of 3.0 or above) in a relevant subject. Professional experience may be taken into account.
International students with academic qualifications below those required should contact our partner institution, Glasgow International College, who offer a range of pre-Masters courses.
For applicants whose first language is not English, the University sets a minimum English Language proficiency level.
International English Language Testing System (IELTS) Academic module (not General Training)
overall score 6.5
no sub-test less than 6.0
or equivalent scores in another recognised qualification:
Common equivalent English language qualifications
All stated English tests are acceptable for admission for both home/EU and international students for this programme:
ibTOEFL: 90; no sub-test less than:

Reading: 20
Listening: 19
Speaking: 19
Writing: 23

CAE (Cambridge Certificate of Advanced English): 176 overall; no sub-test less than 169
CPE (Cambridge Certificate of Proficiency in English): 176 overall; no sub-test less than 169
PTE Academic (Pearson Test of English, Academic test): 60; no sub-test less than 59
Trinity College London Integrated Skills in English: ISEII at Distinction with Distinction in all sub-tests
For international students, the Home Office has confirmed that the University can choose to use these tests to make its own assessment of English language ability for visa applications to degree level programmes. The University is also able to accept an IELTS test (Academic module) from any of the 1000 IELTS test centres from around the world and we do not require a specific UKVI IELTS test for degree level programmes. We therefore still accept any of the English tests listed for admission to this programme.
Pre-sessional courses
The University of Glasgow accepts evidence of the required language level from the English for Academic Study Unit Pre-sessional courses. We also consider other BALEAP accredited pre-sessional courses:
What do I do if...
my language qualifications are below the requirements?
The University's English for Academic Study Unit offers a range of Pre-Sessional Courses to bring you up to entry level. The course is accredited by BALEAP, the UK professional association for academic English teaching; see Links.
my language qualifications are not listed here?
Please contact the Recruitment and International Office: pgadmissions@glasgow.ac.uk
For further information about English language requirements, please contact the Recruitment and International Office: pgadmissions@glasgow.ac.uk
Tuition fees for 2017-18
MRes
Home and EU
Full time fee
£7250
International
Full time fee
£19500
PgDip
Home and EU
Full time fee
£4833
International
Full time fee
£13000
Fees are subject to change and for guidance only
Deposits
The University requires a deposit of £1000 to be paid by International (beyond the EU) applicants in receipt of an offer to this programme.
The University requires a deposit to be paid by International (beyond the EU) applicants in receipt of an offer to this programmes and who require a Certificate of Acceptance for Studies (CAS) from the University in order that they can apply for a student visa. This is required where the programme is competitive and the deposit is required in order to demonstrate your commitment to attend the programme should you meet all the conditions of your offer.
If you are made an offer for this programme the University will write to you and request a deposit with information on how to pay your deposit and the deadline for making the deposit payment. Please note that if you are unable to pay a deposit because you are planning to fund your studies through an official financial sponsor then you should upload a copy of your scholarship application or award letter to your application by the deadline date.
The following guidelines will apply in determining whether or not a deposit will be refunded. Where the deposit is refunded, a 10% handling fee will be deducted.
Deposits WILL be refunded to applicants under the following circumstances:
Where the University is unable to offer you a place.
Where the applicant has personal circumstances such as illness, bereavement or other family situations that has prevented them coming to the UK. Medical or other proof may be requested.
Applicant can prove that they have applied for a visa to attend the University of Glasgow, but the VISA has been refused. The applicant must have shown 'real intent' to study at the University of Glasgow but has been unable to obtain their visa.
Applicant does not meet his / her conditions of offer: this may be academic or language test requirements. Satisfactory evidence must be uploaded to the student's online application to prove that they have not met the conditions of their offer (note that applicants who do not meet the language condition of their offer must show reasonable attempt to meet this, i.e. they must provide a language test which was taken after the date that the deposit was paid).
Deposits WILL NOT be refunded to applicants under the following circumstances:
Applicant decides to go to another institution.
Applicant cannot be released from work to study at the University of Glasgow.
Applicant does not send completed documentation as requested in the condition of the offer: this may be required in order to prove that the offer has not been met for academic or language test conditions - failure to respond to requests for this information will result in no refund.
Applicant has not secured funding to attend the University of Glasgow: this may be as a result of not being successful in applications for scholarships, OR simply not having sufficient funds in bank at time of visa application. This condition will apply unless it can be proven that there are clear mitigating circumstances which have significantly changed the applicant's position since the time of application.
Applicant has decided to defer – in this situation the University will retain the deposit and credit it against the applicant's account for securing their place for the following year of entry.
Refund requests must be made by 30th October, 2016: requests made after this date will be subject to discretion.
Fee for submission by a research student: £460
Fee for re-assessment of a dissertation (PGT programme): £300
Submission for a higher degree by published work: £1,000
Submission of thesis after deadline lapsed: £200
Submission by staff in receipt of staff scholarship: £680
Research students registered as non-supervised Thesis Pending students (50% refund will be granted if the student completes thesis within the first six months of the period): £260
Registration/exam only fee: £110
General Council fee: £50
A 10% discount is available to University of Glasgow alumni applying to the MRes. This includes graduates and those who have completed a Junior Year Abroad, Exchange programme or International Summer School at the University of Glasgow. The discount is applied at registration for students who are not in receipt of another discount or scholarship funded by the University. No additional application is required.
Funding opportunities
We ask that you apply online for a postgraduate taught degree. Our system allows you to fill out the standard application form online and submit this to the University within 42 days of starting your application.
You need to read the guide to applying online before starting your application. It will ensure you are ready to proceed, as well as answer many common questions about the process.
Do I have to apply online for a postgraduate taught degree?
Yes. To apply for a postgraduate taught degree you must apply online. We are unable to accept your application by any other means than online.
Do I need to complete and submit the application in a single session?
No. You have 42 days to submit your application once you begin the process. You may save and return to your application as many times as you wish to update information, complete sections or upload additional documents such as your final transcript or your language test.
What documents do I need to provide to make an application?
As well as completing your online application fully, it is essential that you submit the following documents:
A copy (or copies) of your official degree certificate(s) (if you have already completed your degree)
A copy (or copies) of your official academic transcript(s), showing full details of subjects studied and grades/marks obtained
Official English translations of the certificate(s) and transcript(s)
Two supporting reference letters on headed paper
Evidence of your English Language ability (if your first language is not English)
Any additional documents required for this programme (see Entry requirements for this programme)
A copy of the photo page of your passport (Non-EU students only)
A personal statement (maximum 2 A4 pages) highlighting:

How your academic career to-date makes this programme a suitable next step
Why you want to study this programme
How you think this programme will help you in your future career development
If you do not have all of these documents at the time of submitting your application then it is still possible to make an application and provide any further documents at a later date, as long as you include a full current transcript (and an English translation if required) with your application. See the 'Your References, Transcripts and English Qualification' sections of our Frequently Asked Questions for more information.
Do my supporting documents need to be submitted online?
Yes, where possible, please upload the supporting documents with your application.
How do I provide my references?
You must either upload the required references to your online application or ask your referees to send the references to the University as we do not contact referees directly. There is two main ways that you can provide references: you can either upload references on headed paper when you are making an application using the Online Application (or through Applicant Self-Service after you have submitted your application) or you can ask your referee to email the reference directly to pgadmissions@glasgow.ac.uk. See the 'Your References, Transcripts and English Qualifications' section of the Frequently Asked Questions for more information.
What if I am unable to submit all of my supporting documents online?
If you cannot upload an electronic copy of a document and need to send it in by post, please attach a cover sheet to it that includes your name, the programme you are applying for, and your application reference number.
You may send them to:
Recruitment & International Office
71 Southpark Avenue
Glasgow
G12 8QQ
Fax: +44 141 330 4045
Can I email my supporting documents?
No. We cannot accept email submissions of your supporting documents.
What entry requirements should I have met before applying? Where can I find them?
You should check that you have met (or are likely to have met prior to the start of the programme) the individual entry requirements for the degree programme you are applying for. This information can be found on the 'entry requirements' tab on each individual programme page, such as the one you are viewing now.
What English Language requirements should I have met before applying? Where can I find them?
If you are an international student, you should also check that you have met the English Language requirements specific to the programme you are applying for. These can also be found on the 'entry requirements' tab for each specific programme.
Further Information
Please see the Frequently Asked Questions for more information on applying to a postgraduate taught programme.
Guidance notes for using the online application
These notes are intended to help you complete the online application form accurately, they are also available within the help section of the online application form. If you experience any difficulties accessing the online application then you should visit the Application Troubleshooting/FAQs page.
Name and Date of birth: must appear exactly as they do on your passport. Please take time to check the spelling and lay-out.
Contact Details: Correspondence address. All contact relevant to your application will be sent to this address including the offer letter(s). If your address changes, please contact us as soon as possible.
Choice of course: Please select carefully the course you want to study. As your application will be sent to the admissions committee for each course you select it is important to consider at this stage why you are interested in the course and that it is reflected in your application.
Proposed date of entry: Please state your preferred start date including the month and the year. Taught masters degrees tend to begin in September. Research degrees may start in any month.
Education and Qualifications: Please complete this section as fully as possible indicating any relevant Higher Education qualifications starting with the most recent. Complete the name of the Institution (s) as it appears on the degree certificate or transcript.
English Language Proficiency: Please state the date of any English language test taken (or to be taken) and the award date (or expected award date if known).
Employment and Experience: Please complete this section as fully as possible with all employments relevant to your course. Additional details may be attached in your personal statement/proposal where appropriate.
References: Please provide the names and contact details of two academic references. Where applicable one of these references may be from your current employer. References should be completed on letter headed paper and uploaded on to your application.
Standard application deadlines
International applications (non-EU): 21 July 2017
UK and EU applications: 25 August 2017
Classes start September 2017 and you may be expected to attend induction sessions the week before.