Women constitute half of the population of the world, yet, for centuries their contribution to society, arts, literature and the sciences, amongst other arenas, has gone largely unnoticed. However, over the past century this has been redressed to an extent. With the advent of early feminist movements such as the women's suffrage movement, women's attributes and contributions to society have been duly recognised, although it can be debated as to what extent women are now treated as equals to their male counterparts.
This exhibition was originally displayed in the Hunterian Library, with the majority of the volumes being taken from the Special Collections Department of the University Library.
The exhibition, under the broad heading of "Women and books", examines women and the written word through the centuries. This ranges from 16th century material, such as early printed guidebooks on childbirth and manuscript collections of recipes, to later examples including material written by important members of the women's suffrage movement.
Several prominent women are featured in this exhibition, such as Elizabeth Blackwell, Joanna Baillie, Mary Wollstonecraft, Emmeline Pankhurst and Emmeline Pethick Lawrence.
In total, the original exhibition displayed 138 items, including manuscripts, printed books and journals. This online exhibition highlights 65 of these items, with updated and edited descriptions of the works.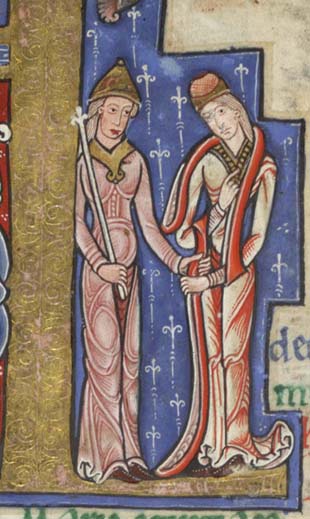 Image from the Hunterian Psalter (MS Hunter 229), showing a medieval depiction of a woman