Buchanan, George. De Maria Scotorum Regina Scots. Ane detectioun of the duinges of Marie Quene of Scottes, touchand the murder of hir husband, and hir conspiracie, adulterie, and pretensed mariage with the Erle Bothwell; and ane defence of the trew Lordis, mainteineris of the Kingis graces actioun and authoritie ; translated out of the Latine quhilke was written by G.B. [London?] : [John Day?], [1571?] Sp Coll Mu6-h.6
This is a Scots translation of De Maria Scotorum Regina Scots, also published in 1571. It includes an account of the Casket Letters (letters allegedly written between Mary and Bothwell which purport to prove Mary's part in the plot against Darnley), and more letters and other writings than the Latin version.
Gaskell , Elizabeth The life of Charlotte Brontė London, 1857 Sp Coll RB 2766
This work, published by Gaskell only two years after the death of Charlotte Brontė, found thousands of readers and helped to establish the literary reputation of the Brontė sisters. This detailed two volume work charts Charlotte Brontė's life from a description of her family, her schooling, marriage, early writing and publications.
Fry, Elizabeth Gurney. Memoirs of the life of Elizabeth Fry, with extracts from her journal and letters London : Gilpin, 1847 Stack Sociology YF1705.F7 FRY vol. 1-2
Elizabeth Fry (1780-1845) was a Quaker who committed herself to improving prison conditions in British prisons in the early 19th century. Fry's other works also included founding a home for nurses who would attend to the poor free of charge, the National Guardian Institution for Servants, which provided pensions and homes for the aged and the creation of libraries for coastguards. During her lifetime Fry kept journals and diaries, some of which were published during her lifetime by her brother, and Memoirs of the life of Elizabeth Fry was published posthumously and edited by two of her daughters.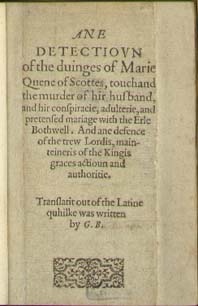 Title page from De Maria Scotorum Regina Scots (Sp Coll Mu6-h.6)