Guyon, Jeanne Marie Bouvier de la Motte. L'ame amante de son Dieu. Cologne: 1717. Sp Coll S.M. 639
This is a free translation of the two emblem books, Pia desideria by Hermann Hugo and Amoris divini emblemata by Otto van Veen, translated by Madame Guyon (1648-1717). A French mystic, she published this volume anonymously but revealed her authorship in the Paris edition of 1790. Guyon led an interesting life being associated throughout her life with Père Lacombe, a Barnabite. Guyon preached her ideas on mysticism throughout Europe but was frequently asked by the Catholic Church to move on, and was occasionally arrested. As well as translation, Guyon also published a number of works during her life, including Le nouveau testament de notre seigneur Jesus-Christ ; avec des explications & reflexions qui regardent la vie interieure (1713). There are a number of volumes by Guyon held in the Special Collections Department.
Epictetus. All the works of Epictetus, which are now extant ... Translated from the original Greek, by Elizabeth Carter. With an introduction, and notes, by the translator . London: 1748 Sp Coll Bg55-b.1
Elizabeth Carter was the daughter of an eminent Latin, Greek and Hebrew scholar, who made no distinction between the education of his sons and daughters. Consequently, as a result of her fathers liberal thinking on the education of women, Carter became a successful linguist mastering numerous languages including Italian, German, Spanish and French. This translation of Epictetus is regarded as Carter's greatest work, and through its publication gained fame and reputation - earning a sufficient amount of money to live in comfort.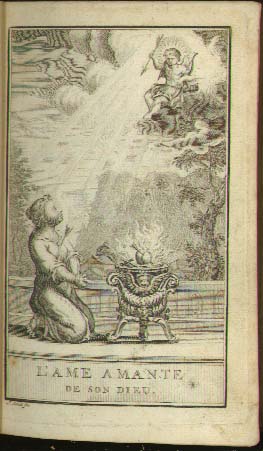 Frontispiece from L'ame amante de son Dieu