Birkhead, Henry. The Female Rebellion. Manuscript. 16??. MS Hunter 635 (T.5.21)
The flyleaf of this manuscript reads "The Female Rebellion | A | Tragicomedy | Edam quisquis erit color ævi, sive theatri: | Vellem convivis, malo placere cocis". The manuscript was printed for private circulation in Glasgow in 1872, edited by Alexander Smith, who assigned its date to the latter part of the reign of Charles II. The autograph of the play is considered to be MS Tanner 466 in the Bodleian (see letter of Joan Puttock Wesson, 3 August 1985) and this copy may have been made by his sister after his death. The manuscript describes the rebellion of Amazons, and contains some familiar women's rights arguments. Below, the Prologue and first page of Act I of the play are shown.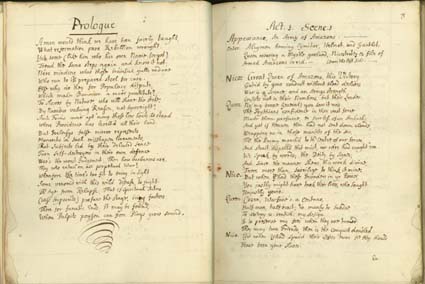 Prologue and first page of Act 1 from The Female Rebellion
Agrippa Von Nettesheim, Meinrich Cornelius. A treatise of the nobilitie and excellencye of woman kynde. [Londini] : In aedibus Thomae Bertheleti, 1542. Sp Coll Ferguson Ai-g.51
Agrippa's De nobalitate et praecellentia foeminei sexus was published in 1529, dedicated to his patroness at Brussels, the Princess Margaret. Prefacing his essay with the statement that the difference of sex is merely physical and does not extend to the soul or rational power, Agrippa maintained women's superiority on various grounds and states that women can do all that men do, be it in priestly service, in prophecy, philosophy, oratory, poetry or inventions. He closes with an eloquent peroration on women's wrongs.
This translation was done by David Clapham. Another translation by Henry Care, entitled Female pre-eminence was published in London in 1670.
Wollstonecraft, Mary. A vindication of the rights of women. London : Printed for J. Johnson, 1792. Sp Coll 306
Mary Wollstonecraft (1759-1797) was a stringent advocate for the social equality and education of women. During her life Wollstonecraft worked as a governess and translator, and published numerous works including A vindication of the rights of women. In this volume Wollstonecraft calls for equal education with men, equal opportunities to enter the professions, the right of married women to own property and to have a share in the custody of children in the case of separations. Wollstonecraft also wanted divorce to be made less difficult for women, and that men should be legally responsible for their illegitimate children.
Mill, John Stuart. The subjunction of women. London: Longmans, 1869. Sp Coll 395
John Stuart Mill had been elected M.P. for Westminster in 1865, and had introduced a bill for giving votes to women. Although this bill was thrown out, it received enough support to encourage him to continue his efforts, and this event is often heralded as the advent of the women's suffrage movement. In 1869 The subjunction of women was published, its purpose being to show "that the principle which regulates the existing social relations between the two sexes - the legal subordination of one sex to the other - is wrong in itself, and now one of the chief hindrances to human improvement, and that it ought to be replaced by a principle of perfect equality."