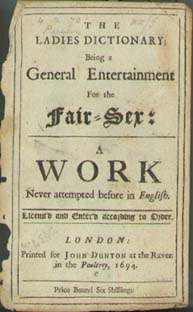 Title-page of The Ladies Dictionary

The ladies dictionary; being a general entertainment for the fair-sex. London: 1694. Sp. Coll. BG51-h.13
The author's purpose is ambitious, being no less than an effort to prepare a manual of instruction on every possible subject for women of all classes and conditions. The topics are alphabetically arranged, though with some inconsistency, with allied subject occasionally being grouped together. A large part of the book is concerned with the preservation of beauty and the art of love and, although the importance of learning is recognised, not much space is devoted to this subject. An example of the type of entries in the dictionary can be seen through the definitions of hair. There are several notes for hair such as "Hair of scruf and Dandriff how to clean the head of it" and "Hair how to order and preserve it" continuing "Hair is very necessary Ornament for Adorning the Head, being Comely and Beautiful."
Bradley, Richard. The country housewife and lady's director, in the management of a house and the delights and profits of a farm. London: 1732? Sp Coll S.M. 3039
This volume has a section for each month and each section is devoted chiefly to one subject, such as fowl, fish, the dairy, wine-making, with appropriate recipes. The author says in his introduction that his chief reason for writing the work was "that I find many useful things about Farms, and in gardens, whose Goodness is so little known that they are seldom reckon'd of any account; such as Mushrooms, Lupines, Brocoly, Morilles, Truffles, Skirrets, Scorzonera, Salsifie, Colerape, Chardones, Boorencole, and many other such like things, which are excellent in their kind, when they are well dress'd, and admired by the greatest Epicures."