Peacock, Lucy The little emigrant, a tale. Interspersed with moral anecdotes and instructive conversations. Designed for the perusal of youth ; by the author of "The adventures of the six princesses of Babylon," "Visit for a week," "Juvenile magazine," London : Printed by S. Low, 1799 Sp Coll Z6-i.27
Lucy Peacock kept a bookseller's shop in Oxford Street called the Juvenile Library. Peacock also wrote many children's tales anonymously, including contribution to Juvenile Magazine. The title page of this volume is on the right.

Masefield, John John M. Synge: a few personal recollections, with biographical notes by John Masefield Churchtown, Dundrum, Co. Dublin : The Cuala Press, 1905 Sp Coll 341
The Cuala Press, originally called the Dum Emer press, was founded in 1902 at Dundrum, Co. Dublin by Elizabeth Yeats, sister of the poet W.B. Yeats. Many of Yeats' works were first published by this press. Its aim was to bring about the revival of fine printing in Ireland and also to publish the work of Irish writers. Elizabeth Yeats had been a pupil of Emery Walker and of William Morris. All of those employed at the press were women.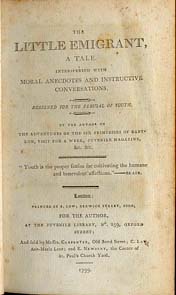 Title-page of The little emigrant