Cosway, Maria Hadfield and Cardon, Anthony Progress of female virtue. Engraved by A. Cardon, from original drawings by Mrs. Cosway London : R. Ackermann's Repository, 1803 Sp Coll S.M. 1612
Maria Cosway (1760-1838) was a distinguished miniature painter and a prolific etcher and book-illustrator. Cosway was born and educated in Italy and first exhibited her works at the Royal Academy in London in 1781. Other than being a talented artist and musician, Cosway also set up several schools for girls in Lyons and Lodi. Her husband, Richard Cosway, was a portrait painter. This volume contains twelve plates, the original drawings of which were done by Maria Causeway. Under each drawing it is stated "M. Cosway delt. the poetry by Mrs. Robinson. Miss C. Watson sculpt." Each of the pictures is accompanied by a short poem.

Lindley, John Pomologia Britannica; or, Figures and descriptions of the most important varieties of fruit cultivated in Great Britain London : Bohn, 1841 Sp Coll q95-97
The illustrations in this volume are hand coloured aquatints by C.M. Curtis and Augusta Withers (1792 - 1869). Augusta Innes Baker Withers was an artist and art teacher, working on numerous books and magazines such as The Botanist and Curtis's Botanical Magazine. Withers also applied for the post of at the Royal Botanical Garden's in Kew Botanical Flower Painter, but was turned down because of her gender. However, Wither's talent were recognised and she became Flower Painter in Ordinary to Queen Adelaide.
Albin, Eleazar A natural history of birds. Illustrated with a hundred and one copper plates... Published by the Author, Eleazar Albin, and carefully colour'd by his Daughter and Self, from the Originals, drawn form the live Birds. London, 1731-1738 Sp Coll Hunterian M.3.18-20
These two volumes contain 306 hand coloured engravings by Eleazar Albin (fl. 1713-1759) and his daughter Elizabeth Albin. In Albin's notes to the reader he states "As for the paintings, they are all done from the life, with all the Exactness I could either with my own hand, or my daughters, whom I have taught to draw and paint after the life." The list of subscribers at the start of the volume shows this to have been a popular volume, with almost 100 subscribers. The work contains full descriptions of birds, accompanied by brightly hand coloured engravings.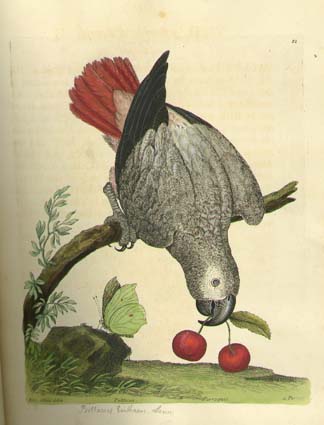 Plate 12 from A natural history of birds showing the ash coloured parrot.