Dr Sabina Siebert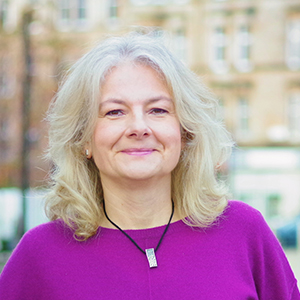 Senior Lecturer (Management)
telephone: 01413303034
email: Sabina.Siebert@glasgow.ac.uk
Business School
Management
West Quadrangle
Room 602A
Research interests
My research interests include organizational trust and trust repair, management in the creative industries, workplace learning, and change management. I employ a range of qualitative methodologies including discourse analysis, narrative analysis and organizational ethnography. Currently I am working on an ethnographic study of socialisation into elite professions in which I draw on the theory of Georg Simmel, particularly professional differentiation and secrecy in organizations. My other current research project explores organizational trust repair from a process/context perspective and involves an analysis of rebuilding trust after repeated competency and integrity transgressions.
I am a Co-Editor of the European Management Journal http://www.journals.elsevier.com/european-management-journal/
I am a Visiting Fellow in Macquarie University in Sydney, Australia.
Biography
I currently work as a Senior Lecturer in Management in Adam Smith Business School, University of Glasgow. With my background in linguistics, literature and cultural studies I started my career as a tutor in British culture in the University of Łódź, and a tutor in Slavonic culture at the University of Glasgow. My interest in social-cultural theory and research into representations of working-class culture brought me closer to the area organizational sociology, which consequently led to a move to Caledonian Business School where I worked in the Departments of People Management, and Cultural Business. In 2010 I moved to my current post at the University of Glasgow where I teach in the area of change management, organizational behaviour and human resource management, and act as a Convenor of the MSc in Management Professional Pathway programme.
Potential PhD Supervision Topics
Dr Sabina Siebert is interested in supervising PhD researchers in the area of organizational trust, the workplace learning, change management, trade union studies and management in the creative and cultural industries.
Current PhD Supervision
Thesis title: Organizational Trust Repair: A multi-stakeholder perspective
Co-supervisors: Professor Graeme Martin and Professor Iain Docherty
Thesis title: Assessing the aftermath of oil pollution in the Niger Delta region of Nigeria: A paradigm shift in organisational culture through trust repair perspectives
Co-supervisor: Professor Graeme Martin
Managing Complex Change; Managing Creativity and Innovation; Creative Management; Organizations and Management; Management Research Methods
Professional activities and membership of professional bodies
Co-Editor of European Management Journal
Chartered Member of the Chartered Institute of Personnel and Development (CIPD)
Fellow of the Higher Education Academy
Member of the Steering Group of the Universities Association of Lifelong Learning Network for Work Based Learning
Member of the Editorial Advisory Board of the Journal of Higher Education, Skills and Work Based Learning
Editorial Advisory Board Member of Educational Research Review (Przeglad Badan Edukacyjnych)
Member of European Group of Organization Studies, Academy of Management, and British Academy of Management
Member of the Editorial Board of Human Resource Development Quarterly
Convenor of the MSc Management Professional Pathway