Diploma in Professional Legal Practice
PgDip
Student testimonial by Victoria Zeybek and Samantha Brown
Related links
Other programmes in the subject of Law:
‌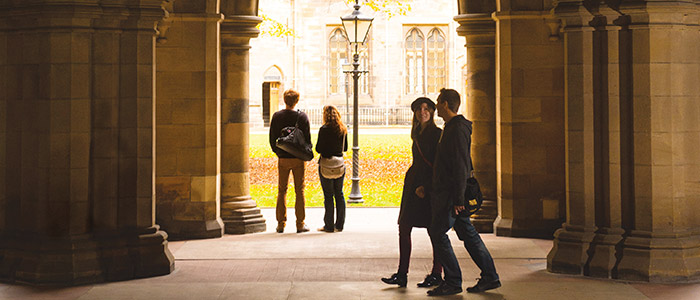 Visit our beautiful campus and find out more about your future at Glasgow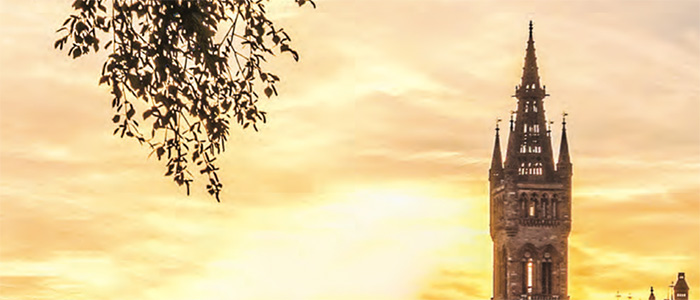 Postgraduate prospectus 2015
Want to find out more about the Diploma at Glasgow? Come visit us at our Open Afternoon on Friday 13 March!
Our aim is that the Glasgow Diploma comes to be regarded as the trademark of excellence, ensuring that you are not just employable but sought after by employers.
Key facts
This highly practical programme has been designed by practising lawyers to replicate the work that you will do when you commence your traineeship, ensuring that you will be a confident and competent trainee solicitor.
The Glasgow Legal 40, legal alumni of the University who practise across a wide range of areas, support our Diploma students in various ways including mentoring them and attending networking events.
We have developed strong links with employers and work with them to ensure that the programme we offer meets their requirements enabling you to commence your traineeship with the necessary skills and knowledge.
Extensive use is made of our library of filmed resources which link to course materials developed in collaboration with the judiciary and our tutors.They include various court hearings including criminal trials, proofs, debates, motions and a judicial review as well as a mediation, collaboration and negotiation.
Students attend Glasgow Sheriff Court and appear before sheriffs to deliver pleas in mitigation; police officers attend the university to take part in court cases.
Almost every one of our 140 tutors is a practising lawyer, and all are dedicated, enthusiastic, committed and keen to share their experience with the next generation of lawyers.
The programme is contemporary and innovative and comprises 5 compulsory courses which are delivered in conjunction with a wide range of optional courses (3 chosen). This allows you to select courses which suit your areas of interest or meet the requirements of your future employers in the legal profession.
Our courses are delivered through a combination of on-line resources, e-modules, lectures and by small group tutorials (12 or less). Our team of 140 highly experienced, enthusiastic and committed tutors, almost all of whom are practising solicitors or advocates, are all focused on ensuring that you meet the requirement of a "Day 1 ready trainee" by the end of each course.
Core courses
Criminal litigation (incorporating advocacy, evidence, and procedure and negotiation)
Civil litigation (incorporating advocacy, rules of procedure, evidence, negotiation and pre-action protocols)
Property Law and Conveyancing (incorporating commercial leases)
Private client (incorporating wills, trusts, deeds of variation and guardianship)
Business, ethics, finance and practice awareness.
Optional courses
Advanced civil litigation (incorporating advocacy, remedies, debates, proofs and appeals)
Advanced criminal litigation (incorporating advocacy)
Commercial contracts (subject to approval)
Commercial conveyancing (subject to approval)
Corporate
Family law (incorporating negotiation, mediation, collaboration and litigation)
Human rights (incorporating employment, asylum and immigration, legislative competence, children's hearing referrals)
Contemporary Scottish Public Law
Students contemplating pursuing a career as an advocate at the Scottish Bar are able to take courses in International Private Law and/or Roman Law at no additional cost. These courses are compulsory entry requirements for the Faculty of Advocates.
Further Information
for entry in 2015
To be a candidate for the Diploma you must
Possess a law degree from a Scottish university, or a qualification accepted by the Senatus as equivalent thereto.
Have passed or obtained exemption from the professional examinations of the Law Society of Scotland in those subjects required in terms of the Admission as Solicitor (Scotland) Regulations.
Notwithstanding the requirements of paragraph 2, the Director of the Diploma in Professional Legal Practice shall have discretion to admit you if you are deficient in one element of these requirements, but could satisfy them during the period of study for the Diploma.
You will not be awarded the Diploma in Professional Legal Practice until those requirements are satisfied.
The Diploma in Professional Legal Practice is a requirement for entry to either branch of the legal profession in Scotland.
To qualify for admission to the Diploma in Professional Legal Practice, applicants must have graduated, or be qualified to graduate with an LLB from a Scottish university. Applicants must have successfully completed classes which comprise the Law Society of Scotland's professional curriculum, which is usually completed during the first 2 years of an LLB.
The professional curriculum at the University of Glasgow currently includes:
Business Organisations
Commercial Law
Criminal Law and Evidence
European Union Law (required but not included in the ranking criteria)
Family Law
Law and Government
Principles of Property and Obligations
Property Law
Sources and Institutions of Scots Law
Tax Law (requirement for LLBs started in 2010 or earlier)
Legal Profession and Legal Ethics (2nd year course introduced 2012/13)
Introduction to Legal Study (1st year course introduced 2012/13)
Constitutional Law 1 (1st year course introduced 2012/13)
Obligations 1A (1st year course introduced 2012/13)
Obligations 1B (1st year course introduced 2012/13)
Applicants are ranked by a grade point average, according to their performance in the professional curriculum outlined above. This ranking is used by all providers to allocate places. Applicants must submit a paper application to their undergraduate institution for their grade point average to be calculated. This information is then passed to the university at which the applicant wishes to undertake Diploma study.
Admission to the Diploma in Professional Legal Practice for applicants who are not qualified as outlined above is normally only possible in exceptional circumstances.
Tuition fees for 2015-16 (subject to change and for guidance only)
PgDip
Home and EU, and International fees - £7000
Funding opportunities
Upon successful completion of the programme you will be eligible to progress through your traineeship to work as a solicitor or advocate. The Diploma in Professional Legal Practice is a requirement for entry into these roles in the legal profession.
Applications have now closed.
Applicants to the Glasgow Diploma are required to submit two application forms at the same time:
One Paper Diploma application form to the university from which they graduated with their LLB, regardless of which University they are applying for a Diploma place.‌
One Online application via the University of Glasgow website. You must read the Diploma application guidelines before starting your online application.
Current University of Glasgow students or graduates should complete their paper application form and send it to Fiona Macaulay, Room 226, The Stair Building, School of Law, 8 The Square, Glasgow G12 8QQ.
School of Law Fitness to Practise Code
Do I have to apply online for a postgraduate taught degree?
Yes. To apply for a postgraduate taught degree you must apply online. We are unable to accept your application by any other means than online.
Do I need to complete and submit the application in a single session?
No. You have 42 days to submit your application once you begin the process. You may save and return to your application as many times as you wish to update information, complete sections or upload additional documents such as your final transcript or your language test.
What documents do I need to provide to make an application?
As well as completing your online application fully, it is essential that you submit the following documents:
A copy (or copies) of your official degree certificate(s) (if you have already completed your degree)
A copy (or copies) of your official academic transcript(s), showing full details of subjects studied and grades/marks obtained
Official English translations of the certificate(s) and transcript(s)
Two supporting reference letters on headed paper
Evidence of your English Language ability (if your first language is not English)
Any additional documents required for this programme (see Entry requirements for this programme)
A copy of the photo page of your passport (Non-EU students only)
If you do not have all of these documents at the time of submitting your application then it is still possible to make an application and provide any further documents at a later date, as long as you include a full current transcript (and an English translation if required) with your application. See the 'Your References, Transcripts and English Qualification' sections of our Frequently Asked Questions for more information.
Do my supporting documents need to be submitted online?
Yes, where possible, please upload the supporting documents with your application.
How do I provide my references?
You must either upload the required references to your online application or ask your referees to send the references to the University as we do not contact referees directly. There is two main ways that you can provide references: you can either upload references on headed paper when you are making an application using the Online Application (or through Applicant Self-Service after you have submitted your application) or you can ask your referee to email the reference directly to pgadmissions@glasgow.ac.uk. See the 'Your References, Transcripts and English Qualifications' section of the Frequently Asked Questions for more information.
What if I am unable to submit all of my supporting documents online?
If you cannot upload an electronic copy of a document and need to send it in by post, please attach a cover sheet to it that includes your name, the programme you are applying for, and your application reference number.
You may send them to:
Recruitment & International Office
71 Southpark Avenue
Glasgow
G12 8QQ
Fax: +44 141 330 4045
Can I email my supporting documents?
No. We cannot accept email submissions of your supporting documents.
What entry requirements should I have met before applying? Where can I find them?
You should check that you have met (or are likely to have met prior to the start of the programme) the individual entry requirements for the degree programme you are applying for. This information can be found on the 'entry requirements' tab on each individual programme page, such as the one you are viewing now.
What English Language requirements should I have met before applying? Where can I find them?
If you are an international student, you should also check that you have met the English Language requirements specific to the programme you are applying for. These can also be found on the 'entry requirements' tab for each specific programme.
Further Information
Please see the Frequently Asked Questions for more information on applying to a postgraduate taught programme.
Guidance notes for using the online application
These notes are intended to help you complete the online application form accurately, they are also available within the help section of the online application form. If you experience any difficulties accessing the online application then you should visit the Application Troubleshooting/FAQs page.
Name and Date of birth: must appear exactly as they do on your passport. Please take time to check the spelling and lay-out.
Contact Details: Correspondence address. All contact relevant to your application will be sent to this address including the offer letter(s). If your address changes, please contact us as soon as possible.
Choice of course: Please select carefully the course you want to study. As your application will be sent to the admissions committee for each course you select it is important to consider at this stage why you are interested in the course and that it is reflected in your application.
Proposed date of entry: Please state your preferred start date including the month and the year. Taught masters degrees tend to begin in September. Research degrees may start in any month.
Education and Qualifications: Please complete this section as fully as possible indicating any relevant Higher Education qualifications starting with the most recent. Complete the name of the Institution (s) as it appears on the degree certificate or transcript.
English Language Proficiency: Please state the date of any English language test taken (or to be taken) and the award date (or expected award date if known).
Employment and Experience: Please complete this section as fully as possible with all employments relevant to your course. Additional details may be attached in your personal statement/proposal where appropriate.
References: Please provide the names and contact details of two academic references. Where applicable one of these references may be from your current employer. References should be completed on letter headed paper and uploaded on to your application.