Diploma in Professional Legal Practice
PgDip
Student testimonial by Victoria Zeybek and Samantha Brown
Related links
Other programmes in the subject of Law: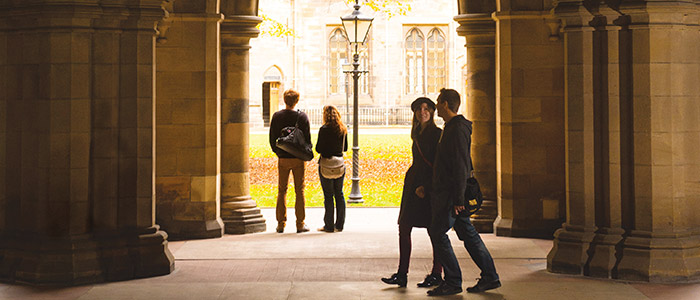 Visit our beautiful campus and find out more about your future at Glasgow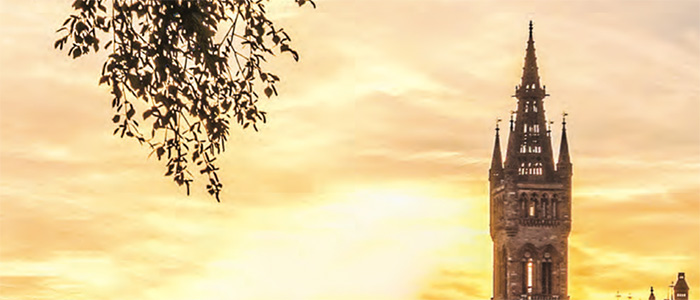 Postgraduate prospectus 2016
Our aim is that the Glasgow Diploma comes to be regarded as the trademark of excellence, ensuring that you are not just employable but sought after by employers. We strive to ensure that you are equipped with the practical skills and knowledge necessary to practise law in the 21st century. We create opportunities for you to develop a professional network which will support you throughout your career.
Key facts
This highly practical programme has been designed by practising lawyers to replicate the work that you will do when you commence your traineeship, ensuring that you will be a confident and competent trainee solicitor.
The Glasgow Legal 40, legal alumni of the university who practise across a wide range of areas, support our Diploma students in various ways including mentoring them and attending networking events.
We have developed strong links with employers and work with them to ensure that the programme we offer meets their requirements enabling you to commence your traineeship with the necessary skills and knowledge.
You will receive one to one face to face feedback from tutors in every course.
Extensive use is made of our library of filmed resources which link to course materials developed in collaboration with the judiciary and our tutors. They include various court hearings including criminal trials, proofs, debates, motions and a judicial review as well as a mediation, collaboration and negotiation.
Students attend Glasgow Sheriff Court and appear before sheriffs to deliver pleas in mitigation; police officers attend the university to take part in court cases.
Our 200 tutors are all highly experienced legal practitioners. They are dedicated, enthusiastic, committed and keen to share their experience with the next generation of lawyers.
You will take five core and three optional courses. This allows you to select courses which suit your areas of interest or meet the requirements of your future employers in the legal profession. Courses are delivered through a combination of on-line resources, e-modules, lectures and by small group tutorials (12 or less). Our team of highly experienced, enthusiastic and committed tutors, almost all of whom are practising solicitors or advocates, are all focused on ensuring that you meet the requirement of a "Day 1 ready trainee" by the end of each course.
Core courses
Civil litigation (incorporating advocacy, rules of procedure, evidence, negotiation and pre-action protocols)
Commercial awareness
Conveyancing (incorporating purchase, sale and commercial leases)
Criminal litigation (incorporating advocacy, evidence and procedure and negotiation)
Private client (incorporating wills, trusts, deeds of variation and guardianship).
Optional courses
Advanced civil litigation (incorporating advocacy, remedies, debates, proofs and appeals)
Advanced criminal litigation (

incorporating advocacy)

Commercial contracts
Commercial conveyancing
Contemporary Scottish public law
Corporate
Family law (incorporating negotiation, mediation, collaboration and litigation)
Human rights (incorporating topics such as employment, asylum and immigration, criminal, children's hearing referrals).
Students contemplating pursuing a career as an advocate at the Scottish Bar are able to take courses in International Private Law and/or Roman Law at no additional cost. These courses are compulsory entry requirements for the Faculty of Advocates.
Further information
Priya Jhakra, 2014-15
'Having enjoyed studying the LLB at the University of Glasgow, I was confident that Glasgow was the place for me to study the Diploma in Professional Legal Practice. The structure of the courses, the focus on gaining practical experience, and the variety of opportunities available within the programme, such as Glasgow Legal 40, attracted me to the Diploma at Glasgow. The programme provided a fantastic opportunity to experience the workings of the legal profession alongside the support and encouragement of a well-established academic programme.
The Diploma was not without its challenges. From the beginning. the programme was incredibly busy, giving a clear insight into the expectations of the legal profession. A variety of courses were available to study, from Criminal Litigation, and Human Rights Law, to Corporate Law, and Property and Conveyancing; which allowed me to gain experience in many areas. I found that the tutors on the programme were approachable and I was able to easily ask questions in tutorials, and for help where I was unsure.
Coming from different paths of the profession, the tutors added much value to the Diploma, sharing their experiences along the way. As the weeks went on, I was able to further develop the key skills required of a trainee solicitor, giving me the confidence to interact and participate in class discussions. As well as learning in tutorials and lectures, the Diploma offered further opportunities to gain experience and knowledge. One which particularly comes to mind is the CLASP project – a project comprising of students and tutors on the Corporate Law course, which offered legal assistance to business start-ups on a wide range of legal and business issues. CLASP allowed for me to practice applying legal knowledge I had attained on the Diploma and the LLB to real life situations, and I found that to be a very rewarding in itself.
In addition to the academic side of the Diploma, the programme provided much emphasis on employability. The Diploma team work very hard in ensuring students are provided with as many opportunities as possible in order to secure a traineeship. I was fortunate to have found a traineeship at a well-known national firm in the summer before beginning my studies on the Diploma. However, I feel I was still able to benefit from the employability and networking events, and I know many of my classmates also have, with a number of them securing traineeships across the year.
The focus on practical experience and the wide range of opportunities available are aspects of the Diploma which stand out to me. Whilst the programme can be challenging and demanding at times, the experience and knowledge gained is invaluable. The Diploma aims to help students develop the practical abilities and skills required of a trainee solicitor, and make a smooth transition from academic study on the LLB and entering the legal profession. The Diploma staff and tutors provided a great deal of support and encouragement throughout the year, and I feel the Diploma has prepared me well for my future career, and made me feel more confident about starting my traineeship. I would definitely recommend studying the Diploma at the University of Glasgow.'
Matthew Miller, 2014-15
'As with a lot of law students, I had always hoped to undertake the Diploma. It was a huge financial commitment and, as with most major life choices, I wanted to ensure that I was getting the best 'product' for my money! With such a huge investment the end goal for me was to find a traineeship as quickly as I could and so I was looking for a Diploma programme which could help me in that search. This is what first attracted me to the University of Glasgow in the first place.
Having first met Eileen Paterson at my previous University and having heard first-hand how employability focussed the Diploma programme at Glasgow was, it became clear that there was no better choice for me than the University of Glasgow. I'm glad to report that now, at the end of my brief stint at Glasgow, that it has exceeded my expectations in virtually every way, and that with their help I achieved my goal of finding a brilliant traineeship to look forward to!
From the job focused courses, to the working professional tutors, to the practical nature of the assessments, and the incredibly well designed resources, each aspect of the Diploma at Glasgow comes together to give you a real sense that you have taken a step towards a future career.
I must admit, having looked back on my undergraduate degree, at times it was hard to quantify what exactly I had learned (other than an insane amount of case law!); that was not the case upon finishing the Diploma. You are encouraged to interact, to build your confidence and advocacy skills, to learn how the law works in practice and, perhaps most importantly, to develop the key written and oral skills which you will need in your future career. I am now in a position where I feel confident going into my traineeship, sure that I can do what is asked of me and that I will make a success of it.
However, despite all the positives of the course of which I have named but a few, there are two very simple reasons why I would encourage anyone to undertake the Diploma at Glasgow: firstly, the beautiful campus set in general heart of the West End; and secondly, the incredibly hard-working staff, tutors and mentors you will be working with every day. I have met some friends and made some contacts through the course and the Glasgow Legal 40 who I will be in touch with for the rest of my working life, and that is worth its weight in gold in itself.
So, in summary, make the right decision for your future career and go to Glasgow. It is better than you ever imagined!'
Jacqueline Ross, 2014-15
'Before commencing the Diploma, I did not have a training contract. My intentions were to choose a University which would provide me with the best employment prospects. The University of Glasgow offered several networking events to allow Diploma students the chance to 'mingle' with the greatest of the legal profession. The Glasgow Legal 40 and mentoring facility stood out for me almost immediately.
I have had advice and assistance from all staff on the Diploma with CVs and applications. Having an interest in employment law, I was matched with a partner of a well-known firm who met with me and assisted me with all of my applications. When my mentor was not available, the Diploma team would assist me in every way they could.
These past 9 months have been the most challenging of my life. I was told from day one at the Open Day that you get as much out of the Diploma as you put in. This advice stayed with me throughout and I was able to achieve what I deserved - which was more than I thought I would achieve. The tutors were very helpful, and would answer any question. Moodle enabled students to ask the tutors questions online. The tutors were happy to answer these out with their working hours and at the weekend. On Moodle, there were an abundance of facilities to help students through their courses.
I thoroughly enjoyed Criminal Litigation. Nothing compares to the feeling after conducting a plea in mitigation in front of a real Sheriff at Glasgow Sheriff Court. It really is an achievement. The Diploma provides endless opportunities to work on advocacy skills which is an essential tool as a solicitor. At the beginning of the Diploma, not one person in the crowd had the confidence to ask a question in front of an audience of around 200 students. At the end of the Diploma, every student had something they wanted to ask or share.
Thanks to the Diploma team's advice and assistance, I now have a training contract at one of the most reputable firms in the Highlands. The Diploma at Glasgow was demanding in terms of the workload, but it was extremely rewarding. It prepares you to feel ready for day one as a trainee upon completion. I now feel confident about starting my traineeship and I feel I know enough to be ready for the next level of my career. I would recommend undertaking the Diploma at Glasgow to any student who is in the process of choosing a university to study the Diploma. '
Robert Weir, 2014-15
'As a (very) mature student attending full-time further education for the first time I could not have been more impressed with the organisation and administration of the course. The team at Glasgow have a very well-oiled machine that provides an incredible level of support and guidance to all students.
The programme is completely grounded in what happens in practice with all tutors being vastly experienced in their respective fields. The tutors include Sheriffs, Stipendiary Magistrates and partners in law firms who are all at the forefront of developing best practice. All students had an opportunity to attend at the Sheriff Court of Glasgow and present a plea in mitigation to a sitting Sheriff. This was indicative of how practical the course was and all students benefited from the experience.
I was particularly impressed with the extent that the team went to support all students in obtaining a traineeship. The Glasgow Legal 40 was an incredible opportunity to meet potential employers in a social context and many benefited from the experience. Overall, I cannot speak highly enough of the content, organisation and practical relevance of the Diploma provided by Glasgow.
Kirsteen Picken, 2012-13
"I chose to study for the Diploma at Glasgow primarily because I had completed my undergraduate degree there, and as I enjoyed the overall student experience at Glasgow, I wanted to continue my studies there. Additionally, the way the courses were structured, with an emphasis on gaining practical experience, such as using the ARTL system and making a submission in the Sheriff Court to a Sheriff, really appealed and made Glasgow stand out as a provider of the Diploma.
I personally found my experience on the Diploma to be excellent, as it built upon my previous knowledge I had gained from being on summer placements, and served to really confirm to me that I wanted to pursue becoming a solicitor as my career. The Diploma really brought out my advocacy skills, which is something that you don't get as much of a chance to do at undergraduate level, and resulted in me developing a keen interest to practice in the field of civil litigation.
Personally, the part I enjoyed the most was having the chance to learn how to structure and make oral submissions to the court, particularly as we got the chance to do this in the Sheriff Court itself for one of our assessments. This was a little intimidating at first, but I really enjoyed how quickly you learn and progress when 'on your feet', eventually developing your own style.
I found the course to be immensely practical, for example learning to use ARTL, which is something I understand is specific to the Diploma at Glasgow, making submissions in court, and taking part in practical based assessments such as negotiating in a personal injury case, giving you a true idea of what it is like to practice, rather than just feeling like artificial 'staged' assessments in tutorial rooms all the time.
The programme helped me very much in terms of my career plans. Despite having completed various summer placements and knowing that I had a particular interest in civil litigation, like many others I had not secured a traineeship prior to starting the Diploma. However, through one of my tutors on the course, I was put into contact with a firm which specialises in civil litigation, and this helped me organise some work experience there. I was then assigned a Mentor through the 'Glasgow Legal 40', who was a partner in the same firm. He helped me focus my applications, and gave me some hints and tips for succeeding at interview.
I then applied for a traineeship with that firm, and I am delighted to say that by the end of the second semester I had managed to secure a traineeship with them commencing in August 2013. This really taught me the value of networking in the legal profession, and I am very grateful for the support and advice that the Legal 40 afforded me. Although the Legal 40 cannot promise you a traineeship by the end of the year - it takes a lot of hard work and perseverance on the student's behalf too - I found it to be an invaluable support network. Again, the Legal 40 is Glasgow specific, and is something that I feel makes it stand out from other Diploma providers.
I would recommend that any potential student of the Diploma at Glasgow is prepared for it to teach you a lot about prioritisation, organisation, and working to deadlines as well as affording you with the practical experience necessary to enter legal practice. It can be demanding in terms of workload at some points, but overall it is an immensely rewarding experience, in terms of broadening your legal knowledge beyond university, making new friends, new professional contacts through networking events and offering opportunities for career progression."
Hansa Pertab, 2012-13
Why did you choose the Diploma in Professional Legal practice at the University of Glasgow?
Having studied the LLB at the University of Glasgow, and as an employee of the university, it made sense to stay at Glasgow to study the Diploma in Professional Legal Practice from a practical point of view. In terms of the course, I had heard positive feedback about the Diploma at Glasgow and for these reasons I didn't even consider the Diploma courses at any of the other institutions in Scotland.
What can you tell us about your experience?
The time from September 2012 to March 2013 was quite possibly the hardest I have ever worked, but the time flew by as the course was both challenging and rewarding. Juggling the demands of the course with working was tough but taught me skills which will no doubt be useful during my traineeship, including the importance of prioritising work and time management. The small tutorial groups encouraged discussion and class participation, giving us ample opportunity to ask questions, practice new skills, and learn from the mistakes. Most significantly, I found that this course has given me confidence in my abilities and has provided me with an excellent foundation upon which I can enter the profession as a trainee.
What did you like the most?
I particularly enjoyed the criminal and advanced criminal courses. The lectures were informative, providing a background of the procedural aspects of criminal law with tutorials building upon this foundation. The oral assessments assisted with developing my ability to present submissions succinctly but effectively; a skill which I had never really required until I commenced the Diploma. However, a particular highlight of the course was the plea in mitigation assessment in Glasgow Sheriff Court before a Sheriff. By placing the assessment within the context of a court room made it as realistic as possible for a Diploma student, and really made me aware of would be expected from me once I begin my traineeship.
How practical was the programme?
The programme was extremely practical which made it both interesting and challenging. Many of the assessments covered procedural transactions undertaken within a law firm, be it drafting an initial writ for a personal injury action or submitting defences for family action. These written submissions, coupled with the oral assessments, developed a whole range of skills which will be transferrable to my traineeship.
How do you feel your programme helped you with your career plans?
The structure of the programme and the assessments enabled me to develop vital skills and provided an excellent foundation upon which I can enter the profession. Many of these skills are transferrable to my traineeship and beyond, and most importantly it has given me the confidence to be able to implement these skills and build upon the knowledge which I acquired during the Diploma.
What support/facilities did you find most useful?
Being taught by solicitors and advocates was the most useful aspect of the course. Not only did this allow me to learn from people working in the profession, but they were always eager to address any question (no matter how trivial!) and shared all manner of useful tips for when the time comes to embark on a traineeship.
What would you recommend to a potential student thinking of coming to Diploma in Professional Legal Practice at the University of Glasgow?
The practical nature of the programme, together with the support from the tutors and the programme director, and the opportunities to develop skills and network with solicitors and advocates is an excellent starting point for a career in the legal profession. For these reasons I would definitely recommend undertaking the Diploma at the University of Glasgow to potential students and to make the most of all the opportunities that come their way.
‌Our Diploma in Professional Legal Practice teams are key to our goals of delivering excellence in professional legal education and ensuring that our students are prepared for practice.
Each of our senior tutors, who are drawn from a diverse range of backgrounds from across the Scottish legal profession, lead a team of experienced, enthusiastic and committed tutors. The one common theme that all of our senior tutor teams offer our students is expert professional experience.
Director of Professional Legal Practice (Operations), Eileen Paterson
Eileen has nearly 30 years' experience as a solicitor in Glasgow, specialising in criminal cases and Children's Hearing Referrals. Eileen was appointed to act as a safeguarder, curator ad litem, legal representative as well as presenting cases in the sheriff court on behalf of SCRA, children and other relevant persons. Eileen was also a member of the Criminal Law committee of the Law Society of Scotland. Eileen is a member of the disciplinary and regulatory committee of the Scottish Social Services Council (SSSC) as well as a member of the disciplinary and regulatory committee of the Association of Certified and Chartered Accountants (ACCA).
Email Eileen.Paterson@glasgow.ac.uk
Director of Professional Legal Practice (Academic)‌, Professor Tom Guthrie
Tom has taught at the University of Glasgow since 1999. He previously lectured at the University of Paisley. Tom is convener of the Academic Standards Committee and Quality Officer in the College of Social Sciences.
Email Tom.Guthrie@glasgow.ac.uk
Diploma Administrator, Fiona Macaulay
Email Fiona.Macaulay@glasgow.ac.uk
Diploma Administrative Assistant, Fatima Samodien
Email Fatima.Samodien@glasgow.ac.uk
Diploma Administrative Assistant, Claire Brunton
Email Claire.Brunton@glasgow.ac.uk
Joint Senior Tutor Civil Litigation, Anne Bennie

Anne is a member of the Faculty of Advocates. She was previously a Solicitor in private practice for 16 years, the last 8 years of which were spent as a Litigation Partner. Anne has extensive experience of representing private and commercial clients in Sheriff Courts and Court of Session as well as acting for clients at Fatal Accident and Public Inquiries. She is also experienced in leading negotiations and in representing clients at Arbitration and Mediation.
Joint Senior Tutor Civil Litigation, Gillian Craig
Gillian Craig is a partner at MacRoberts. She has a particular interest in property litigation, having acted in relation to neighbour disputes, leases, boundary, title and title condition issues, nuisance, breach of missives, and reduction and rectification actions. She is a member of the Property Litigation Association and Women in Property. Gillian also has particular experience of insolvency and related matters such as gratuitous alienations, unfair preferences, retention of title claims and directors' disqualification. Gillian has represented clients in the sheriff courts, Lands Tribunal and Lands Court and regularly instructs actions in the Court of Session. She also has a wealth of experience in employing ADR methods - successfully negotiating and settling disputes extra-judicially, where possible.
Joint Senior Tutor Advanced Civil Litigation, John Paul Sheridan

‌
John Paul is a director of TLT Scotland Ltd specialising in litigation. He is a solicitor advocate with rights of audience in the Court of Session and UK Supreme Court. He has particular expertise in financial services litigation and professional negligence claims against solicitors, surveyors and architects. He also specialises in complex contractual, commercial and property related disputes. He is independently recognised as an expert in the field of Dispute Resolution by Chambers UK, a guide to the legal profession, and as a leading individual by Legal 500. John Paul qualified as a solicitor in 1999 and as a solicitor advocate in 2005. He became a partner in TLT LLP and a director of TLT Scotland Ltd following the merger with Anderson Fyfe in July 2012.
Senior Tutor Corporate, Alan Stewart
Alan Stewart is a partner in Kergan Stewart, a boutique firm, specialising in corporate law. He has over 30 years experience in corporate work, having been a partner in a number of law firms as well as having been head of an in-house legal department. Alan has covered the full range of corporate work - start-ups, debt and equity fundings, mergers and acquisitions, flotations and privatisations.
Senior Tutor Criminal Litigation, Professor Sheriff Alfred Vannet
Sheriff Alfred Vannet is Sheriff of South Strathclyde, Dumfries and Galloway. He is now retired from full time post as Sheriff at Airdrie but continues to cover there as and when required at the request of the sheriff principal. He qualified as a solicitor in 1975 and joined the Crown Office in 1976.In 1984 Sheriff Vannet was appointed Head of the Appeals section in the Crown Office, and was in charge of the Crown Office investigation into the Piper Alpha disaster. He acted as Solicitor to the Public inquiry. He was subsequently appointed Deputy Crown Agent.Between 1997 and 1999 he was Regional Procurator Fiscal of Glasgow and Strathkelvin. In 1999 he was appointed as a Sheriff and has sat in Airdrie Sheriff Court since that time. Sheriff Vannet is an Honorary Member of the Royal Faculty of Procurators in Glasgow and a Fellow of the Royal Society of Arts. He is a contributing author to Stair Memorial Encyclopaedia: Criminal Procedur ; Sheehan & Dickson: Criminal Procedure and Green's Sentencing Practice: Judge Tutor for the Judicial Studies Committee. In 2011, Sheriff Alfred Vannet was made an Honorary Professorial Teaching Fellow by the University of Glasgow.
Senior Tutor Advanced Criminal Litigation, Mr Michael Meehan
Michael is a member of the Faculty of Advocates. He called to the Bar in 2003, following 5 years in the Crown Office and Procurator Fiscal Service [COPFS] and 7 years as a solicitor in private practice. Michael is a former member of the Criminal Law Committee of the Law Society of Scotland and Faculty of Advocates Criminal Bar Association Within COPFS, he gained extensive experience including preparing High Court prosecutions. In 1997 he was admitted as a solicitor advocate. Between January 2006 and February 2009 Michael was an Advocate Depute. During this time he prepared and prosecuted many complex, serious and sensitive cases including road traffic, firearms, drugs, sexual offences and murder cases. In March 2009 Michael returned to the defence Bar. He is extensively instructed in both High Court and Sheriff Court cases.
Joint Senior Tutor Family Law, Bernadette Baxter
Bernadette is currently a partner with Naftalin Duncan & Co Solicitors. She specialises in Civil Litigation with particular emphasis on Family Law. Since qualifying as a solicitor in 1988, Ms Baxter has worked with several legal firms. During this time, she has represented children and parties both in negotiations and in the conduct of cases including Child Welfare Hearings, Children's Referral Proofs and Ordinary Proofs. In 1999 Bernadette helped to found the Family Team at Glasgow Sheriff Court. From 1999 until 2009, she was a solicitor member, and the only solicitor member who sat on the team throughout its existence. Bernadette has been an Executive Committee Member of the Glasgow Bar Association from 1999 to date. She is also a Curator ad Litem in the Sheriffdom of Glasgow and Strathkelvin and has held that position for 15 years. President of the Glasgow Bar Association 2011-2012.
Joint Senior Tutor Family Law, Nicos Scholarios
Qualified as a Solicitor in 1983. Senior Partner of MSM Solicitors, with offices in Paisley and Glasgow. General Practitioner with extensive experience in Family Law. Accredited Family Law Mediator by the Law Society of Scotland since 1995. Registered as a Notary Public since February 1984. Currently Secretary of CALM, an association of Lawyer Mediators in Scotland.
Senior Tutor Human Rights, Craig French
Craig is a Divisional Solicitor/Deputy Director in the Scottish Government's Legal Directorate. He teaches Human Rights law at the University of Glasgow, and constitutional law at the University of Nantes. Craig has considerable experience in both the private and public sector, principally as a litigator. He currently heads up the Criminal Justice, Police & Fire Division in the Scottish Government Legal Directorate, advising Scottish Government Ministers and policy officials on all aspects of criminal justice and community safety. Prior to taking up his current role, Craig headed up the Employment Law & Litigation team in the Scottish Government, where he dealt with employment law, Judicial Review, Human Rights law and Mental Health Tribunal litigation. Craig's expertise in human rights law derives principally from his involvement in defending ECHR based claims against the Government on a regular basis, and in advising Ministers in relation to their sphere of operations, particularly in the context of Government Bills and secondary legislation.
Senior Tutor Contemporary Scottish Public Law, Grahm Crombie
Graham is a graduate of the University of Glasgow and is currently employed by the Government Legal Service for Scotland as Solicitor, Legislation and Europe Branch, Office of the Solicitor to the Scottish Parliament – legislative scrutiny. After training with the GLSS, he worked in the Scottish Government's Litigation Division for two years, undertaking general litigation from planning to rural subsidy appeals. He has been in his present post for two years, principally advising the Parliament's Subordinate Legislation Committee on scrutiny matters and the Presiding Officer on legislative competence matters.
Senior Tutor Private Client, Alison MacNeil
Alison is dually qualified in Scotland and England & Wales. She has also many years of experience in dealing with Estates (Wills, Trusts and Executries), Tax Planning and Wealth Management. She considers her area overall to be one of the most fundamental and interesting areas of practice in terms of the wide range of people and scope of their instructions and interests, which may be both private and or integral to their business or public persona. The art of accurate and discrete communication and engagement as well as strategic thinking to plan for succession and asset protection are vital and interesting. She tries to use all of her experience to synergise applicable law and life events positively to create opportunities for clients and dependents. Alison has worked in London, Aberdeen and Glasgow dealing a wide range of private clients and business families. She is a member of the Society of Trust and Estate Practitioners (STEP) and Charity Law Association.
Joint Senior Tutor Advanced Civil Litigation, Catherine Hart
‌‌
Catherine Hart is Associate and Professional Support Lawyer at Digby Brown LLB. She is Glasgow graduate. Following her traineeship with Wright Johnston and MacKenzie in Glasgow, she spent 2 years in their litigation department, dealing with all types of civil litigation. She then moved to Hamilton Burns and Moore (now HBM Sayers) and spent 15 years working largely on the defence of claims for damages on behalf of insurance clients. In 2007, she joined Biggart Baillie as a Professional Support Lawyer in the Dispute Management department.
Senior Tutor Property Law and Conveyancing,
Andrew Todd
Andrew is currently employed by Springfield Properties. He is sole legal counsel for commercial property group dealing with house building, property investment and managing external legal firms. Andrew is a graduate of the University of Glasgow, Glasgow Graduate School of Law and Strathclyde Business School. Andrew worked for 13 years with McGrigors (now Pinsent Mason) and Dundas & Wilson (now CMS Cameron McKenna) in commercial property, professional support and business development. He is the co-author of "The Lands Tribunal For Scotland: Law & Practice" and author of numerous articles on conveyancing practice. In 2013, one of his client service projects for Dundas & Wilson was commended by The Financial Times for innovation and was shortlisted for the British Legal Awards alongside projects from Clifford Chance and DLA Piper.
Senior Tutor Commercial Awareness, Colin Bell‌
Colin is a University of Glasgow graduate and is currently employed by Robert Wilson & Son, as Principal, Property, Wills, Trusts, Executries. He is also Vice-Chairman of the Scottish Solicitors' Discipline Tribunal. After graduating withLLB (Hons), Colin trained as a Chartered Accountant with Arthur Andersen & Co and worked in their Tax Division for 3 years. After completing the Diploma in Legal Practice, he joined Robert Wilson & Son where he has remained for over 20 years.
Senior Tutor Commercial Contracts, Alastair Dunn
Alastair practices in corporate and commercial law, acting for a range of well-established clients including national and international organisations, owner-managed companies, entrepreneurs, funders, shareholder groups and investors. His approach in every transaction is to provide added value over and above the legal process involved by understanding and anticipating his clients' needs and aspirations and by delivering clear advice in a user friendly and effective manner. Alastair's practice covers sales and acquisitions, investment and banking work, company disputes and ongoing advice and assistance to a number of large scale concerns.
External Appointments
Adviser to, and Director of, EB Scotland Limited (which spends landfill tax credit money in respect of environmentally enhancing activities throughout Scotland). Alastair's role involves appraising projects that improve the amenity or environment of areas in Scotland and making sure that the projects qualify under legislation. He has presented a number of seminars both to the business community and to fellow lawyers.
Senior Tutor Commercial Conveyancing, Ken Gerber
Ken is a University of Edinburgh graduate and is currently Partner, Commercial Real Estate and Family Business Law at Anderson Strathern LLP. Ken has been a partner in three different law firms over the past 26 years, and he majors in commercial property, in particular leases. He has been a tutor in the Diploma in Professional Legal Practice at Glasgow University for two years. His main areas of interest are commercial leases, development work, purchase and sale, loan work and doing opinion work for other law firms and local authorities. In addition to writing his textbook on commercial leases, he leads the team involved in the update production of Landlord and Tenant Section of The Stair Memorial Encyclopaedia, and has written various styles for Greens Practice Styles on property law.
Our services to students
Following completion of the Diploma in Professional Legal Practice students must complete a traineeship within a legal firm as a pre-requisite for legal practice.
We strive to increase our students' employability through our links with the legal profession by working with colleagues in the School of Law, the University's Career Service and other relevant organisations. Our aim is to support and guide our students to help them make the correct career choices.
When planning future career choices, Glasgow DPLP students can access
The Glasgow Legal 40 mentoring network: exclusive to Glasgow Diploma students
Professional Legal Practice events including Glasgow Legal 40 networking events and "Life in Law" autobiographical talks from distinguished members of the profession
Expert advice from the Diploma in Professional Legal Practice team
Projects such as the CLASP (Corporate Law Advisory Support Project) pilot in which corporate law students advise start-up businesses
An annual Law Fair to network with Scottish Law Firms and other employers
Strong links with employers leading to information about traineeships and other roles direct from employers
Employability website
After completion of the progrmme - invitations to events to improve employability.
Legal 40 mentoring network
The Glasgow Legal 40 is an initiative designed for University of Glasgow School of Law Diploma students. The group comprises 40 successful University of Glasgow legal alumni, drawn from all sectors of the legal profession. The main activities of the group include a mentoring programme and a series of social and educational events which allow Diploma students to engage with distinguished members of the legal profession and which will benefit the next generation of lawyers to emerge from the School of Law.
Since 2013, the group has been strengthened and developed by the introduction of Glasgow Legal 40 associates. This involves students who benefited from support and mentoring offered by Glasgow Legal 40 members undertaking the same role for their successors.
Our programme aims to bridge the gap between academia and professional legal practice; the Glasgow Legal 40 is a unique and key initiative which allows us to achieve our goal of ensuring our students are not just employable, but sought after by employers. Eileen Paterson, Director of Professional Legal Practice (Operations) explains: "The Glasgow Legal 40 initiative has already been of enormous benefit to our students. We are extremely grateful to our alumni who have supported our students in numerous ways and have been enthusiastic in their commitment to this initiative."
Our Diploma students benefit from
Workshops run in support with SIE (Scottish Institute for Enterprise)
The opportunity to take part in advising business start ups while supervised by qualified solicitors
Supporting students' transition from university to practice
Enabling students to draw on the experience of expert mentors
Developing student networking skills
Providing role models for students pursuing careers in legal practice
Increasing student links with the legal profession.
A comment from one of our Diploma students demonstrates the benefits of such a scheme:
'The University of Glasgow's Diploma in Professional Legal Practice has served as an excellent foundation for my entry into PEAT2. I am now 6 months in to my traineeship at COPFS and I was glad to have entered into this profession with confidence in my own abilities, which was as a direct result of being a DPLP student at Glasgow. Many of the skills that I learned, and had the opportunity to practise and hone on this course, have served me greatly. The experience of being able to meet and learn from practising Solicitors and Advocates gave me a realistic expectation of what to expect in practice, and this has been beneficial to my first six months at COPFS. Most importantly, I have entered into this profession with a large number of contacts, colleagues and friends met during the course and as part of the Glasgow Legal 40. Having had extensive experience of studying within Higher Education in Scotland, this has been the most efficiently organised and valuable course to my development as a person and as a Trainee Solicitor. Eileen Paterson was always approachable and happy to go the extra mile whilst I was a student, and has continued with her ongoing support since I have commenced on my traineeship. Her hardwork has ensured that I entered into this profession with a network of people behind me to assist with advice, support and guidance that is always needed along the way.' Hansa Pertab
Further Information
Legal Careers
for entry in 2016
To be a candidate for the Diploma you must
Possess a law degree from a Scottish university, or a qualification accepted by the Senatus as equivalent thereto.
Have passed or obtained exemption from the professional examinations of the Law Society of Scotland in those subjects required in terms of the Admission as Solicitor (Scotland) Regulations.
The Diploma in Professional Legal Practice is a requirement for entry to either branch of the legal profession in Scotland.
To qualify for admission to the Diploma in Professional Legal Practice, applicants must have graduated, or be qualified to graduate with an LLB from a Scottish university. Applicants must have successfully completed classes which comprise the Law Society of Scotland's professional curriculum, which is usually completed during the first 2 years of an LLB.
The professional curriculum at the University of Glasgow currently includes:
Business Organisations
Commercial Law
Criminal Law and Evidence
European Union Law (required but not included in the ranking criteria)
Family Law
Law and Government
Principles of Property and Obligations
Property Law
Sources and Institutions of Scots Law
Tax Law (requirement for LLBs started in 2010 or earlier)
Legal Profession and Legal Ethics (2nd year course introduced 2012-13)
Introduction to Legal Study (1st year course introduced 2012-13)
Constitutional Law 1 (1st year course introduced 2012-13)
Obligations 1A (1st year course introduced 2012-13)
Obligations 1B (1st year course introduced 2012-13)
Applicants are ranked by a grade point average, according to their performance in the professional curriculum outlined above. This ranking is used by all providers to allocate places. Applicants must submit a paper application to their undergraduate institution for their grade point average to be calculated. This information is then passed to the university at which the applicant wishes to undertake Diploma study.
Admission to the Diploma in Professional Legal Practice for applicants who are not qualified as outlined above is normally only possible in exceptional circumstances.
Upon successful completion of the programme you will be eligible to progress through your traineeship to work as a solicitor or advocate. The Diploma in Professional Legal Practice is a requirement for entry into these roles in the legal profession.
Applications for 2016-17 entry will open on 29 February and close on 15 April 2016. Applications received after the deadline will only be considered in exceptional circumstances.
Applicants to the Glasgow Diploma are required to submit two application forms at the same time:
One paper Diploma application form to the university from which they graduated with their LLB, regardless of which University they are applying for a Diploma place.‌
One online application via the University of Glasgow website. You must read the Diploma application guidelines before starting your online application.
Current University of Glasgow students or graduates should complete their paper application form and send it to Fiona Macaulay, Room 306, Sir Alexander Stone Building, School of Law, 16 University Gardens, Glasgow G12 8LQ.
Diploma student admissions guidance note
School of Law Fitness to Practise Code
Do I have to apply online for a postgraduate taught degree?
Yes. To apply for a postgraduate taught degree you must apply online. We are unable to accept your application by any other means than online.
Do I need to complete and submit the application in a single session?
No. You have 42 days to submit your application once you begin the process. You may save and return to your application as many times as you wish to update information, complete sections or upload additional documents such as your final transcript or your language test.
What documents do I need to provide to make an application?
As well as completing your online application fully, it is essential that you submit the following documents:
A copy (or copies) of your official degree certificate(s) (if you have already completed your degree)
A copy (or copies) of your official academic transcript(s), showing full details of subjects studied and grades/marks obtained
Official English translations of the certificate(s) and transcript(s)
Two supporting reference letters on headed paper
Evidence of your English Language ability (if your first language is not English)
Any additional documents required for this programme (see Entry requirements for this programme)
A copy of the photo page of your passport (Non-EU students only)
A two-page personal statement highlighting:

How your academic career to-date makes this programme a suitable next step
Why you want to study this programme
How you think this programme will help you in your future career development
If you do not have all of these documents at the time of submitting your application then it is still possible to make an application and provide any further documents at a later date, as long as you include a full current transcript (and an English translation if required) with your application. See the 'Your References, Transcripts and English Qualification' sections of our Frequently Asked Questions for more information.
Do my supporting documents need to be submitted online?
Yes, where possible, please upload the supporting documents with your application.
How do I provide my references?
You must either upload the required references to your online application or ask your referees to send the references to the University as we do not contact referees directly. There is two main ways that you can provide references: you can either upload references on headed paper when you are making an application using the Online Application (or through Applicant Self-Service after you have submitted your application) or you can ask your referee to email the reference directly to pgadmissions@glasgow.ac.uk. See the 'Your References, Transcripts and English Qualifications' section of the Frequently Asked Questions for more information.
What if I am unable to submit all of my supporting documents online?
If you cannot upload an electronic copy of a document and need to send it in by post, please attach a cover sheet to it that includes your name, the programme you are applying for, and your application reference number.
You may send them to:
Recruitment & International Office
71 Southpark Avenue
Glasgow
G12 8QQ
Fax: +44 141 330 4045
Can I email my supporting documents?
No. We cannot accept email submissions of your supporting documents.
What entry requirements should I have met before applying? Where can I find them?
You should check that you have met (or are likely to have met prior to the start of the programme) the individual entry requirements for the degree programme you are applying for. This information can be found on the 'entry requirements' tab on each individual programme page, such as the one you are viewing now.
What English Language requirements should I have met before applying? Where can I find them?
If you are an international student, you should also check that you have met the English Language requirements specific to the programme you are applying for. These can also be found on the 'entry requirements' tab for each specific programme.
Further Information
Please see the Frequently Asked Questions for more information on applying to a postgraduate taught programme.
Guidance notes for using the online application
These notes are intended to help you complete the online application form accurately, they are also available within the help section of the online application form. If you experience any difficulties accessing the online application then you should visit the Application Troubleshooting/FAQs page.
Name and Date of birth: must appear exactly as they do on your passport. Please take time to check the spelling and lay-out.
Contact Details: Correspondence address. All contact relevant to your application will be sent to this address including the offer letter(s). If your address changes, please contact us as soon as possible.
Choice of course: Please select carefully the course you want to study. As your application will be sent to the admissions committee for each course you select it is important to consider at this stage why you are interested in the course and that it is reflected in your application.
Proposed date of entry: Please state your preferred start date including the month and the year. Taught masters degrees tend to begin in September. Research degrees may start in any month.
Education and Qualifications: Please complete this section as fully as possible indicating any relevant Higher Education qualifications starting with the most recent. Complete the name of the Institution (s) as it appears on the degree certificate or transcript.
English Language Proficiency: Please state the date of any English language test taken (or to be taken) and the award date (or expected award date if known).
Employment and Experience: Please complete this section as fully as possible with all employments relevant to your course. Additional details may be attached in your personal statement/proposal where appropriate.
References: Please provide the names and contact details of two academic references. Where applicable one of these references may be from your current employer. References should be completed on letter headed paper and uploaded on to your application.