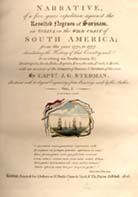 Title page of Vol. 1 of Stedman's Narrative. London, [BD13-a.8-9]
STEDMAN, John Gabriel. Narrative of a five years' expedition against the revolted negroes of Surinam, in Guiana ... from 1772, to 1777 ... Second edition corrected.
London: J. Johnson and T. Payne, 1806. 2 vols. BD13-a.8-9

Stedman, an officer in the Scots brigade in Holland, volunteered to serve against the negroes in Dutch Guiana. His book surveys the natural history of Guiana as well as economic and social conditions (particularly the plight of the negroes).

This large paper copy of the second edition had eighty-one coloured plates, thirteen of which were engraved by William Blake and three by Bartolozzi.