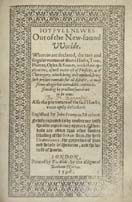 Title page of Monardes' Joyfull Newes. London, 1596. [Ah-e.25]
MONARDES, Nicolas. Joyfull newes out of the new-found worlde.
London: E. Allde, 1596. Ah-e.25

This is a translation by John Frampton, a merchant who spent most of his life in Spain, of Monardes' Primera y segunda y tercera partes de la historia medicinal de las cosas que se traen de nuestras Indias occidentales qui sirven en medicinal published at Seville in 1574.

Nicolas Monardes was one of the most distinguished Spanish physicians of his time. He studied medicine at Alcalá de Henares, where Cardinal Ximenez de Cisneros had founded schools of medicine and botany, and which was famous as a centre of medical research at a period when Spain had a high reputation in Europe as a leader of medical science.

At the time Monardes wrote his book he had been practising in Seville for forty years; new medicines, still untried in Europe, but by reputation in the Indies, possessing almost magical properties, were constantly being placed before him, with stories of their curative virtue and detailed accounts of their wonderful healing powers, plants and herbs which, according to the title page of the English edition, "bring such present remedie for all diseases, as may seeme altogether incredible: not withstanding by practice found out to be true."

Monardes was enthusiastic over the medical properties he thought inherent in tobacco and his account rapidly superseded that of Liébault whose work had hitherto been the chief source of information on the subject in Europe. Monardes made tobacco a household remedy throughout Western Europe and his gospel was accepted by the majority of European physicians for more than two centuries. Nowhere does he write of tobacco smoked by white men for pleasure.