FOX, Luke. North-west Fox.
London: B. Alsop and Tho. Fawcet, 1635. in K.7.1
This is an account of the author's attempt to find the Northwest Passage, in which he explored the western part of Hudson Bay. He left England on 5th May, 1631 and returned on 31st October of the same year, having concluded that no such transit was possible. Fox prefaces the narrative of his own voyage, which occupies the latter portion of the volume with an account of previous voyages undertaken to discover the Northwest Passage, and closes his volume with Sir Humphrey Gilbert's attempt to prove its existence.
The narrative is written in a quaint style, but is full of much valuable information on ice, tides, compass, northern lights. It is one of the most interesting and important documents in the history of Arctic explorations. Of the map the author says: "I have also placed a polar map or card, that this discovery may be the better understood, and for that I did desire to give satisfaction by demonstration of all treated of in the booke, for otherwise, another projection could not have contained it but at unreasonable diversity...I have .. tracted my owne way and discovery foorth and home, in small prickes." This circumpolar map is found in only one or two copies of the book.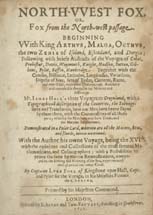 Title page of North-West Fox. London, 1635. [in K.7.1].