Accommodation for Undergraduates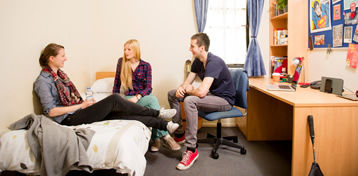 Accommodation for Postgraduates
Latest News
Quicklinks
Recommended Services
Latest News
Online induction for session 2015-2016 is now available
If you have accepted an offer of accommodation for next session beginning in September 2015, you can now access our online induction to help you prepare for life in residence. Access it by logging into your accommodation account.
Looking for accommodation for Semester 2?
If you are looking for accommodation for semester 2, then call into Residential Services in the Fraser Building to discuss your requirements. Don't delay as all vacancies are on a first come basis.
New online accommodation system launched
Residential Services have launched a new updated version of our online accommodation system. For details on what's included in the new version visit our New online accommodation system web page.
Be in know with Browzer
If you want to keep up to date with events on Campus and in accommodation, check out browzer.co.uk/glasgow.
Looking for short term accommodation? - Book short term Residential Accommodation online at book.accom.gla.ac.uk (1-30 days and up to 9 rooms - subject to availability)
Masterpoint/Keycom Support
Remember: if you require assistance with the Internet connection in your bedroom to visit www.keysurf.net/uoghelp/ email: support@keysurf.net. Further details can found at the Residential IT Support page.
Job Vacancies
Throughout the year Residential Services require pastoral care staff to fill live-in vacancies across our many residences. If this is of interest to you, please visit the Pastoral Support section of our website for further details and an application form.
Documents in alternative formats
Please contact Residential Services via email accom@glasgow.ac.uk if you require any of the pdf documents on our site in an alternative format.
Quicklinks
Recommended Services
Latest stories from Browzer
I can't believe how close we are until the end of the first semester, it feels like only two weeks ago that I was on the party bus down to...
Are you an International Student studying at the University of Glasgow? Would you like to share your stories of your time in Scotland so far with...
Do you compulsively check your emails during the evening or carry on responding to texts and logging on to Facebook while you're getting ready...
Bored? We've got your back. Click the links for more info. Let's get started! ...
Christmas has been disguisedly overtaking everyday life since a bit before Halloween. ...
With Christmas just around the corner, here's some useful information about when all the catering outlets will be open... ...