Prof Herve Moulin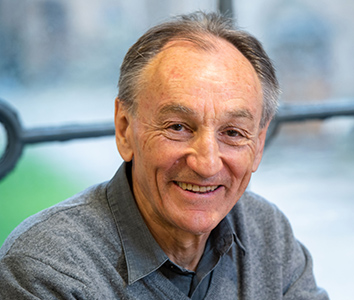 Professor (Donald J Robertson Chair) (Economics)
email: Herve.Moulin@glasgow.ac.uk
Adam Smith Business School
Main Building

Research interests
Distributive justice, mechanism design, social choice and game theories
Biography
Hervé Moulin graduated in 1971 from the Ecole Normale Superieure in Paris, and received his Ph.D. in mathematics from the Université de Paris in 1975. Before joining the University of Glasgow, he has taught at the Ecole Nationale de la Statistique et Administration Economique in Paris, University of Paris at Dauphine, Virginia Polytechnic Institute and State University, Duke University, and Rice University.
His research has been supported in part by seven grants from the National Science Foundation (USA). He has written five books and over 100 peer-reviewed articles.
Download his CV here: Herve Moulin
Distributive justice, mechanism design, social choice and game theories
He has been a Fellow of the Econometric Society since 1983, the President of the Society for Social Choice and Welfare in 1998–1999, and a Council Member of the Game Theory Society since 2000.
He is an Associate Editor in the following journals:

Transactions on Economics and Computation
International Journal of Game Theory
Games and Economic Behavior
Mathematics of Operations Research
Full C.V.: Herve Moulin
Recent and forthcoming papers
The Bipartite Rationing Problem (with Jay Sethuraman), forthcoming, Operations Research
Improving Nash by Coarse Correlation (with Indrajit Ray and Sonali Sen Gupta), forthcoming, Journal of Economic Theory
Sharing the Cost of Redundant Items (with Jens Hougaard), September 2012
Size versus fairness in the assignment problem (with Anna Bogomolnaia), October 2013