JOHNSON, William.
Stirlingshire.
In THOMSON, John, The Atlas of Scotland. Edinburgh, 1832. Plate 14.
Engraved by Sidney Hall.
515 x 680mm. Scale 1'':1.67mls
Sp.Coll e33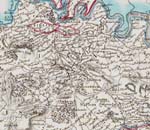 Detail of map showing area around Stirling.
Click on image to enlarge.
Thomson worked in Edinburgh for over twenty years as an atlas publisher but the cost of production of this Atlas of Scotland ruined him, despite an initial subscription list exceeding 1200. In April, 1830, he applied for sequestration as a bankrupt and the volume was delayed in publication until 1832, Thomson being aided by financial support from his friends. The production of the sheets was spread over the period 1820 to 1830 and the loose sheets were sold as they became available. In about 1838, the plates were acquired by W.&A.K. Johnston who re-issued the maps separately under their name.
Without doubt this is a most ambitious work and recalls the artistry of Blaeu's cartography. For most counties, existing county surveys were used as a base, new maps being drawn from them and revised by surveyors and local authorities. Engravers in both Edinburgh and London were employed. This map of Stirlingshire is based on the four-sheet survey of John Grassom of 1817, redrawn by William Johnson an Edinburgh land surveyor and attested by, among others, Grassom himself. As with the other county sheets, a plan of the county town is also included.

Bibliography: R.S.G.S. op cit pp129-131.