NICOLAY, Nicolas de,
Seigneur d'Arfeuille.
Vraye & exacte descriptio Hydrographique des costes Maritimes d'Escoss, Isles Hebrides & Orchades servat a la Navigation, Par Nicolay d'Arfeuille Daulphinois,
premier Cosmographe du Roy. Paris: 1583.
385 x 290 mm. Scale c1'':21 mls.
Hunterian K.6.16
This map accompanies La Navigation Du Roy D'Escosse Jacques Cinquiesme
du nom, autour de son Royaume
, published in Paris in 1583 as a French translation of a Scottish rutter, or book of sailing directions, written by Alexander Lindsay, pilot to James V. In 1540, James commanded a fleet which sailed round the north and west coasts of Scotland to subdue the troublesome Western lords but it is obvious that this chart is the result of a wider and more detailed knowledge than that gained from a single expedition, particularly as it shows a complete picture of Scotland. It is most likely that it was drawn after the rutter but, certainly, it concentrates on coastal features and ports, with some 300 places named. Nicolay obtained his copy in 1546 and it was used by the French fleet
which besieged St. Andrews castle in the following year.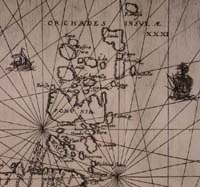 Detail of map showing the
Orkney Islands.
Click on image to enlarge.