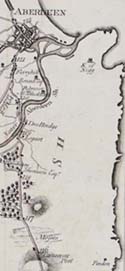 Detail of map showing the road from Aberdeen.
Click on image to enlarge.
TAYLOR, George and SKINNER, Andrew. The Road continued from Aberdeen by Old Meldrum to Banff. In Survey and Maps of the Roads of North Britain, or Scotland. London, 1776. Plate 31.
448 x 186mm. Scale 1'':9 furlongs
HX 82

George Taylor and Andrew Skinner were surveyors in Aberdeen who together produced a number of road-maps, including a companion volume for Ireland in 1778. This work was the first to show Scottish roads in strip map form and contains 61 plates, generally divided into 3 strips at a scale of about one inch to one mile, giving in all over 3,000 miles of road. On each map, each mile is marked and an impression of the visible topography indicated. The atlas was supported financially by the Commissioners for the Forfeited Estates but problems of raising money, mostly through inadequate subscriptions, were to dog the surveyors' careers. They afterwards moved to North America and served as surveyors with the army. A small octavo abstract of this survey with lists of the roads and the distances of settlements from Edinburgh and each other was also produced in 1776.
Bibliography; ADAMS, I.H. "George Taylor, a surveyor o' pairts'' Imago Mundi, vol.27, 1975, pp55-63. R.S.G.S. op cit pp122-3.