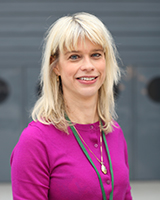 School of Medicine: Nursing and Healthcare,
Professor Bridget Johnston
Florence Nightingale Foundation Chair in Clinical Nursing Practice Research (Nursing and Health Care)
I hold the post of Florence Nightingale Foundation Chair in Clinical Nursing Practice Research in the School of Medicine, Dentistry and Nursing. This a joint clinical academic post between the University of Glasgow and NHS Greater Glasgow and Clyde. I have a clinical, educational and research background in palliative care. My clinical remit in NHS Greater Glasgow and Clyde relates to palliative and end of life care, with some strategic responsibility for developing capacity in nursing research, evidence based practice and nurse clinical academics.

I qualified as a nurse from St Bartholomew's Hospital in London before undertaking a Bachelor of Nursing (Honours) degree in nursing at the University of Wales, College of Medicine (Cardiff). I completed a Post Graduate Certificate in Education whilst in Cardiff.
I graduated with my PhD from the University of Glasgow in 2002. My PhD explored dying patients and nurses perceptions of expert palliative nursing.

I have held previous academic positions at University of Stirling and University of Dundee and until recently (April 2016) was Professor of Palliative and Supportive Care and co-lead of the Sue Ryder Care Centre for the Study of Supportive, Palliative and End of Life Care at University of Nottingham. I also worked as a Lecturer at Strathcarron Hospice in Stirlingshire for over 10 years

My post doctoral research has centred on self-care and advanced cancer, telehealth and palliative care symptom management in palliative care and laterally developing and testing interventions related to dignity and end of life care. I am trained and practice dignity therapy, a brief psychotherapeutic psychosocial intervention empirically developed tested and evaluated for use with people in the last months of life.

I was Chair of the Palliative Care Research Society from 2008-2011 and Chair of Palliative Care Congress in 2012.

I was appointed as a Patron of Macmillan Cancer Support Alumni in 2015.

I am Consultant Editor of the International Journal of Palliative Nursing and Section Editor of BioMed Central, BMC Nursing.

I tweet as @BridgetJohnst I also co-host a palliative/end of life twitter group @Weeolc with Sarah Russell (Hospice UK) and Laura Middleton-Green Marie Curie/University of Bradford.

I support a number of PhD students doing palliative care studies. I welcome inquiries from students interested in doing full or part-time PhDs or Masters by Research.
I am co-chair of the newly formed Scottish palliative care research forum, with Scott Murray.
I am a member of the Glasgow End of Life Studies Group at the University of Glasgow, based at Crichton Campus in Dumfries, led by Professor David Clark.
Current grants
2016 Elizabeth Stanfield Bell Wilson Scholarship to establish a patient and public innocent group related to end of life care
2014-2016 Evaluation of Macmillan Specialist Care at Home Service Funder Macmillan Cancer Support, Principal Investigator
Evaluation of Macmillan Specialist Care at Home Service- using Pictor as a method of data collection Funder Macmillan Cancer Support, Principal Investigator
Current supervision
Masters in advanced research methods (MARM) University of Nottingham Claire Smith – until Sep 2016
PhD- Hana Rizmadewi Agustina: Care of the Dying, Dead and Bereaved: Developing the Curriculum for Undergraduate Nursing Students in a Public University in Indonesia with Professor Karen Cox and Professor Christine Moffatt, University of Nottingham
PhD Emma Popejoy: Decision making and future planning for children with life-limiting illnesses: a qualitative multi-stakeholder, longitudinal study. with Dr Kristian Pollock, Dr Kathy Alack and Dr Joseph Manning, University of Nottingham
Palliative/end of life care research
Dignity and end of life care
Psychosocial interventions and Palliative/end of life care
Nursing research in Palliative/end of life care
Palliative/end of life care issues in the care of the older person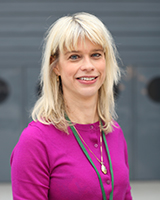 School of Medicine: Nursing and Healthcare,