Dr Mark Murrie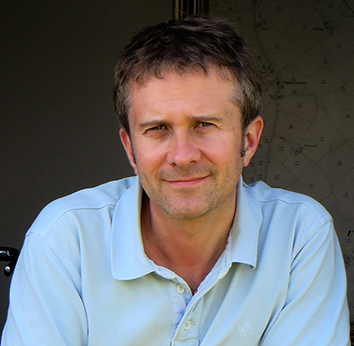 A5-18, Chemistry, Joseph Black Building, Glasgow G12 8QQ
Research Interests
More details are available on the website of the Mark Murrie group.
Current magnetic materials are made using a 'top-down' approach. However, these magnetic grains cannot continue to decrease in size indefinitely and new magnetic materials must be developed. If the bit size is to decrease further towards a few nanometres, we move into the realm of magnetic molecules and the possibility of information storage and processing at the molecular level. Our research involves the synthesis and characterisation of new molecular magnetic and nanomagnetic materials, with an ever-growing list of potential applications.
Publication Highlights
‌
Research Grant Income
2013-2016, EPSRC EP/K033662/1, EP/K033646/1 & EP/K033549/1 (£1.2M)
Pressure-Tuning Interactions in Molecule-Based Magnets
M. Murrie, S. Parsons, S. Moggach, M. Probert, E. K. Brechin, K. V. Kamenev
2012-2015, EPSRC EP/J018147/1 (£342k)
Mapping magnetic anisotropy: rational design of high-blocking temperature nanomagnets
M. Murrie
2011-2014, EPSRC EP/I027203/1 (£348k)
Atom-by-atom control for the targeted chemical synthesis of heterometallic molecular nanomagnets
M. Murrie
2010-2014, EPSRC EP/H024107/1 (£3.1M)
Molecular-Metal-Oxide-nanoelectronicS (M-MOS): Achieving the Molecular Limit
D. R. S. Cumming, D. J. Paul, G. Cooke, D. A. MacLaren, M. Murrie, A. M. A. Asenov, J. McGrady, L. Cronin
2005-2008, EPSRC EP/D503752/1, EP/D503744/1 (£664k pre-FEC)
The effect of high pressure on single-molecule magnets
M. Murrie, S. Parsons, A. Harrison, D. R. Allan, E. K. Brechin, K. V. Kamenev
2005-2008, EPSRC EP/C520602/1 (£110k, pre-FEC)
Raising the blocking temperature of single-molecule magnets (SMMs) by stepwise self-assembly: towards supra-SMMs
M. Murrie
The Group comprises:
Dr Mark Murrie, Molecular Magnetism Group Leader
Dr Joseph Sharples, PDRA since 2015
Dr Katie Marriott, PDRA since 2013
Dr Gavin Craig, PDRA since 2013
Fraser Kettles, PhD student since January 2012
María José Heras Ojea, PhD student since November 2013
Moya Hay, PhD student since October 2015
Mairi McAllister (MSci project student)
Sean Hiddleston (BSc project student)
Teaching & Admin
School Quality Officer
Inorganic Examinations Officer
Deputy Class Head for Level-4
Coordination Chemistry Level-3
Molecular Magnetism Level-4 and PG
Awards
PhD (Manchester), FRSC, FHEA
Selected Talks
98th Canadian Chemistry Conference, Ottawa (2015)

The 14th International Conference on Molecule-Based Magnets, St Petersburg (2014)



The 5th Workshop on Current Trends in Molecular and Nanoscale Magnetism, Cyprus (2014)

Florida State University, Department of Chemistry and Biochemistry (2014)

University of Florida, Department of Chemistry (2014)

The University of Karlsruhe, KIT / Institute of Inorganic Chemistry (2012)
The 3rd European Conference on Molecular Magnetism, Paris (2011)

94th Canadian Chemistry Conference, Montréal (2011)

RWTH Aachen University, Institute of Inorganic Chemistry

(2011)

University of Copenhagen, Inorganic Chemistry Department

(2011)

The University of Barcelona, Inorganic Chemistry Department

(2011)
92nd Canadian Chemistry Conference, Hamilton (2009)
Number of items: 70.
2015
2014
2013
2012
2011
2010
2009
2008
2007
2006
2004
2003
2002
2001
1999
1998
This list was generated on Thu Nov 26 11:09:03 2015 GMT.
Number of items: 70.
Articles
This list was generated on Thu Nov 26 11:09:03 2015 GMT.