Central and East European, Russian and Eurasian Studies
IntM
Apply now
Related links
Other programmes in the subject of Central and East European Studies:
This innovative international programme offers you the unique opportunity to undertake study (in English) and research in at least three different countries at our renowned partner institutions, culminating in the award of a multiple degree according to your chosen pathway.
Key facts
If you are interested in the challenges faced by the states and societies of Central and Eastern Europe, Russia and Eurasia and their place within the new global order, this two-year programme is for you.
Guaranteed placements at external organisations are included under each pathway.
The programme is delivered by leading experts in their specialist areas of research.
Language tuition is available throughout the progamme.
The programme builds upon the foundations of the successful IntM in Russian, Central and East European Studies double degree which was recognised by the European Commission as an Erasmus Mundus Master Course of 'outstanding academic quality'.
The programme is structured around three predefined mobility periods at three different universities across Europe, Russia, and Eurasia. Also included is a fourth flexible mobility period during which you will undertake independent study. The mobility periods are designed to enable you to engage with a variety of perspectives on the programme's core themes.
A research proposal submitted at the end of semester 1 in year 1 will determine future mobility patterns and study pathway diversification in semester 2. In year 2 you will continue under the same study pathway. The research proposal will have a strong influence on the allocation of the year 2 pathway partner, where you will undertake coursework plus a placement at an external organisation.
Year 1– semester 1
University of Tartu
Core courses
Introduction to Central and East European, Russian and Eurasian Studies
Language – Polish, Hungarian, Czech, Estonian OR Russian
Social sciences methodology.
Optional courses (1 chosen)
Baltic history and politics
Comparative ethnopolitics
Conflict management and resolution
Elections and political behaviour
Foreign policy analysis
International relations
Political and social change
Post-communism
The politics of history & memory.
Year 1 – semester 2
University of Glasgow
You will select a specialist pathway.
Core courses
Central and East European Studies
Geopolitics of Central and Eastern Europe OR Statehood and nationality in Central and Eastern Europe
Language: Czech, Hungarian OR Polish
Russian Studies
Russian foreign policy OR

Post-Soviet Russia: Renegotiating global and local identities

Language: Russian
Eurasian Studies
Contested states: The South Caucasus after 1991 OR Rethinking Central Asian security
Language: Russian
Optional courses (1 chosen)
Contested States: The South Caucasus after 1991
De-facto states in the post-Soviet space
Developments in Czech society since 1989
Gender and identity in Soviet and Post-Soviet Russia
Media and democratisation in CEE and the former Soviet Union
Rethinking Central Asian security
Russian foreign policy
Statehood and nationality in Central & Eastern Europe
The geopolitics of Central & Eastern Europe.
Note: Courses may not be available every year
Summer school
Focusing on research methods (not credit-bearing)
Year 2 – semester 1
Corvinus University of Budapest
Contemporary Hungarian politics
Language options
Nations, minorities, and minority policies in ECE
Parliaments in East-Central Europe
Politics of transition in East Central Europe
Radical right in Europe
he challenges to security in CEE
The politics of development and crisis in East Central Europe.
Jagellonian Univesity, Kraków
Economy of Central and Eastern Europe
EU foreign and security policy: Euro Atlantic security/Foreign policy of the EU
European civilisation
European integration theory and practice
Foreign and international relations in CEE facing CFSP/ESDP
Gender, citizenship and democracy in CEE
Language options
Political and social history of 20th century CEE.
National University of "Kyiv-Mohyla Academy" (NaUKMA)
Health, culture and society
Identities and identity politics in Post-Communist societies
Language options
Political and economic transformations in Post-Communist Societies: The case of Ukraine
Processes of social changes
Research seminar in social transformations
Social structure and dynamics
Sociocultural transformations in Post-communist societies.
Lobachevsky State University of Nizhni Novgorod (UNN)
Commonwealth of Independent States
Global migrations trends in Russia
Language options available
Middle Eastern policy of Russia
Political transformations in Post-Soviet Russia
Russian history
Russian language
Socio-economic transformation in post-soviet space
Sociology of the internet in Russia.
KIMEP University, Almaty
Asian security: Theory and Practice
Central Asia – Russia relations
Central Asia – United States relations
Central Asia in global politics
Domestic politics and foreign policy in the Post-Communist world
Emerging powers and markets
Government and politics in Central Asia
Language options available
Petro politics
Russian foreign policy
Ilia State Univerity, Tbilisi
Attitudes to "Others" in Georgia
Democratisation and political development in the South Caucasus
Energy and economics of transition in the South Caucasus
Ethnic conflicts in comparative perspective, Caucasus and Central Asia
Forms & consequences of Europeanisation in the Caucasus: Introduction to the concept and its application
Internship (Compulsory)
Political history of the Caucasus
Remembering the Soviet past in Georgia: Between memory and history. An Introduction into interdisciplinary memory studies
Research seminar on Stalin and Stalinism
Russian language (Compulsory)
Security and geopolitics of the Caucasus.
Year 2 – semester 2
You will continue on the mobility pattern started in semester 1. One-year study mobilities in the region are aimed at strengthening the language skills acquired during Year 1 in Tartu & Glasgow. You will complete your dissertation under the principle supervision of the pathway partner institution, with Glasgow and Tartu as co-supervisors.
Sarah El-Menawi, Egypt (2016-18)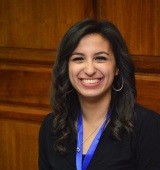 'A lifetime experience that wasn't anticipated at all. Even though my enrolment to the program came by chance, it was the best thing that ever happened to me. The degree of diversity that I encountered in that programme was beyond my expectations. Not only the students but also the teaching staff come from various backgrounds and nationalities which make the learning journey worthwhile. Glasgow is also a beautiful city where you can study, have fun, meet new people, and explore your potentials for development. Support is always provided for all the inquisitive out there and feedback is always cherished inside the university.
I studied political science in my undergraduate degree and I was involved in student activities and community development initiatives through my studies, besides being a professional basketball player back in Egypt. When I came to Glasgow, I thought that I would have to abandon all the extracurricular activities I used to do to focus on the Masters. However, I found myself joining the university basketball team and contributing to any voluntary opportunities that pass by, besides studying. This taught me a very important lesson; you should never give up on your dreams, and for you to find what you are passionate about, you should try everything and get involved in every aspect of the opportunities provided.
The programme was an eye-opening experience for self-exploration; it doesn't just provide its students with the learning experience they needed, every course contributes to our knowledge and the focus of the subjects vary widely, giving us more options and flexibility to discover our research interests. My research interests are mainly in the field of international relations and I am currently focusing on the relations between Russia and the West for my thesis. Also, the chance to learn a foreign language is an opportunity you can't find elsewhere which provides you with an in-depth knowledge of the area under study and a competitive advantage for the labour market afterwards.'
Firdavs Badalov, Tajikistan (2015-17)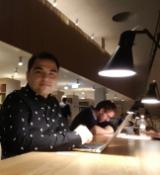 'I was fortunate enough to have been granted and benefited from this fascinating 2-year double degree programme. Its uniqueness chiefly lays on the combination of features the programme offers to its students: active involvement of the world class institutions, leading academicians, and the sophisticated structure and resources. Developing independent research skills, approaching to the socio-economic, political and security challenges within the Post-Communist as well as the global context in a more critical manner were key skills I gained from the programme. Innovative facilities and numerous resources the University of Glasgow provides for its students, keenly motivated academic staff enabled me to enhance both my personal and academic skills. More importantly, aforementioned essential features of the programme, equipped me to analyze and examine my own region, Central Asia, from various perspectives.
It should be noted that undertaking studies would have been much less enjoyable without the programme's impressive international component. Notably, benefiting from international experience at least in two different countries, expanding the personal network to multinational level, participating in employability events would only boost students' ability to choose the right career path. Finally, undertaking my postgraduate studies in one of the top universities in the world would not have been possible to realize without the financial aid provided by the European Union. Therefore, I am eternally grateful to the European Commission, the University of Glasgow, and all involved parties for their invaluable contribution and making this project an outstanding academic quality.
Ana Veljkovia, Serbia (2014-16)
'This programme has given me a lot, both academically and personally. Above all, it gave me a unique opportunity to receive education in United Kingdom, which is for someone who's coming from Serbia quite difficult to afford and experience. As someone who's coming from an Eastern European country, learning and thinking about the region's past and presence while not being in it made me understand it better, again both academically and personally. I grew as a researcher, gained a lot of knowledge and discovered many new interests. However, the most valuable part of the IMRCEES programme was meeting lots of new incredible people and having a chance to exchange thoughts with them, while making numerous friendships. Therefore, I would recommend this program to everyone, not just because of its obvious academic qualities, but mostly because of the unique opportunities and experiences it brings.'
Lani Seelinger, USA (2012-14)
'I grew up in Durham, North Carolina, before going to Northwestern University in Chicago for my undergraduate study. While I was there, I started studying Russian and Czech language. This led to an increasing interest in the Central and East European region, and I eventually graduated with a minor in Slavic Studies. After finishing school, I wanted to live abroad, so I first went to Georgia to teach English in a small town east of Tbilisi and then moved to Liberec, Czech Republic, to spend a year there as a Fulbright English Teaching Assistant. It was there that I discovered the IMRCEES program, and the rest is history. All of my best memories from the program revolve around the friends that I made there. I count them among my best friends in the world, as we all have this niche interest that not too many people share. Looking back, my favorite memories mostly involve trips that we've taken together – to Istanbul, to Transylvania, to Moldova, to the Baltic States, or to Belarus for the hockey world championships, just for example. Whenever we have reunions, I'm reminded of how wonderful it was having everyone in one place in Glasgow.
Now, I live in Prague, freelance writing and working in the educational department at the Institute for the Study of Totalitarian Regimes. We develop history-teaching materials, and my specific focus is trying to help teach communist history to those whose countries did not experience it. If you'd like an example of what we do, the website that we're been developing is called Socialism Realised. I have three pieces of advice to applicants and current students – talk to everyone on your program, because you may never be part of such an interesting and diverse group again. Take every trip that comes your way, because you're in the perfect position to enjoy them. And explore Glasgow while you're there – it may not have a communist past, but chances are that you'll end up somewhere else, so take advantage of all that it has to offer while you can.'
Katarina Muse, Croatia (2012-14)
'Before enrolling in IMRCESS, I received a Master in Political Science at the University of Zagreb in Croatia. I always joke that I am a poster girl for Erasmus, as in addition to Erasmus Mundus, I spent 5 months at the University of Wroclaw (Poland) as a part of Erasmus exchange programme and I worked for 5 months in Brussels as a part of Erasmus practice programme. There were so many good moments during the 2 years of the programme, that it almost impossible to select the top 10 let alone to choose the best one. I lived in three amazing cities, and I met so many people, many of whom become dear friends that I see still today.
After graduation, I worked for the European Commission, first as an intern and after as an interimaire, in the Montenegro Unit of the Directorate-General for Neighbourhood and Enlargement Negotiations. I am currently working for Schuman Associates, a consultancy in Brussels that specializes in EU funding. In my work I assist clients with the implementation of their funding strategies in External Aid Practice and Structural Funds Practice, with a special focus on markets in Croatia and Western Balkan countries. I am also more and more involved in guiding clients through various other EU funds, like Horizon 2020, LIFE and Erasmus. My advice to current students and applicants would be to study at more than two universities if possible, join different clubs and initiatives, do a summer internship and try to connect with as many people as possible. Once you start working, the experience and people you met through this 2 year programme will become invaluable. Finally, relax and simply enjoy the experience, as it is really one of a kind.'
Paolo Sorbello, Italy (2012-14)
'I had previously studied Russia and the former Soviet Union at a graduate level through an MA at the University of Bologna, but I was looking for a more focused programme and a better chance to explore the region. Glasgow, and KIMEP during the second year, gave me that possibility. Plus, it "forced" me to explore Estonia and live through a Baltic summer for an internship, not a bad requirement! My fondest memories span from the initial "where are we?" moments that we lived together with our classmates, to the kindness of all the faculty and staff, be it in Scotland or in Kazakhstan. In Kazakhstan, I was noticed by the chief editor of a specialised newspaper, The Conway Bulletin, who hired me as a correspondent. I've been at the Bulletin ever since and moved up to be the Business News Editor at the newspaper's headquarters in Edinburgh. So the Scottish adventure lives on! Prospective students will need to be prepared to study hard, especially on their own time. Picking a thesis topic early always helps, but know that professors are always there for any academic U-turns.'
Postscript: Paolo has now returned to CEES as our Europe-Asia Studies PhD scholarship student.
Central and East European Studies (CEES) continues to be a world-leading centre for research into the region's history as well as contemporary processes of socio-economic, socio-cultural and socio-political transformation. CEES forms the hub of the Centre for Russian, Central and East European Studies (CRCEES), an inter-institutional Centre of Excellence in Russian, Central and East European Language-Based Area Studies. In the 2014 REF exercise Central and East European Studies at Glasgow was ranked 1st in Scotland for Area Studies.
You will be prepared for careers in policy-making in government, foreign ministries, the EU, Intergovernmental organisations and non-governmental organisations. Other career opportunities include higher education and business.
2.1 Honours degree or non-UK equivalent (e.g. a GPA of 3.0 or above) in a relevant social science or humanities subject. Applicants from other subject backgrounds, however, will be considered.
For applicants whose first language is not English, the University sets a minimum English Language proficiency level.
International English Language Testing System (IELTS) Academic module (not General Training)
overall score 6.5
no sub-test less than 6.0
or equivalent scores in another recognised qualification:
Common equivalent English language qualifications
All stated English tests are acceptable for admission for both home/EU and international students for this programme:
ibTOEFL: 90; no sub-test less than:

Reading: 20
Listening: 19
Speaking: 19
Writing: 23

CAE (Cambridge Certificate of Advanced English): 176 overall; no sub-test less than 169
CPE (Cambridge Certificate of Proficiency in English): 176 overall; no sub-test less than 169
PTE Academic (Pearson Test of English, Academic test): 60; no sub-test less than 59
Trinity College London Integrated Skills in English: ISEII at Distinction with Distinction in all sub-tests
For international students, the Home Office has confirmed that the University can choose to use these tests to make its own assessment of English language ability for visa applications to degree level programmes. The University is also able to accept an IELTS test (Academic module) from any of the 1000 IELTS test centres from around the world and we do not require a specific UKVI IELTS test for degree level programmes. We therefore still accept any of the English tests listed for admission to this programme.
Pre-sessional courses
The University of Glasgow accepts evidence of the required language level from the English for Academic Study Unit Pre-sessional courses. We also consider other BALEAP accredited pre-sessional courses:
What do I do if...
my language qualifications are below the requirements?
The University's English for Academic Study Unit offers a range of Pre-Sessional Courses to bring you up to entry level. The course is accredited by BALEAP, the UK professional association for academic English teaching; see Links.
my language qualifications are not listed here?
Please contact the Recruitment and International Office: pgadmissions@glasgow.ac.uk
For further information about English language requirements, please contact the Recruitment and International Office: pgadmissions@glasgow.ac.uk
Tuition fees for 2017-18
IntM
(2-year degree)
Home and EU
Full time fee
£4,883 or €5,650 per annum
International
Full time fee
£10,667 or €12,500 per annum
Fees are subject to change and for guidance only
Fee for submission by a research student: £460
Fee for re-assessment of a dissertation (PGT programme): £300
Submission for a higher degree by published work: £1,000
Submission of thesis after deadline lapsed: £200
Submission by staff in receipt of staff scholarship: £680
Research students registered as non-supervised Thesis Pending students (50% refund will be granted if the student completes thesis within the first six months of the period): £260
Registration/exam only fee: £110
General Council fee: £50
A 10% discount is available to University of Glasgow alumni applying to the IntM. This includes graduates and those who have completed a Junior Year Abroad, Exchange programme or International Summer School at the University of Glasgow. The discount is applied at registration for students who are not in receipt of another discount or scholarship funded by the University. No additional application is required.
Funding opportunities
We ask that you apply online for a postgraduate taught degree. Our system allows you to fill out the standard application form online and submit this to the University within 42 days of starting your application.
You need to read the guide to applying online before starting your application. It will ensure you are ready to proceed, as well as answer many common questions about the process.
You should also refer to the CEERES visa and accommodation info‌ sheet containing additional information.
Do I have to apply online for a postgraduate taught degree?
Yes. To apply for a postgraduate taught degree you must apply online. We are unable to accept your application by any other means than online.
Do I need to complete and submit the application in a single session?
No. You have 42 days to submit your application once you begin the process. You may save and return to your application as many times as you wish to update information, complete sections or upload additional documents such as your final transcript or your language test.
What documents do I need to provide to make an application?
As well as completing your online application fully, it is essential that you submit the following documents:
A copy (or copies) of your official degree certificate(s) (if you have already completed your degree)
A copy (or copies) of your official academic transcript(s), showing full details of subjects studied and grades/marks obtained
Official English translations of the certificate(s) and transcript(s)
Two supporting reference letters on headed paper
Evidence of your English Language ability (if your first language is not English)
Any additional documents required for this programme (see Entry requirements for this programme)
A copy of the photo page of your passport (Non-EU students only)
If you do not have all of these documents at the time of submitting your application then it is still possible to make an application and provide any further documents at a later date, as long as you include a full current transcript (and an English translation if required) with your application. See the 'Your References, Transcripts and English Qualification' sections of our Frequently Asked Questions for more information.
Do my supporting documents need to be submitted online?
Yes, where possible, please upload the supporting documents with your application.
How do I provide my references?
You must either upload the required references to your online application or ask your referees to send the references to the University as we do not contact referees directly. There is two main ways that you can provide references: you can either upload references on headed paper when you are making an application using the Online Application (or through Applicant Self-Service after you have submitted your application) or you can ask your referee to email the reference directly to pgadmissions@glasgow.ac.uk. See the 'Your References, Transcripts and English Qualifications' section of the Frequently Asked Questions for more information.
What if I am unable to submit all of my supporting documents online?
If you cannot upload an electronic copy of a document and need to send it in by post, please attach a cover sheet to it that includes your name, the programme you are applying for, and your application reference number.
You may send them to:
Postgraduate Admissions
Marketing, Recruitment & International Office
71 Southpark Avenue
Glasgow
G12 8QQ
Fax: +44 141 330 4045
Can I email my supporting documents?
No. We cannot accept email submissions of your supporting documents.
What entry requirements should I have met before applying? Where can I find them?
You should check that you have met (or are likely to have met prior to the start of the programme) the individual entry requirements for the degree programme you are applying for. This information can be found on the 'entry requirements' tab on each individual programme page, such as the one you are viewing now.
What English Language requirements should I have met before applying? Where can I find them?
If you are an international student, you should also check that you have met the English Language requirements specific to the programme you are applying for. These can also be found on the 'entry requirements' tab for each specific programme.
Further Information
Please see the Frequently Asked Questions for more information on applying to a postgraduate taught programme.
Guidance notes for using the online application
These notes are intended to help you complete the online application form accurately, they are also available within the help section of the online application form. If you experience any difficulties accessing the online application then you should visit the Application Troubleshooting/FAQs page.
Name and Date of birth: must appear exactly as they do on your passport. Please take time to check the spelling and lay-out.
Contact Details: Correspondence address. All contact relevant to your application will be sent to this address including the offer letter(s). If your address changes, please contact us as soon as possible.
Choice of course: Please select carefully the course you want to study. As your application will be sent to the admissions committee for each course you select it is important to consider at this stage why you are interested in the course and that it is reflected in your application.
Proposed date of entry: Please state your preferred start date including the month and the year. Taught masters degrees tend to begin in September. Research degrees may start in any month.
Education and Qualifications: Please complete this section as fully as possible indicating any relevant Higher Education qualifications starting with the most recent. Complete the name of the Institution (s) as it appears on the degree certificate or transcript.
English Language Proficiency: Please state the date of any English language test taken (or to be taken) and the award date (or expected award date if known).
Employment and Experience: Please complete this section as fully as possible with all employments relevant to your course. Additional details may be attached in your personal statement/proposal where appropriate.
References: Please provide the names and contact details of two academic references. Where applicable one of these references may be from your current employer. References should be completed on letter headed paper and uploaded on to your application.
Application deadline
All applications: 1 May 2017
Classes start in Tartu on 04 September 2017 with orientation running from 30 August to 1 September 2017.
Students will have dual registration in year 1 at both the University of Glasgow and the University of Tartu. Applications are made to the University of Glasgow online application system and offers are made by the University of Glasgow. Offers will containin information about registration processes, important dates and deadlines.
Apply now
This programme was formerly known as Russian, Central and East European Studies.